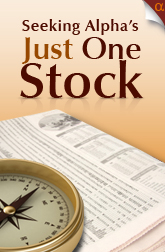 Several times a week, Seeking Alpha's Jason Aycock asks money managers about their single highest-conviction position - what they would own (or short) if they could choose just one stock or ETF.
---
Bob Bingham is president and chief investment officer of SKY Investment Group, a Hartford, Conn.-based RIA that manages investment portfolios for individuals, families, businesses and charitable organizations.
If you could only hold one stock position in your portfolio, what would it be?
It would be Nestle (OTCPK:NSRGY), the world's largest food company.
No equivocation there.
Well, the world is changing in a variety of ways, so where in the past, we would probably have favored a domestic stock, now we favor a global name. It is emblematic of our view that, in the large-cap space, the distinction between foreign and domestic is disappearing. So our world is evolving towards owning "best-in-class" companies, wherever they may be domiciled.
On the food side of the packaged goods industry, Nestle is best in class. And it just happens to be cheap right now relative to other "best-in-class" packaged goods companies. And if you can only hold one stock in your portfolio, we are going to favor a defensive consumer nondurable stock which is globally diversified, generates tons of free cash flow, has a long record of value-added capital allocation, and pays a high and rising dividend. Nestle fits the bill.
Can you tell us a bit more about the company and what it offers?
Nestle has over 100 billion Swiss francs in annual sales. Its revenues are broadly diversified across countries, continents, currencies and product categories.
While many people think of Nestle and its confectionery holdings, their range of products is much more diverse than just candy. The firm has roughly 30 "billion-dollar" brands. And they continue to build this stable of powerhouse brands through periodic "bolt-on" acquisitions like their recent purchase from Kraft (KFT) of Kraft's frozen pizza business.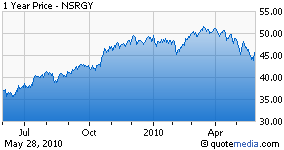 The firm has a long history of making acquisitions work. They are presently selling Alcon, the world's leading eye-care company, to Novartis (NYSE:NVS). They bought Alcon for $280 million in 1977. Sale proceeds should be about $30 billion pretax - enough to allow Nestle to buy back $10 billion in stock and eliminate the dilution to earnings per share from the sale. They also will be able to pay down debt, which will allow them to pursue more bolt-on acquisitions while maintaining their double-A credit rating.
Speaking of acquisitions, Nestle considered a run at derailing Kraft's multibillion-dollar takeover of Cadbury (CBY) - and its purchase of Kraft's pizza business, in fact, helped Kraft address its own dilution concerns. Was passing on Cadbury good or bad for Nestle?
While we will never know how serious Nestle was about competing for Cadbury, we do know that as a competitor, they would have wanted Kraft to pay as full a price as possible for Cadbury. So a sensible tactic would have been to express interest in doing a Cadbury deal to force Kraft to offer more. Of course, by raising the price, Kraft needed to sell an asset to complete the deal and coughed up their pizza business at a terrific price for Nestle. Maybe Kraft figured they'd throw Nestle a bone to encourage them to stay out of the bidding. Whatever happened, the pizza acquisition looks like a winner for Nestle.
How does your choice of Nestle reflect your (or your fund's) investment approach?
At SKY Investment Group, we manage portfolios for growth, but we are very sensitive to valuation. Also, the majority of our accounts are private clients, and they tell us two things over and over: 1) In addition to capital appreciation they want dividend income and dividend growth from their equity investments; and 2) they don't like a lot of turnover because of the taxes. So Nestle really fits the bill.
They are a financially strong company (they have a double-A credit rating), have best-in-class management, and have the ability to generate consistent mid-to-high single-digit organic sales growth and low double-digit earnings per share and dividend growth over the long term. The dividend yield at today's price ($43.94 USD, 5/26/10) is north of 3%.
Given that we estimate its current Enterprise Value-to-EBITDA multiple to be roughly 9.27 times (after adjusting for the spinoff of Alcon and Nestle's equity interest in L'Oreal), we think it is a stock to hold for five to 10 years. We like stocks where you can get steady 7-10% earnings growth, a 3-4% dividend yield and an expanding valuation multiple. We think that is a recipe for low-risk wealth creation.
Can you talk about the sector? How much is your selection based on the company's industry, as opposed to a pure bottom-up pick?
We have always been fans of consumer product companies because of their low volatility, defensive business characteristics and relatively simple business models. These are companies you can own for the long term, there isn't too much technological change, and if management manages the brands well, they can really show good long-term growth of margins, earnings, dividends and stock prices. But in today's climate, a company like Nestle is especially attractive.
One thing that keeps us up at night is concern about the currencies of all the developed economies given the poor fiscal management of their governments. Nestle has one of the most globally diversified currency streams of any major corporation. They also have pricing power should inflation get out of hand. And with their fortress of a balance sheet, they will survive almost any economic environment. Also, Nestle, with 30% of sales in less developed markets, is among the best positioned consumer product companies to benefit from the rapid growth and rising affluence of the emerging-market consumer.
What about Nestle's competitive environment? How is it positioned with regard to competitors?
In the packaged goods industry, scale matters. Imagine negotiating with Wal-Mart (NYSE:WMT) if you were a small and insignificant brand. But Wal-Mart needs to do business with Nestle to get access to its leading brands like Gerber, Stouffer's, Purina, Kit Kat, and Nescafe coffee. So in developed markets, they can get new products and line extensions on the shelves.
In developing markets, it is all about having the necessary infrastructure in place to manufacture, distribute and sell your products. So their longstanding presence in emerging markets gives them an ideal platform to grow, too. The firm was founded in Switzerland 140 years ago, so they have had to look globally for growth almost from their inception. This deep experience at competing globally is a huge competitive advantage to succeed in emerging markets.
How does Nestle's valuation compare to its competitors?
A simple analysis suggests that the stock price might be a little rich presently. But remember, with the Alcon sale about to occur, they are going to receive a huge amount of cash. They plan to use that cash to buy back stock and opportunistically do other bolt-on acquisitions.
Adjusting for the Alcon disposition and their 30.5% interest in L'Oreal, we think the stock is selling for around 9.27 times EBITDA. That makes it one of the cheaper stocks in the consumer packaged goods space. Given their financial strength, global position and growing margins, we think they deserve a premium multiple. At the current price, we think the stock is a buy.
Describe current sentiment on the stock. Does your view differ from the consensus?
Sentiment on the stock remains pretty good despite its recent sell-off, so I'd say we are in the consensus. Normally, we don't like being in the consensus. But for U.S. investors, the rise in the dollar versus the Swiss franc has caused the stock price to fall pretty dramatically, hence our interest. We are using this weakness to accumulate the stock.
How does Nestle management play a role in your selection?
Current senior management has been in place since 1997. When Peter Brabeck-Letmathe took over the role of CEO in 1997, he outlined a strategy of disposing of slower growth units and replacing them with higher-margin, faster-growing lines. He has delivered on this vision despite skepticism by some investors that Nestle overpaid for some of the brands they acquired. In fact, the acquisitions have worked out well, and investors have been well rewarded. We like management, and the valuations of the recent Alcon sale and KFT pizza acquisition suggest management is still committed to moving their vision forward in a disciplined, opportunistic fashion.
What catalysts, near-term or long-term, could move Nestle stock significantly?
Once Europe settles down, we think the stock will return to the mid-50s. Also, remember, the firm plans to buy back a lot of stock after the Alcon disposition. This could provide a good bid to the stock, too.
Longer-term, the market will abandon the post-recession chase of the high-beta names in favor of more defensive, ruler stocks with good growth profiles. We think Nestle will be a destination for cash when that rotation comes.
What could go wrong?
There is always headline risk. Because of their size, Nestle has always been a target of political activists for one reason or another. Right now, they are getting some flak for their water business in Oregon. But this is part of being a big global player. The water business for them in North America is only about 4% of total sales. Water sales in the developing world may in time become a bigger contributor to their bottom line, particularly if they continue their practice of working with local municipalities to deliver goods and services. Managing all these risks is a part of being a global business leader.
Thanks, Bob, for sharing your thesis with us.
Disclosure: SKY Investment Group is long OTCPK:NSRGY
Read more Just One Stock articles »
If you are a fund manager and interested in doing an interview with us on just one stock or ETF position you'd hold, please email Rebecca Barnett.