(Editor's Note: This article covers a stock trading at less than $1 per share and/or with less than a $100 million market cap. Please be aware of the risks associated with these stocks.)
In my Instablog I have been writing about a company called Arch Therapeutics, which I think will become an important player in the advanced wound closure market (hemostasis) market.
As said in my two posts, a versatile and talented management team is a very important factor for building a great company, especially in the life science sector. I think Arch Therapeutics, Inc. (OTCQB:ARTH) provides a compelling opportunity for high-risk investors to profit from an emerging life science company that has the ability to execute.
A company with a stock price of $0.41 and a market capitalization of $30 million doesn't tell you the whole story. I think investors that are looking for a rather new company with an experienced management team, a great advisory board, and a promising lead product candidate may be interested in having a look at Arch Therapeutics.
The Company
The company transferred itself to a life science company from selling automobile spare parts online. On June 26, 2013, Arch completed its merger with Arch Biosurgery, Inc., and Arch Acquisition Corporation Arch's wholly owned subsidiary formed for the purpose of the transaction. Before the merger finalized, Arch was a "shell company" under applicable rules of the Securities and Exchange Commission.
Arch Therapeutics, Inc. is developing a novel approach to stop bleeding (hemostasis) and control leaking (sealant) during surgery and trauma care. The company is developing products containing synthetic peptides designed to form gel-like barriers. The process of hemostasis is described below.
Hemostasis (Wound Closure)
According to Wikipedia, hemostasis or haemostasis (from the Ancient Greek: αἱμόστασις haimóstasis "styptic (drug)")
is a process that causes bleeding to stop, meaning to keep blood within a damaged blood vessel (the opposite of hemostasis is hemorrhage). It is the first stage of wound healing. Most of the time this includes blood changing from a liquid to a solid state. All situations that may lead to hemostasis are portrayed by the Virchow's triad. Intact blood vessels are central to moderating blood's tendency to clot. The endothelial cells of intact vessels prevent blood clotting with a heparin-like molecule and thrombomodulin and prevent platelet aggregation with nitric oxide and prostacyclin. When endothelial injury occurs, the endothelial cells stop secretion of coagulation and aggregation inhibitors and instead secrete von Willebrand factor, which initiate the maintenance of hemostasis after injury. Hemostasis has three major steps: 1) vasoconstriction, 2) temporary blockage of a break by a platelet plug, and 3) blood coagulation, or formation of a clot that seals the hole until tissues are repaired.
The evolved ability of the human body to stop bleeding has limits when the size and/or nature of the wound overwhelms the clotting process. Additionally, patients with compromised abilities in their clotting process can be at extreme risk from relatively minor wounds. As a result, hemostasis products have seen and will continue to see strong growth in the overall wound closure and management market.
Market Size
The world global wound market in 2012 had approximately a size of $12.45 billion. By 2021, the total wound management market represented by the segments in the graphic below is projected to be worth over $21.85 billion million, reflecting a 2013-2021 CAGR over 7%.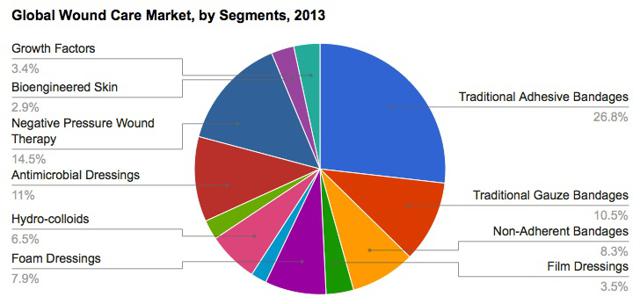 Source: Report #S249.
While traditional wound closure products will continue to dominate the market, it is the increasing adoption of advanced biosurgery products such as surgical sealants and haemostats by clinicians that will set the tone going forward.
According to a 2012 report produced by MedMarket Diligence, LLC approximately 114 million surgical and procedure-based wounds occur annually worldwide, including 36 million from surgery in the U.S. Arch Therapeutics estimates that 20-25% of those surgeries are performed using minimally invasive procedures. Basically more than 25 million wounds could benefit from sealants and hemostatic agents, such as AC5™.
Additional trends that support a demand for hemostatic and sealant products include the following:
overall procedure volume growth;
ambulatory same day surgery volume growth;
laparoscopic procedure volume growth; and
efforts to reduce operating room time.
According to the same report, the market for these products achieved approximately $3.4 billion in 2010 worldwide sales and will surpass the $6.5 billion mark in 2017. Over two-thirds of those sales are for hemostats. Further, the projected growth rate for sealants may be even higher than that for hemostats due to a general lack of available products and potentially larger unmet need.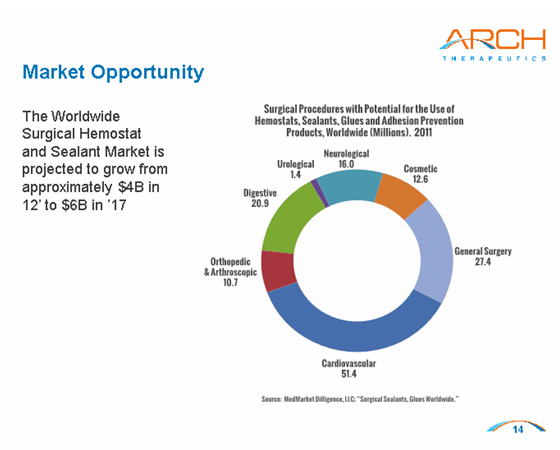 Arch's business prospects include the use of nearly every surgeon that deals with blood loss during surgery. The industry hasn't seen an advancement in the field in years. According to the numbers presented above the market for Arch Therapeutics is big enough to capture a sizeable market share.
Current methods
The methods currently available to effectively manage surgical hemostasis have many common drawbacks, see picture below.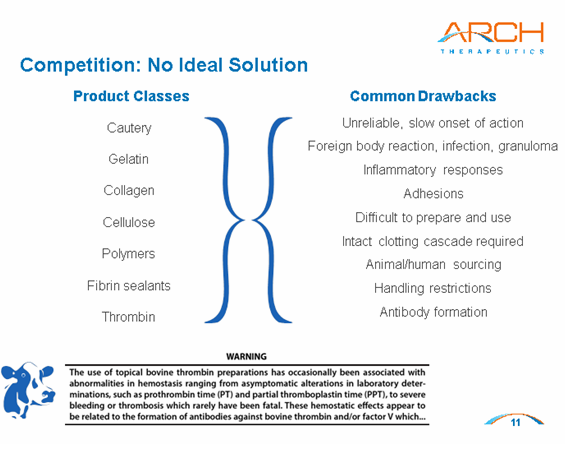 Source: Presentation Biotech Showcase
As shown in the sheet above, many available hemostatic and sealant agents possess a combination of limitations, including slow onset of action, general unreliability, user-unfriendliness, and risk for adverse effects, such as healing problems, adhesion formation, infection and other safety concerns.
Results from animal testing has demonstrated superior efficacy over the current methods.
The leading product of Arch Therapeutics doesn't have these common drawbacks that's why I think the company's hemostasis product AC5™ could capture a large chunk of the wound closure and management market, when available.
Competitors
For some years, Johnson&Johnson's (NYSE:JNJ) Ethicon has been the market leader due its dominating position in the sutures market. However, the company is facing stronger competition in the biosurgery sector. Market-leading surgical sealants such as Baxter's (NYSE:BAX) Coseal, CryoLife's (NYSE:CRY) BioGlue, Covidien's (COV) DuraSeal and CR Bard's (NYSE:BCR) NeoMend are competing with Ethicon's OMNEX. A number of new companies, such as Arch Therapeutics, have entered the field attracted by the wound closure sector's positive market attributes and growth potential.
Lead product AC5
Without an unique product or therapy a life science company cannot succeed. Investors feel more confident if a proof of concept has been demonstrated, at least in preliminary experiments. In the case of Arch Therapies the proof of concept has been demonstrated through experiments performed on animals, resulting in data that can reasonably be extrapolated to realistic predictions of significance and human trial results.
Arch Therapeutics aims to develop products that make surgery and interventional care faster and safer by utilizing a novel approach that stops bleeding ("hemostasis"), controls leaking, and provides other advantages during surgery and trauma care. The leading product candidate, AC5, is designed to accomplish hemostasis in minimally invasive and open surgical procedures.
AC5 is a biocompatible synthetic peptide containing naturally occurring amino acids. When applied to the wound, AC5 intercalates into the interstices of the connective tissue where it self-amasses into a physical, mechanical nanoscale structure that provides a fence to leaking substances, such as blood.
The results of early data from preclinical animal tests have shown that AC5 achieves hemostasis quickly and effectively. Hemostasis occurred over 30 times faster than control use of saline and 10 times faster than the use of cauterization. AC5 can be applied right away as a liquid or a spray, making it user-friendly and able to conform to irregular wound geometry. Because it is not sticky or glue-like, AC5is perfect for use in the setting of minimally invasive laparoscopic surgeries. Further, AC5 is transparent, which should make it easier for a surgeon to maintain a clear field of vision during a surgical procedure and prophylactically stop bleeding as it starts. This procedure is called Crystal Clear Surgery.
The success of any surgical procedure depends on a surgeon's ability to effectively and efficiently manage hemostasis to provide an optimal view of the surgical field and to prevent the adverse physiologic effects associated with blood loss.
That said, the benefits of the AC5 Surgical Hemostatic Device aimed at controlling bleeding and fluid loss in order to provide faster and safer surgical and interventional care, is no competition for the current available options.
Arch's AC5 product has a competitive advantage in being superior to the existing products because it can be used in more cases than traditional cauterization and has demonstrated a faster stop to bleeding than similar existing products. It also has the advantage of keeping the surgeon's view unobstructed as it remains clear and does not cloud up. Because the company entered into certain in-license intellectual property agreements with MIT there is research available to back up the company's AC5 claims. I will refer investors to the following study: Nano hemostat solution: immediate hemostasis at the nanoscale (Rutledge G Ellis-Behnke, Yu-Xiang Liang, David K C Tay, Phillis W F Kau, Gerald E Schneider, Shuguang Zhang, Wutian Wu, Kwok-Fai So) from the Department of Brain and Cognitive Sciences, Massachusetts Institute of Technology, Cambridge, Massachusetts, USA.
A Talented Management Team
A talented management team is an important asset for a company to execute their business plan. Seasoned professionals who have started or managed successful companies before is one of the most important criteria. The pre-existence of an experienced management team in a startup life science company increases credibility and improves the chances of getting funding.
Making judgments about management is important before you invest in a company, especially when it is a start-up.
Managers who have demonstrated they are killers at business execution, and who have a history of always acting in the best interest of all shareholders are important to shareholder value. The appointment of Dr. Avtar Dhillon to Chairman in April 2013 was a significant move to gain investor's trust. Previously, Dr. Dhillon was the President and Chief Executive Officer of Inovio Pharmaceuticals, Inc. (NYSEMKT:INO), a highly successful company. During his administration at Inovio, Dr. Dhillon led the successful turnaround of the company through a restructuring, acquisition of technology from several European and North American companies, and a merger with VGX Pharmaceuticals to develop a vertically integrated DNA vaccine development company with one of the strongest development pipelines in the industry. Dr. Dhillon led multiple successful financings for Inovio and concluded several licensing deals that included global giants, Merck and Wyeth (now Pfizer). The chairman has as a founder been involved in several emerging lifescience companies on the USA or Canadian stock exchanges, which have successfully matured through advances in their development pipeline and subsequent M&A transactions.
A company is nothing without a CEO. The CEO of Arch is Terrence W. Norchi, MD. He co-founded the company in 2006. Dr. Norchi has a medical analytical investment background as a portfolio manager, but also as a pharmaceutical analyst at Putnam Investments, Citigroup Asset Management, and Sanford C. Bernstein. He earned an M.B.A. from the MIT Sloan School of Management in 1996 and completed internal medicine residency in 1994 at Baystate Medical Center, Tufts University School of Medicine, where he was selected to serve as Chief Medical Resident. He earned an M.D. degree in 1990 from Northeast Ohio Medical University.
The Head of Operations and Manufacturing is Mr. William M. Cotter. He has been advising Arch Therapeutics since 2011 and is an industry veteran who brings expertise in operations and product development. Mr. Cotter has over 30 years of operational experience in Medical Devices, Diagnostics, Biologics and Life Science companies, ranging from early stage startups to large multinationals. Mr. Cotter has served in senior operations and development roles for companies including Cohera Medical, Helicos Biosciences, Closure Medical Corporation (Johnson & Johnson), Sanofi Diagnostics Pasteur (Beckman Coulter), Genetic Systems Corporation (Bio-Rad) and Advanced Technology Laboratories (Phillips HealthCare).
For more on the management team, look here.
Financials (Burn Rate)
The company's cash position has never been stronger. Based on the recently filed 10-Q dated February 14th the company had cash on hand of $945,398, since that time the company raised an additional $2.85 million through a Private Placement, which would make there current cash position approximately $3.7 million. The company could also receive an additional $2.7 million via warrant exercises. Total liabilities for Arch are $512,801, which gives the company a positive asset to liability ratio. The company's burn rate is around $600,000 per quarter, which reduces the risk of near term financing, as they have enough to last through the next six quarters.
Regulatory requirements
Based on the company's filings the AC5 product is expected to be treated like a medical device which will make the approval process much quicker and less expensive than a biologic. It looks as though the company will receive a CE Mark in Europe prior to getting FDA approval in the United States.
The development plan for our lead product candidate is based on our anticipation of pursuing the medical device regulatory pathway. However, the FDA and other applicable foreign agencies will have authority to finally determine the regulatory route for our product candidates in their jurisdictions. If the FDA or similar foreign agencies or intermediaries deem our product to be a member of a category other than a medical device, such as a drug or biologic, or impose additional requirements on our pre-clinical and clinical development than we presently anticipate, financing needs would increase, the timeline for product approval would lengthen, the program complexity and resource requirements world increase, and the probability of successfully commercializing a product would decrease. Any or all of those circumstances would materially adversely affect our business.
Final Note
Great emerging ideas are the lifeblood of investing. I think Arch Therapeutics offers a compelling opportunity to those who are patient and are familiar with the life science space.
The company is currently devoting most of its efforts toward product research and development. In light of that, the company has secured new financing of approximately $2.77 million of net proceeds.
Arch will require new financing for its research, development, and commercialization of its potential products.
Arch Therapeutics lead product, AC5, will be successful in the hemostasis market. With a talented management team in place and a great product, we will hear more of this company going forward.
Risks
For all the risks associated with this specific investment I suggest investors to read the 10-K filing. The most common risks for Arch are described below.
General Risk
There are some market restraints at work, primarily the high cost of the new technologies. Not all country healthcare budgets can afford advanced wound care products, even if they are proven to decrease healing times and hospital costs over the longer run.
Company Risk
From inception Arch didn't have any revenues, the company is depending on their ability to raise additional capital which will fuel further dilution. This is nothing strange and normal for biotechs in the development stage. I think Arch Therapeutics could be open to in-licensing activities and collaborations. It makes sense for the company to seek deals with pharmaceuticals that are sitting on huge piles of cash.
OTC Security Risk
An investment in an OTC (over-the-counter) security is speculative and involves a high degree of risk. Many OTC securities are relatively illiquid, or "thinly traded," which tends to increase price volatility. Illiquid securities are often difficult for investors to buy or sell without dramatically affecting the quoted price. In some cases, the liquidation of a position in an OTC security may not be possible within a reasonable period of time. The average volume in Arch Therapeutics (OTCQB:ARTH) for the last 3 months was relatively low 160,583.
Disclosure: I am long ARTH. I wrote this article myself, and it expresses my own opinions. I am not receiving compensation for it (other than from Seeking Alpha). I have no business relationship with any company whose stock is mentioned in this article.