I try to behave and keep to the thought that boring investing will pay off in the long run. Find the companies that have a solid business model that are in need and stick with them for the long haul. Darling (NYSE:DAR) is one such company, boring, needed and actually somewhat gross when you think of it. Their business is animal death and dismemberment. Or "rendering, recycling, and recovery solutions." Darling takes animal byproducts and uses them to manufacture stuff, like greases, oils and proteins. Darling also recycles the cooking oil for use into such things as fuel, lubricants, textiles, plastics, and rubber.
Again, I draw from life experiences in my investment strategy. How? When I was in my younger days, I worked as a stockman in the grocery store. One of my tasks was to take large butcher wastes drums and put them out back. Mostly these were the fat and other animal by products the butchers did not use. When I asked who would want this stuff, to my surprise they told me they were paid for it. Paid to take the leftovers on my plate? When talking to some friends about the old days I thought about this and in my search came across Darling International Inc.
To bring validation to my thoughts recently I came across this article from Justin Rohrlich titled "Increase in Grease Theft Shows Growing Demand for Biofuels." How times have changed. Biofuels still have a ways to go before keeping ExxonMobil (XOM) executives awake at night. But used frying oil, or yellow grease, which can be rendered by companies like Darling International into a substitute for diesel fuel, is a traded commodity that has tripled in price over the past two years, leading to what the current issue of Render Magazine calls (.pdf) the "ever-increasing theft of grease." "Grease is no different from diamonds," Christopher Griffin, director of legal affairs for Cold Spring, Kentucky-based Griffin Industries Inc., which collects raw grease, told a reporter. "They both have value, they're both a commodity." As diesel costs rise, grease thefts do too, with grease being illegally carted away from storage areas behind fast-food restaurants like McDonald's (NYSE:MCD), Burger King (BKC), and Wendy's (NYSE:WEN) by everyone from biodiesel "home brewers" to organized grease-theft rings with their own tanker trucks.
Wow, grease. Is it that good of a market? What else can come of it? Well, based on the chart connected to this link, a lot. Not to be anecdotal but the old saying about how they would turn an old horse into glue, well the possibilities are still here. Do not think that companies have come as far as they have without using old-fashioned methods to make soap either. In fact, Darling has been in the business since it was founded by the Swift meat packing interests and the Darling family in 1882. Darling International Inc. was incorporated in Delaware in 1962 under the name Darling-Delaware Company, Inc. On December 28, 1993, Darling changed its name from Darling-Delaware Company, Inc. to Darling International Inc.
Okay enough rhetoric, so what is so significant about the company? Over the long haul, the company has not really been one to make you rich. With the chart below going back about 15 years we see the increase in price. Mind you take into consideration the one stock split shown and two key downturns. Still, you would have made a slow steady profit and still be ahead, not rich, but ahead. Personally, I believe the company is on another rise, albeit not as drastic.
click to enlarge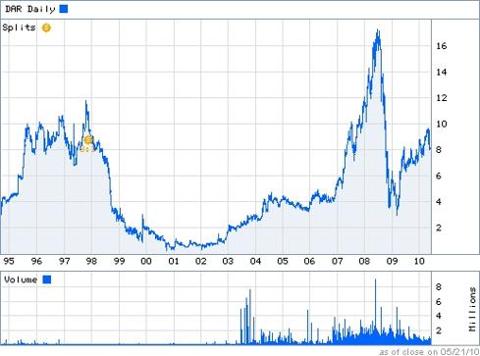 Click to enlarge
Why? Fundamentals are strong and maybe the market will realize the need and potential for a change. Forward P/E (fye Jan 2, 2012)11.42 52-Week Change was 14.06%, which is about what I am currently up as a disclosure despite the S & P apx 22% rise. Price momentum has recently been soft while the stock has stayed in line with the market when compared to the S&P 500. As long as the positive fundamental outlook does not change, the market should recognize this strength and the stock should be a market performer over the intermediate term.
Darling International Debt to Capital is 8.7% while its ROE is 16%, which lends to a strong balance sheet. The company's long and short-term debt ratios are in line with industry averages reflecting a solid financial condition. Demand for the company's products and services have been strong as sales for the last quarter grew 0.75% rising to $149.57 million. Looking forward, the analyst consensus forecast for revenue and earnings for the next two quarters is expected to show improvement versus the prior quarter.
For the first quarter of 2010, the company reported net sales of $162.8 million as compared to $133.0 million for the first quarter of 2009. Higher finished product prices accounted for the majority of the $29.8 million increase. Net income for the first quarter of 2010 increased to $11.5 million, or $0.14 per share, as compared to $4.8 million, or $0.06 per share, for the 2009 comparable period. The $6.7 million increase in net income for the first quarter resulted primarily from higher finished product prices, increases in both volume and yield of raw material and lower energy costs related to natural gas and diesel fuel. Darling International Chairman and Chief Executive Officer, Randall Stuewe, said,
We are very pleased to be off to a good start in 2010. Improved finished product prices, lower energy costs and strong results by our acquisitions made during 2009 helped our performance.
On days when the market is up, DAR shares tends to outperform the S&P 500 index. However, on days when the market is down, the shares generally decrease by more than the S&P 500 index. In both short-term and long-term periods, DAR has shown high correlation (>=0.4) with the S&P 500 index. Thus, this stock would provide only low levels of diversification to a portfolio similar to the broader market. Again, pretty much in line with the boring safe stock I try to find. This is one I am buying and will put away for a while. Make sure you take it out from time to time and still see if it fits, or in this case, cleans fuels and feeds. Actually, not a bad thought for the future.
DAR is on the FORBES Top 200 Small Companies List but to be fair I will finish with some opposing views. SmarTrend identified a Downtrend for Darling International on May 19, 2010 at $8.38. In approximately 1 week, Darling International has returned 7.7% as of Friday's recent price of $7.74. Darling International is currently below its 50-day moving average of $9.09 and below its 200-day moving average of $7.96. Look for these moving averages to decline to confirm the company's downward momentum.
The Street.com recently ran this article of note byTim Melvin, RealMoney.com Contributor in late April.
Darling International has been a great stock for me over the past two years and has better than doubled. However, it currently trades at almost 5 times tangible book value and has an EV-to-EBITDA ratio of almost 8. These numbers are well above my threshold for safe and cheap stocks. I love this company's story, but the story is not enough for me. The stock is rich on the numbers, and it is time to sell my position.
Therefore, whether you want a story or a stock I think you got both here. So do your research and see if it meets your threshold for a safe and cheap stock.
Disclosure: Long