My readers know I love options spreads going into earnings. Here's a case where I'd stay away from that. If you already own URBN, it's a chance to rip off some covered calls going into earnings.
Urban Outfitters (NASDAQ:URBN) is a progressive retailer, focusing on younger generations, that owns and operates over 400 locations and is inclusive of four other brands, one namely being Anthropologie.
For the long-term, I like Urban Outfitters a lot. It's part of a constituency of companies that include Lululemon (NASDAQ:LULU), Anthropologie, and American Apparel that are still in the meat of the adoption curve for new retail and will likely siphon off business from "old names" in retail like American Eagle (NYSE:AEO), Aeropostale (NYSE:ARO), Abercrombie (NYSE:ANF), Gap (NYSE:GPS) and the like.
As Seeking Alpha reported on 2/27, Wedbush came out with a bullish take on URBN as it started to cover the retail sector:
Starting Urban Outfitters ( +0.6%) at Outperform with $46 price target, analyst Morry Brown says it's is well-positioned to take on the two big challenges facing specialty retailers: The migration of sales to online and the continued growth of fast fashion retailers. "These two challenges play to URBN's strengths, as its 25% online penetration is tops within our coverage and the company's fashion execution and nimble supply chain have been two of its key competitive advantages since inception."
URBN has traded stagnantly over the past year in the face of waning questions about the company's ability to continue growth. It trades at a P/E ratio of 20 - somewhat lofty for the retail sector. It's been up about 1% so far in 2014, but has lost about 9% of its value over the past 12 months.
Urban Outfitters currently carries a market cap of $5.50 billion.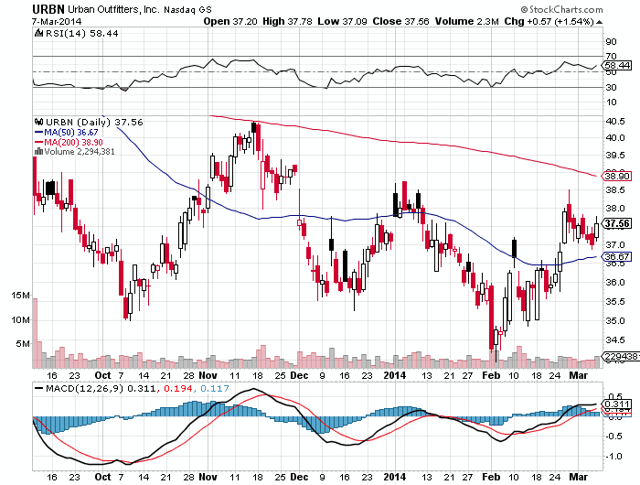 The company is set to report earnings this coming Monday, March 10th. The major questions will remain the same as we've seen through the past earnings season - how much did the weather effect the store, and can Urban buck the trend of other retailers that are having trouble monetizing as sites like Amazon.com (NASDAQ:AMZN) put pressure on in-store retailers and mall traffic.
More importantly, will the weather effect coming guidance - and what will full year guidance look like?
Analysts, like they have in a number of other retail stocks, weren't expecting a blowout here. Consensus was for revenue of $927 million, which is an 8.3% increase from the same quarter one year ago. EPS is slated to come in at $0.55.
(source - Yahoo Finance!)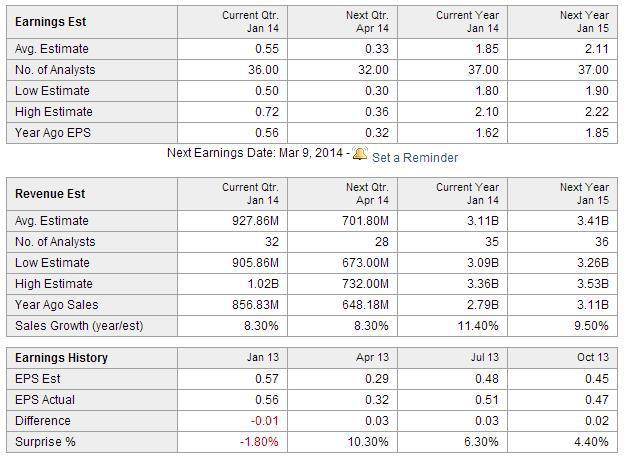 Urban had already come out and acknowledged that revenue is not going to be a beat by any means, coming in at barely over $900 million. The company failed to allude to net income or earnings per share - but we'll know on Monday. The stock certainly isn't telegraphing any great news coming down the pipe, nor are investors. This all comes on the heels of a decent holiday season for the retailer, which found many of its competitors struggling.
It's for this reason that I'm advocating using caution when investing in Urban Outfitters for the short-term or as an earnings trade.
As much as I love to play stocks going into earnings, this isn't that type of situation. If you're looking for volatility, pending major M&A news or something of the sort, you're not going to get it when a company comes out and pre-releases part of its earnings. Yes, we have guidance still to come in, but I'm not anticipating a major move aside from whatever the market will price into the stock on Monday.
Best of luck to all investors.
Disclosure: I have no positions in any stocks mentioned, and no plans to initiate any positions within the next 72 hours. I wrote this article myself, and it expresses my own opinions. I am not receiving compensation for it (other than from Seeking Alpha). I have no business relationship with any company whose stock is mentioned in this article.