By David Russell
Leap Wireless (LEAP) has been a laggard in the prepaid cell phone space, and now one investor is looking for a turnaround.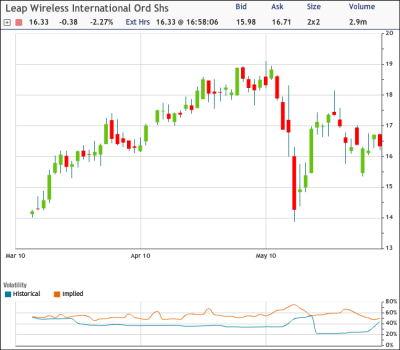 optionMONSTER's Heat Seeker tracking system detected the purchase of 3,000 October 17 calls for $1.93 and the sale of equal-sized lots in the October 14 puts for $1.03 and the October 21 calls for $0.60. It resulted in a net debit of $0.30 and pushed total options volume in the name to five times greater than average.
LEAP fell 2.27 percent to $16.33 on Friday and is down 11 percent in the last month. In contrast, rivals Sprint Nextel (NYSE:S) and MetroPCS Communication (PCS) are up 21 percent and 18 percent respectively over the same period.
They both reported strong results results in the month, while LEAP missed its numbers amid increased competition. PCS has also received bullish options trades recently.
It now appears one investor thinks LEAP will climb as the year progresses, and used premium from selling out-of-the-money calls and puts to finance a long position in the October 17 calls. The trade will earn more than 1,200 percent if the stock closes at or above $21 on expiration and lose money if it falls below $14.
Disclosures: Author owns PCS
(Chart courtesy of tradeMONSTER)