HP (NYSE:HPQ) is probably not a stock you pick for diversification seeing as how institutional Stock & Mutual Fund Ownership is 72.2%. Therefore, you probably already have it in your portfolio. This is often a commonality overlooked by investors - simple diversification within their own portfolio. However, if you have or are building your own portfolio it is okay to buy similar or like stocks because you can manage them more directly. In addition, in this sector I feel this is an excellent core choice. The company currently holds the number one position in the PC business (28.4% of total revenue), ahead of Dell (NASDAQ:DELL) and Acer and is the largest seller of printers (20.7% of total revenue).
Tom Forester and his $100 million Forester Value Fund uses a cautious strategy of switching to large cash positions when stocks are pricey and has steered his fund to a 5.4% average annual return for the past decade. Right now Forester thinks stocks are expensive and he expects more write-offs to drag down future profits. However, one he still likes is Hewlett-Packard. Trading at just 12 times trailing earnings, the tech behemoth will boost profits as companies upgrade their technology in a recovering economy, says Forester. "That's probably got three years of legs to it," he says. In my never ending search for value with room to grow and the next boring stock, I looked into HP and agree with Mr. Forester.
The most recent quarter's P/E is 12.9 and its P/E 5 year average is 18.03, not a stock that tends to be overvalued but is currently behind itself. Thomson Reuters recently downgraded the company to a hold while S & P recently upgraded to a buy. I favor the S&P recommendation although Reuters has been more accurate on the sector predictions.
Kathrin Hille in Beijing wrote:
Some potential impact could come from suppliers such as Foxconn (Foxconn Technology Co Ltd). The world's biggest contract maker of electronics and China's largest employer makes most of Apple's (NASDAQ:AAPL) iPhones and iPods and many other consumer products. Its decision to raise workers' wages suggests that employers in southern China, dubbed the workshop to the world, could be obliged to improve working conditions at their factories. Foxconn's move could also put pressure on its customers, which include Dell, Hewlett-Packard and Nokia (NYSE:NOK), to raise the prices of their products if the contract manufacturer passes on a portion of the higher costs. But Edmund Ding, vice-president and spokesman at Hon Hai Precision Industry, the company's Taiwanese parent company, said it would take several months to determine the net impact of the wage increase. Mr. Ding said the pay rise would depend on location but would "be about 20 per cent on average". He said the increase would be implemented soon."
This would not only impact HPQ as the largest producer but the other companies equally and so could be a wash for the larger companies using similar or the same suppliers from China.
Despite the progress made by Hewlett-Packard within its Software and Services business, the company still faces more challenges. The Technology Solutions Group (TSG) competes with IBM, a much larger global services and software businesses; HPQ encounters competition in all areas of its business activity. Again, to include IBM, EMC Corporation (NYSE:EMC), Network Appliance (NASDAQ:NTAP), Dell, Sun Microsystems, Accenture (NYSE:ACN), BMC Software (NASDAQ:BMC), Acer, Apple, Toshiba Corporation (OTCPK:TOSBF), Canon USA (NYSE:CAJ), Lexmark International (NYSE:LXK), Xerox Corporation (NYSE:XRX), Seiko Epson Corporation and Samsung Electronics (OTC:SSNLF). In other words, it is a tough market out there and the next big player is always an unknown.
So why am I bullish on HPQ? Truthfully, I go back to what I said in the beginning, a boring value stock with room to grow and showing great potential. Positive cash flow generated in a difficult economic environment. The company generated $13.38 billion in cash from operating activity in 2009, compared to $9.6 billion in 2007, and returned about $10.4 billion in 2008 to its shareholders in the form of dividends and share repurchases. The company invested about $11.2 billion of net cash in acquisitions. Moreover, to increase shareholders' wealth and manage the dilution created by shares issued under its employee benefit plan, HP has been repurchasing shares. During fiscal 2008, HP repurchased approximately 216 million shares for $9.7 billion, whereas in 2009 the company repurchased $5.1 billion of common stock.
Revenue increased across all businesses segments on a year-over-year basis. Per geographic regions, the Americas reported an 11.0% increase in revenue to $13.5 billion. Revenue increased 11.0% in Europe, the Middle East and Africa (EMEA) to $11.8 billion and 19.0% in the Asia Pacific region to $5.5 billion. International markets accounted for 66% of total revenue in the second quarter, with revenue in the BRIC countries (Brazil, Russia, India and China) increasing 25.0% on a year-over-year basis and comprising 10.0% of total HP revenue. Since around 65% of revenue comes from business outside the United States, there could be pressure from recent economical events in Europe. Technology is one field that corporations must keep up with to stay competitive and can actually reduce their overall cost in other areas by upgrading.
On days when the market is up, HPQ tends to outperform the S&P 500 index. On days when the market is down, the stock generally performs in-line with the S&P 500 index. In both short-term and long-term periods, HPQ has shown high correlation (>=0.4) with the S&P 500 index. Thus, this stock would provide only low levels of diversification to a portfolio similar to the broader market. Over the past 90 days, HPQ shares have been more volatile than the overall market, as the stock's daily price fluctuations have exceeded that of 9% of S&P 500 index firms. So looking at the chart for the last six months now might be a good entry point.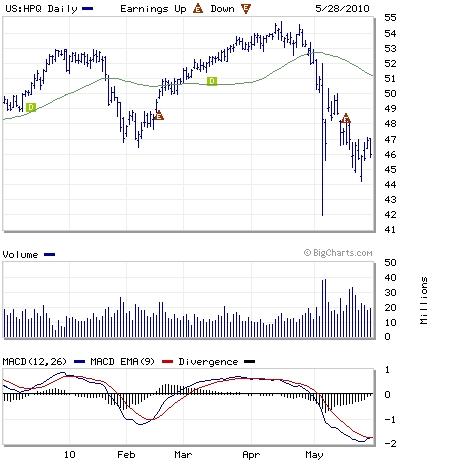 Disclosure: None