China released its official CFLP (China Federation of Logistics & Purchasing) PMI today, recording 53.9 for May vs 55.7 in April, and below the 54.5 market expectations. The HSBC PMI number (which surveys 400 businesses, and is weighted more to smaller/privately owned businesses than the CFLP index) also disappointed with 52.7 vs 55.4 in April.
click to enlarge images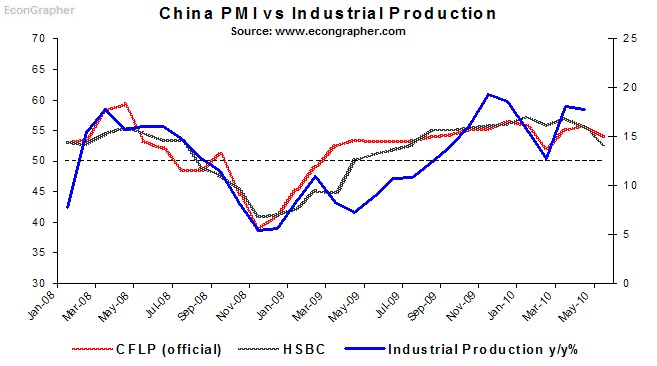 The turn in the index does not bode well for industrial production, to be sure; the number is still above 50 (i.e. in expansionary territory), so it's not bad yet, but when you consider the context, it's easier to feel less optimistic.
For example the stepping up of measures to crackdown on property speculation, monetary policy tightening (vis a vis the Required Reserve Ratio, etc), and the re-emergence of global risk and fear. These factors, plus a potential fading of the inventory cycle, could be weighing on activity in China, but then, when you're growing at 10%+ and facing growing inflation pressures, a little slowing down may not seem like such a bad thing.
Unless you're an investor of course! Long term China has compelling economic and investment potential, but be prepared to ride out (or trade out) the intervening volatility...
Sources
Disclosure: No positions