The recent rumblings pointing to a tech bubble are not only unfounded, they're absurd. When you're talking about share price and acquisition costs, big numbers trigger fear. As we've seen both the frequency and size of M&A deals rise along with a pretty dramatic upward onslaught of the markets in the past eighteen months, pundits and bears have come creeping out at an accelerating rate. I've got five reasons why you don't need to listen to them.
A look at the Nasdaq-100 Index definitively points to the fact that the value of the market today is in no way reminiscent of what it looked like in 2000 during the Dot-Com Bubble. From the Nasdaq OMX website:
"The Nasdaq-100 Index includes 100 of the largest domestic and international non-financial securities listed on The Nasdaq Stock Market based on market capitalization. The Index reflects companies across major industry groups including computer hardware and software, telecommunications, retail/wholesale trade and biotechnology. It does not contain securities of financial companies including investment companies."
All current weighted rankings of Nasdaq components are from data collected 12/31/13. One major change is that since the weighted rankings were analyzed in December, shares of Google (NASDAQ:GOOG) have risen 8.4% while shares of Microsoft (NASDAQ:MSFT) have risen just 1.3%. The difference has catapulted GOOG to the second highest weighting. For the purposes of this analysis, though, we'll use the clearly defined figures from FY '13 year end.
1. Apple (NASDAQ:AAPL) '14 vs. Microsoft '00
The value propositions of an investment in AAPL today vs. Microsoft in 2000 are starkly different. Today AAPL is the largest weighted component of the Nasdaq Composite, Nasdaq-100 and the various ETFs that track the performance of the index, such as Powershares QQQ (NASDAQ:QQQ). AAPL accounts for 12.5% of the value of the index. Similarly, MSFT held the largest weight in '00 and accounted for 10.75%.
Take a look at the juxtaposition between the two largest components of the index. Critics of AAPL bemoan lack of innovation, lack of pipeline and shrinking margins. Still, AAPL's most recent FY revenues were more than 7x those of MSFT in '00. Similarly, at its most recent peak, AAPL traded at 14x P/E (TTM) and an astonishingly low 3.04x sales. Compare that to the excess that defined '00 - MSFT traded at 67.4x P/E and 28.8x P/S. An argument can be made for the real growth MSFT was experiencing, but a look at the company's financials from '98 through '00 show deceleration in growth (both top and bottom line). And while there are many bears on AAPL's growth forecasts, the company continues to push forward - the street estimates FY '14 +5.8% revenues and +7.6% EPS. Finally, at the time of the MSFT peak the company paid no cash dividend on the common stock while AAPL has reversed that trend in recent years under the leadership of Tim Cook - they rewarded shareholders with a 2.3% yield and stock repurchases and plan on carrying that forward, thanks in part to a balance sheet with more than 6x cash, equivalents and marketable securities than MSTF maintained in '00.

Source: AAPL 10-K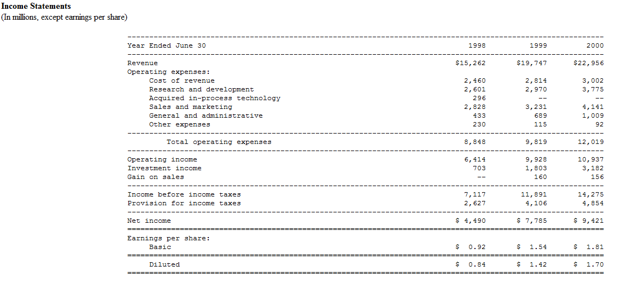 Source: MSFT 10-K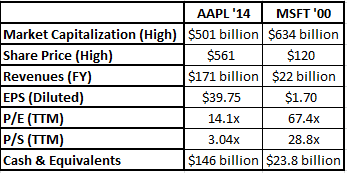 2. Microsoft '14 vs. Intel (NASDAQ:INTC) '00
The second highest-weighted companies in the Nasdaq are MSFT in '14 and INTC in '00, with 7.73% and 6.52%, respectively. Like the previous example, the value comparison is clear for MSFT shareholders today while in '00 INTC was boosted by irrational exuberance. The overall value of the companies at their peak during the given years is not too different - MSFT traded at a high market cap of $319 billion this year while INTC was valued at $372 billion in '00. The fundamental difference in value lies in the company's performance and outlook to justify such a valuation. MSFT trades at a P/E of 14.9x and P/S of 4.1x compared with a staggering 97.7x earnings multiple and 11x sales multiple for INTC. In the two years prior to '00, INTC grew top line revenues by 11.8% and 15.0%, respectively. While sound, the growth in no way justified the tremendous appreciation of market capitalization. There became a clear divergence, as seen with '00 MSFT in the previous example. When the '00 INTC bubble burst, the stock fell 80% in 6 months. When the dust settled, shares traded at roughly 20x P/E, still higher than MSFT's multiple today.

Source: MSFT 10-K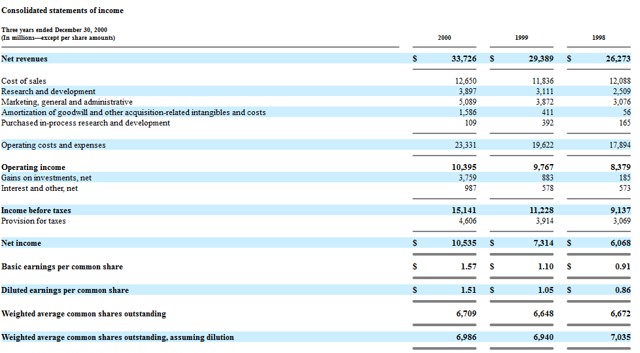 Source: INTC 10-K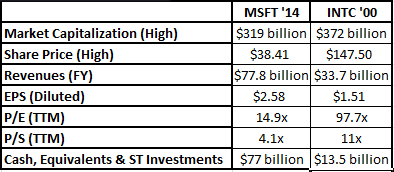 3. Google '14 vs. Qualcomm (NASDAQ:QCOM) '00
Take a second and remember back to '00 when QCOM reported FY earnings of $0.85 on revenues of $3.2 billion. Now, take note that shares of QCOM traded at a peak of $200 in January '00 - that's a P/E ratio of 235x and P/S ratio of 50.2x. Compare that with shares of GOOG today - the company's most recent 10-K highlighted FY EPS of $38.13 on sales of $55.5 billion. Shares peaked at $1,220 during this time generating an earnings multiple of 32x and sales multiple of 7.35x. Also of note, GOOG has accumulated ample cash, equivalents and short-term investments totaling $58.7 billion compared with QCOM's $1.8 billion in '00. QCOM accounted for a 5.6% weight and GOOG accounts for a 7.7% weight in the index, and once again the wildly different valuations show that the run-up the market has experienced in the past eighteen months is nothing compared with the irrational valuations leading the '00 tech bubble.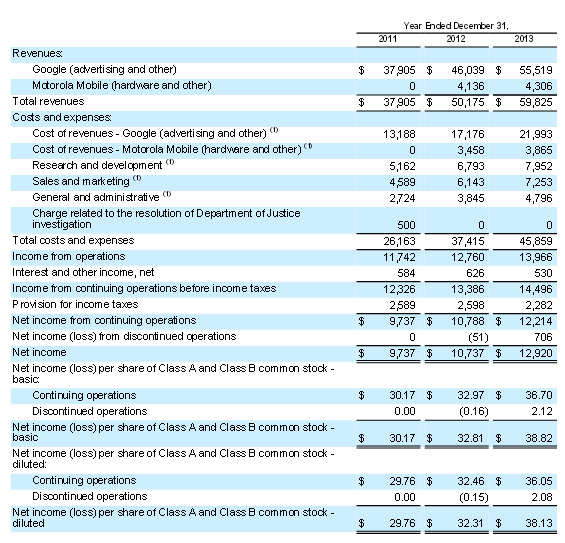 Source: GOOG 10-K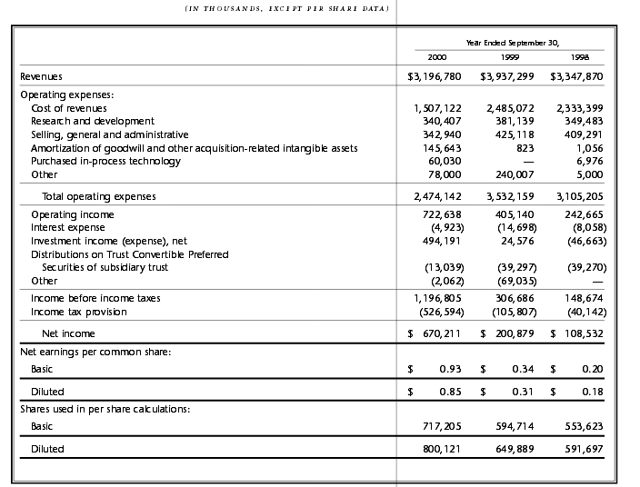 Source: QCOM 10-K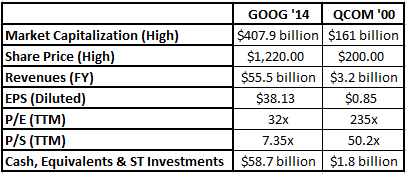 4. WhatsApp
Let's take a quick break from comparing the top-weighted companies of the index and focus on one of the largest tech M&A deals in history - Facebook's (NASDAQ:FB) recent acquisition of mobile messaging application WhatsApp for $19 billion in cash and stock. Skepticism of the acquisition buzzed for days after the deal, which accounted for roughly a 10% dilution of FB's value, but I believe the acquisition was one of FB's best moves yet.
FB is beginning to develop a track record for large acquisitions. In 2012 the tech giant bought mobile photography application Instagram for $1 billion. At the time, Instagram had yet to make a single dollar in revenue and had nine employees. Bears scoffed at the deal - FB was building toward a new tech bubble, they thought. Fast forward two years and Mark Zuckerberg and team are well on their way to proving the acquisition was a brilliant one. Just last week the company announced it had signed a $100 million advertising deal with Omnicom (NYSE:OMC) and has already worked with companies such as Michael Kors (NYSE:KORS), General Electric (NYSE:GE), and others to monetize the platform. Critics of the acquisition were wrong, like they'll be with the WhatsApp deal.
WhatsApp had 450 million global users at the time of acquisition and was growing at an astonishing 1 million new users per day. Again, critics of the deal have associated the low revenues and emphasis on high user base with the Dot-Com Bubble, but no significant acquired company during '98-'01 had near the scale of WhatsApp. A highly-publicized failure of the era was Mark Cuban's Broadcast.com, which was acquired by Yahoo (NASDAQ:YHOO) in '99 for $5.7 billion. At the time of the deal, the valuation was based primarily on the rapidly expanding target addressable market given the newness of broadband. Still, Broadcast.com had just over a half million users at the time of acquisition - YHOO paid over $10,000 per user while FB recently paid $42 per user.
5. The Top Half of the Nasdaq Comparison
We took a fairly in-depth look at the top three weighted companies of the index during both time periods and showed how the value proposition in '14 compared with '00 is both more attractive and much less inflated. What about the rest of the index?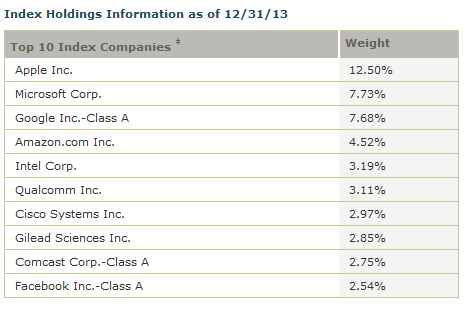 Source: Direxion Funds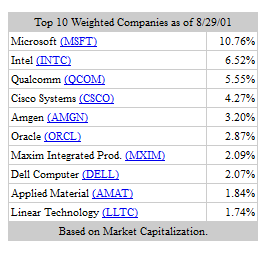 Source: Motley Fool
As shown in the charts above, the top ten most heavily-weighted companies accounted for roughly 50% of the entire index in both time periods. While nearly all of the companies in '00 traded at earnings multiples greater than 50x, only Amazon (NASDAQ:AMZN) has reached those heights today. Overall, the total P/E ratio for the Nasdaq-100 is 21.9x. Today, the total market capitalization of the index is roughly $4.4 trillion while the top 10 companies by weight have $400 billion in cash, equivalents and marketable securities on their balance sheets.
Conclusion
The market has run hard and fast since 2009, so it's understandable (and probably necessary) to take a step back and assess the current value proposition for investing in the Nasdaq. Compare the run, though, to the bubble that was formed during the '98-'00 where the index appreciated 180% in twenty months. The recent build has been more methodical, it has been more value-driven, it has been more justified, and it's way more fundamentally sound. Earnings are justifying growth, and while some components of the index are traded on potential rather than current ability to generate profit, the core of the index is grounded with strong balance sheets, huge user engagement and the highest revenues and profits in the history of the index.
A view of the NASDAQ Composite, lifetime:

So, bears: I hate to burst your bubble, but we're looking just fine.
Disclosure: I have no positions in any stocks mentioned, and no plans to initiate any positions within the next 72 hours. I wrote this article myself, and it expresses my own opinions. I am not receiving compensation for it (other than from Seeking Alpha). I have no business relationship with any company whose stock is mentioned in this article.