"We make our own fortunes and we call them fate" - Benjamin Disraeli
Regular readers of these columns know my well established philosophy within the small cap biotech & medical devices sectors. I called it 'Shotgun Investing'. I look at the small positions I take in these areas as equivalent to lottery tickets albeit with much better odds to pay off.
Investing in these sectors is different than investing in other sectors. Some hedge funds employ PhDs in biochemistry but still get it wrong as much as they get it right. How drugs/compounds and devices actually do in actual trials is next to impossible to predict consistently.
This space calls for a different investing strategy. My philosophy is to take much smaller positions in a larger amount of selections than in other sectors. One must realize that there will be many misses within the biotech portion of your portfolio. However, this should be compensated for by the occasional five or ten bagger.
With this strategy, I recently took a position in a small cap named Navidea Biopharmaceuticals, Inc (NYSEMKT:NAVB) for right at $2 a share.
Company Overview:
Navidea Biopharmaceuticals, a leader in precision diagnostics, is a biopharmaceutical company developing novel radiopharmaceutical imaging agents to help identify the presence and status of disease and enable better diagnostic accuracy, clinical decision-making and ultimately patient care.
The company has many of the factors I like to see before I make a small purchase in a small cap stock in this space.
#1- Insiders:
Insiders control nearly 5mm shares in this entity which has a market capitalization of just north of $250mm. They are have been frequent if small purchasers of the stock over the past year. I also like the fact that no insider has sold stock in this enterprise in a year.
I place a great deal of value on insider buying in this sector. Due to the complex nature of the business, insiders just have knowledge that analysts have a hard time discerning.
#2- Intriguing Products:
I believe it is critical to find companies that have a product((s)) that can generate significant sales as they gets approved or expand into different markets. Navidea's main product right now is Lymphoseek. This compound is a radiopharmaceutical agent for sentinel lymph node mapping for patients with several different types of solid tumor cancers.
It was approved in 2013 in the United States for use in lymphatic mapping to assist in the localization of lymph nodes for breast cancer or melanoma. The company is in the process of gaining approval for use in different markets (Ex, Europe) and for different forms of cancer.
The target review date for expansion in the U.S. is October of this year. The company also has other mapping agents in development (See Appendix at end of article).
#3- Sales Growth & Balance Sheet:
Analysts' revenue projections have wide divergences as one might expect given the complexity of approval process and drugs in development. Navidea had just over $1mm in sales in FY2013. The consensus projections call for over $6mm in revenues this year and almost $20mm in sales in FY2015.
The company has some $30mm in cash on its balance sheet. At current burn rates, this is about 1 ½ years of funding.
#4 - Analyst Commentary:
The company receives scant coverage due to its size. Only five analysts cover the stock but they are generally supportive. The mean analyst price target on NAVB is just north of $4.50 a share. Price targets range from $2.50 to $9 a share according to Yahoo! Finance. All targets are significantly above the current stock price. NAVB traded north of $3 a share in the summer and looks like it bottomed around $1.50 a share late last year.
Conclusion:
Navidea is a solid speculative play for investors would can handle the significant volatility inherent in this space. It is also a good candidate for the 'Shotgun Investor'.
APPENDIX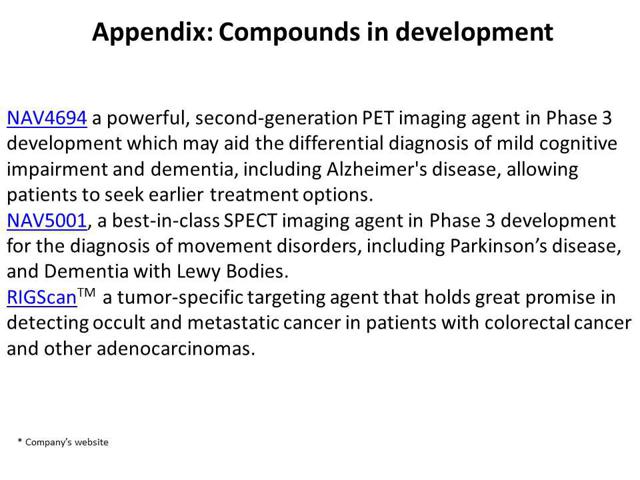 Disclosure: I am long NAVB. I wrote this article myself, and it expresses my own opinions. I am not receiving compensation for it (other than from Seeking Alpha). I have no business relationship with any company whose stock is mentioned in this article.