Just over a year ago I wrote an article on Tesco Corporation (NASDAQ:TESO), calling it A Small Cap To Add To Your Portfolio. Recently, I got a question on this article that asked, "Could you explain the MASSIVE dip in TESO price on Feb. 27?" So, this one is for you.
On Feb. 27th the company released its Q4 and full year 2013 results . The company reported adjusted net income of $.22 which was a "miss" by ~26.5%; analysts estimated the company was to report an EPS of $.30 in Q4. This "miss" was led by the company's Top Drive segment. The segment reported a significant decrease when compared to 2012 results. The top drive segment reported revenues of $311.6 million in 2013, a drop of 12.91% compared to Tesco's 2012 result of $357.8 million. This drop in the Top Drive businesses was a blow to the company's bottom line as earnings for the full year were $36.3 million, ~28% less than 2012's earnings of $49.8 million. So what was the cause of this negative earnings surprise?
2013 was not a banner year for North American Onshore drilling businesses. As 2013 provided a significant decline in rig count, this had a direct effect on the onshore oil and gas service businesses that have a strong weighting within North America. Tesco Corps's Top Drive businesses are greatly dependent on this environment, so if rig counts decline, this will have a negative result on the company's revenues and ultimately earnings.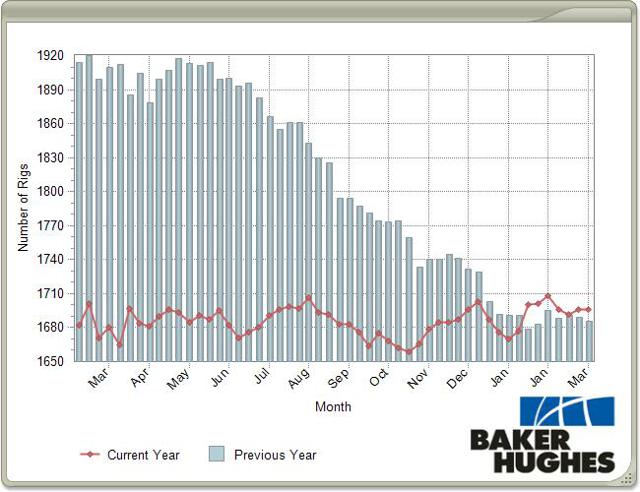 Click to enlarge
source: Baker Hughes
So why is the Top Drive business so dependent on the North American Rig count?
Operators use top drives to add torque, so they can drill for "harder to reach" oil and gas reserves. Estimates are that 80% of operators in the Eagle Ford Basin use top drives to access the tight oil and gas. In a year like 2013, where the rig count declined there is not as many potential customers, thus leading to a decline in sales.
So, as the ~10% decline in stock price was due to the "miss" in sales and earnings, which was due to the 2013 decline in rig count, what do future North American rig counts look like? And how will the company capitalize on this?
2014 and 2015 Global Onshore Drilling Activities
Over the next couple of years, natural gas prices within North America are expected to drive an increase rig counts. This increase in price is in turn expected to increase E&P onshore capex spending by ~7%. In 2014, with the Permian Basin expected to dominate activity, demand for growth in this region is expected to increase after a challenging 2013. The Permian Basin is expected to support an increase of ~50-70 horizontal rigs which equates to a 35% increase from 2013.
Companies like Apache Energy (NYSE:APA), who recently announced they were going to invest $8.5 billion in exploration and production activities in 2014, and Anadarko Petroleum (NYSE:APC), who recently increased their capital budget by nearly 8% and stated they would spend about 60% of the total on drilling more oil wells onshore in North America, look to be leading a revival for growth within the industry. As companies expect to increase their capital spending, this is expected to spark the onshore drilling market within North America.
After a strong dip in 2013, the chart below provided by Baker Hughes indicates that North American horizontal drilling looks to be on the rise in the later half of 2014.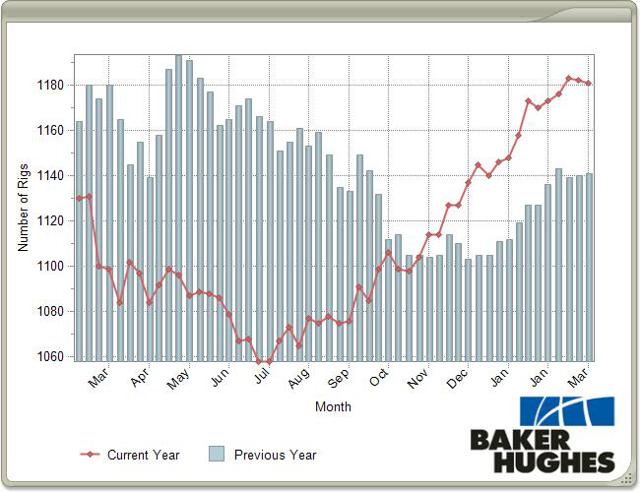 Click to enlarge
The expected increase in global onshore spending is not limited to North America. In 2014, E&P spending is expected to increase by 14% in the Middle East, 13% in Latin and South America and 11% in Russia. As Tesco's webpage shows, their diversified portfolio will help stabilize earnings if one region begins to drag.
So, as the macro picture for horizontal drilling looks positive, which companies will be able to capitalize from this increased demand?
It is expected that some of the best companies positioned to capitalize on this trend are major integrated service companies such as Halliburton (NYSE:HAL) and Baker Hughes (NYSE:BHI) as well as smaller companies that have a specific niche.
Company Breakdown
Tesco is a small cap company with a market cap of ~$737.04 million. Currently, the business is divided into 3 segments. The businesses are: Tubular Services, Top Drives and Research and Engineering.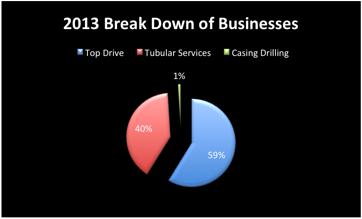 The Tubular services segment accounts for ~40% of company revenue. Even though this segment is a smaller segment of the company, 2013 proved to be a record year. The Tubular services segment recorded revenues which lead to an increase of 17.1% last year over 2012.
With the award of the Gulf of Mexico offshore contract, the tubular business is expected to have a strong 2014 and beyond. This contract will prove to be very important as it should account for tens of millions of dollars as the contract encompasses multiple rigs over multiple years.
It is also a huge stepping stone for the company, as the tubular services segment is now beginning to execute their plan for rapid expansion in the offshore drilling market. Demand in the offshore drilling market is expected to lead growth over the mid-term (3 to 5 years) as major E&P companies will have to refocus on deep-water and harsh weather reserves.
Leading growth over the next couple of years, Tesco top drive segment has two main sources of income. They are the top drive sales and rentals.
In 2013, the top drive rental business accounted for $125.2 million in revenue. This equates to 23.8% of total revenue. As the company also sells their top drives, and offers after-market sales and service, the total top drive business equates to ~59.32% of the overall picture.
A compelling reason for the stock's recent price decline was that top drive sales significantly decreased in 2013. Due to the decline of active rig counts in North America, company top drive sales declined by ~26.7% to $127.2 million from the 2012 high of $166.7 million.
Specific Niche
The specific niche that will lead to drive over the next couple of years is that Tesco Corp. is a market leader for top drive rentals. As top drive technology translates into increased efficiency for rig operators this is a vital component for the driller to create maximum profits.
Top drives, which are used by approximately 70% of North American rigs with a higher percentage in unconventional oil and gas wells, increase torque thus enabling the driller to access harder to reach areas. With the growth in North America expected to be driven by a rise in service-intensive multi-well horizontal drilling, need for top drives is evident.
Market Share
Tesco Corp currently has market share in Top Drive rental business. According to the Tesco Corp investor page, Tesco Corp has ~50% of the top drive rental business. Their closest competitor National Oilwell Varco (NYSE:NOV) has 20% of the market share while CanRig has the third most market share with 11%.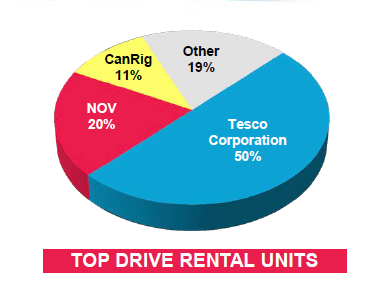 Why The Rental Business is A Viable One
For some companies renting top drives works out to be more economical than buying them. Generally, small companies without extensive capital can rent this technology as a way of keeping their costs under control while remaining competitive. Large scale shale operators are another key group that often rent top drives. These rentals can be used as a replacement to increase torque in their conventional rigs. Another application for rentals is they can be used as a quick fix when the company owned top drive becomes in operable. Down time is critical for operators, so if a top drive fails, the entire drilling process can come to a standstill thus costing operators as much as $60,000 per day. There are many applications for the top drive rental business. It can be a cost effective solution, used in upgrade conventional rigs, and as they can be replaced thus limiting potential downtime.
Earning Estimates
As the North American rig count is expected to increase and the wells are becoming more challenging operators need more torque to access the oil and gas. Driven by this demand, revenue growth in the top drive businesses will bring earnings back to strong growth.
Earnings over the next two years are expected to increase to ~$1.27 in 2014 and ~$1.58 in 2015. Revenue is expected to increase to $579.97 million and $627.02 million respectively.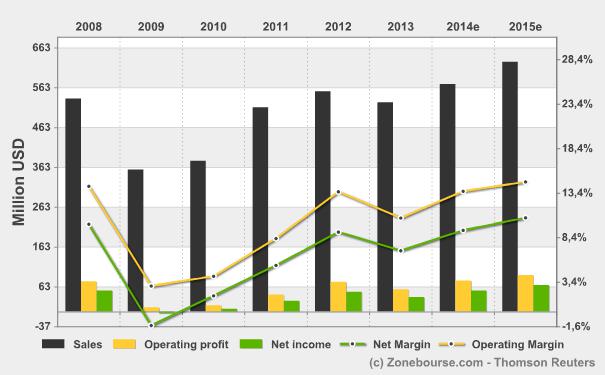 Chart by: (4-Traders)
Current Valuation
Due to the recent pullback, Tesco is trading at a very attractive valuation.
Enterprise Value or EV = Market Capitalization + Total Debt - Cash and Cash Equivalents.
EV - $742.20 million + $0 million - $97 million = $645.2 million
EV = $645.2 million
EBITDA = $96 million
EV/EBITDA = 6.72
As the oil and gas service sector often trades in the 8.63 trading range, an EV/EBITDA ratio of 6.72 indicates at current levels the stock is trading under fair value compared to other companies in its sector.
Competitors Valuations
National Oilwell Varco - EV/EBITDA = 7.95
Schlumberger NV (NYSE:SLB) - EV/EBITDA = 8.75
Halliburton - EV/EBITDA = 7.84
Cameron International (NYSE:CAM) - EV/EBITDA = 9.18
Baker Hughes - EV/EBITDA = 6.81
Based on the EV/EBITDA valuations, Tesco is currently trading the most attractive valuation. The next lowest valuation is Baker Hughes who is currently trading at 6.81.
Other metrics that indicate the Tesco Corp is undervalued are: Tesco has a P/S of 1.4 below the industry average of 1.7, P/B of 1.4, below the industry average of 2.3, and a P/FCF of 7.9 , which is below the industry average of 8.8.
As the chart above indicates over the past year, Tesco has significantly outperformed Cameron International, National Oilwell Varco and Schlumberger NV. The recent pull-back puts Tesco back in the same range as Baker Hughes and Halliburton, who both receive a majority of their revenue within North America.
Targets
To create a target price for Tesco. I will use Tesco Corporation's forward P/E ratios with estimated earnings to find a target. Currently, Tesco has a forward P/E of 14.33 and FY 2017 earnings projected at $1.58. These two metrics lead to a target price of $22.64.
As of March 6th, Tesco was trading at $18.57. Using the forward P/E model, this indicates that the stock has a 21.92% potential upside from this point.
Risks
There are many risks involved with oil and gas service companies. As Tesco's revenue streams are directly tied to the energy industry, correlations such as falling oil prices or hazardous drilling installations can and will have a negative impact on oil rig counts.
Other significant risks include political and regional unrest. In 2013, unrest in Iraq and Egypt were issues that the company faced. Moving forward, as Tesco has operations in Russia, the recent turmoil there could also have a negative influence on the company.
Conclusion
The increasing demand for unconventional oil and gas within North America will drive the Tesco's top drive businesses. This demand combined with Tesco's market share of the rental business will drive revenue and sales over the next couple of years. Looking forward three to five years, the company's focus on the offshore drilling market will create many opportunities for growth.
As far as the sell-off goes, based on the evidence listed above the upward trend the stock has been on for the past year or so is still intact. As the company is currently trading at an EV/EBITDA of 6.72 this implies sell-off may have been overdone, even though 2013 was a challenging year the company.
As the macro picture looks promising and Tesco Corp has a niche that is currently in demand, future revenue, margins and earnings all look strong. At current levels, based on the evidence above, I believe the stock is ~20% undervalued and as the North American rig counts improve in 2014, I anticipate this spread to be made up.
Disclosure: I am long HAL, SLB. I wrote this article myself, and it expresses my own opinions. I am not receiving compensation for it (other than from Seeking Alpha). I have no business relationship with any company whose stock is mentioned in this article.