We have always said that bull markets never die suddenly, they fight the good fight before dying from exhaustion. This usually holds true when it comes to the mini-bull markets that take place in the market, and is nearly always true when the mini-bull market is operating within a greater bull market. There are always outliers, such as the financial crash which led to the "Great Recession" but in our experience these are few and far between.
Which brings us to the 3-D printing names this morning, a sector under fire from investors in recent weeks as quarterly reports disappointed and momentum was lost. The pain for bulls shall continue in today's session after an article in Barron's (located here) but for investors who can stomach the volatility long-term there might be further gains to be had.
Chart of the Day:
In a down market, the smaller names will underperform versus the larger names in the long run. These names should be watched by both bulls and bears as they will be quite telling moving forward.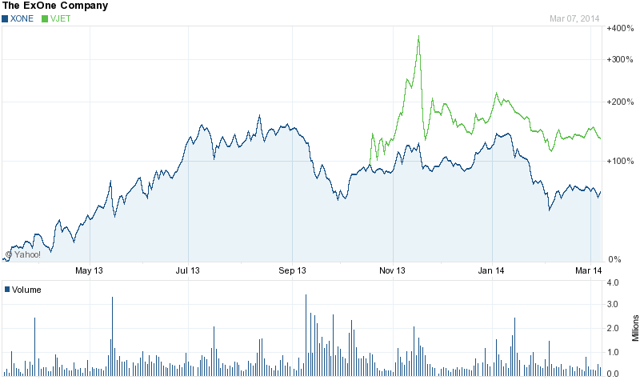 Source: Yahoo Finance
We have economic news today but shall kick the week's economic data off tomorrow with the JOLTS and Wholesale Inventories.
Asian markets finished lower today:
All Ordinaries -- down 0.93%
Shanghai Composite -- down 2.86%
Nikkei 225 -- down 1.01%
NZSE 50 -- down 0.15%
Seoul Composite -- down 1.03%
In Europe, markets are trading lower this morning:
CAC 40 -- down 0.35%
DAX -- down 1.31%
FTSE 100 -- down 0.56%
OSE -- down 0.19%
3-D Printing Names Under Pressure
We have been very vocal about our opinion on the 3-D printing names over the years, having called a bottom in the names right near their lows before the latest rally and having also sounded the alarm before the most recent weakness. With Barron's reporting on the sector in this week's edition of the paper we are seeing tremendous pressure on the sector as a whole. The article, "Beware 3-D Printing!" takes the industry to task, but also focuses a fair amount of attention on 3D Systems (NYSE:DDD) ,which it says could decline 80% and still be richly valued, and Stratasys (NASDAQ:SSYS), where it highlighted its issues with partnering with other companies. To be fair, a lot of attention should have been paid to those two names because they are the two biggest for American investors.
2014 has been a rough year for the industry, even though fresh all-time highs were put in early in January. Our thinking is that this retracement could lead to another move higher now that investors' expectations are not as high.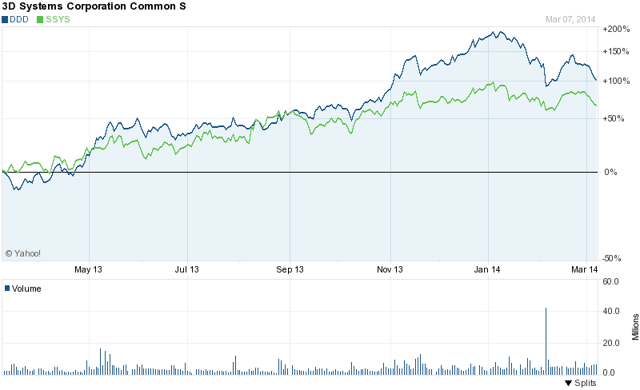 Source: Yahoo Finance
Our worry is that Barron's is late to the short game as we were already once again looking at the industry as a pick for a short-term play on a move higher, or potentially another long-term bottom call. Obviously, the bearish article changes things, but we are more bullish today than we were before the article because Barron's has a history of not necessarily understanding trends and making value calls on growth industries which never pan out.
We would agree that the recent IPO names such as Voxeljet (NYSE:VJET) and ExOne (NASDAQ:XONE) could face issues in the future as competition picks up and the companies have to grow revenue and the bottom line significantly to keep up with the larger players in the industry, however our view for the bigger names in the sector is that they shall outperform the smaller names. This is a safe bet, especially in a difficult market because the blue chip names in industries such as this outperform when the industry falls on hard times.
We will continue to let the dust settle and watch for the various names in 3-D printing to find a bottom before we make another call, but our inclination at this point is that there is another move higher in the future for some of the key names in the sector.
On a separate note, Organovo (NYSEMKT:ONVO) has held in strongly since we last discussed the sector and with the weakness in both 3-D printing and biotech recently we think that the strength is telling. This might very well be a name to watch should 3-D printing bulls have their way again.
Disclosure: I have no positions in any stocks mentioned, and no plans to initiate any positions within the next 72 hours. I wrote this article myself, and it expresses my own opinions. I am not receiving compensation for it (other than from Seeking Alpha). I have no business relationship with any company whose stock is mentioned in this article.