Stratasys (NASDAQ:SSYS) reported Q4 earnings and revenue ahead of analyst estimates. The company also reiterated FY 2014 guidance. Stratasys is executing its strategy very well, with strong growth across all categories. Makerbot is becoming an important revenue contributor for the company, and delivered Q4 revenue of $24.9 million, representing 16% of total revenue. Stratasys' Q4 earnings report is much better than 3D Systems', since Stratasys managed to expand the gross margin as opposed to 3D Systems' gross margin, which was down Q/Q, and Stratasys' revenue growth exceeded the revenue growth of 3D Systems. Better execution and growth levels, along with a more favorable valuation make Stratasys a better trade/investment than 3D Systems at current price levels.
Q4 highlights
Stratasys reported Q4 earnings of $0.50, ahead of analyst estimates of $0.49 and 25% higher year-over-year. Revenue was up 61.6% to $155.8 million, $4.8 million higher than consensus estimates. Results were strong across the board, and the following are the most important metrics:
Hardware and consumable revenue grew 38% and 33% respectively. The figures exclude MakerBot's revenue contribution.
MakerBot fourth quarter revenue was $24.9 million, as demand for consumer 3D printing products continues to grow. MakerBot's 2012 revenue was only $15.7 million.
Non-GAAP gross margin was 60.2%, compared to 57.8% in Q4 2012.
Non-GAAP operating margin expanded 110 basis points to 20.2%.
Stratasys introduced several products, expanded the premium material offerings and entered multiple strategic partnerships.
The company stated that it intends to invest aggressively in 2014 to take advantage of the growing demand for 3D printing products. As a result, margins are expected to be flat in 2014, due to increased investments and the fact that MakerBot has lower overall profit margins.
Why Stratasys is currently a better trade/investment than 3D Systems
I believe that Stratasys is currently a better investment than 3D Systems (NYSE:DDD). The following are the reasons why I think Stratasys will outperform in the near-term:
Both Stratasys and 3D Systems are delivering accelerating revenue growth. However, Stratasys seems to be executing better than 3D Systems, since its Q4 revenue growth was 61.6%, while 3D Systems delivered revenue growth of 52.4%.
Both Stratasys and 3D Systems are investing aggressively, but Stratasys managed to expand its gross margin 240 basis points year-over-year, while 3D Systems' gross margin was flat Y/Y and down Q/Q.
Stratasys is leading on the consumer front, the fastest growing segment in recent quarters. MakerBot's Q4 revenue was $24.9 million, while 3D Systems' consumer segment revenue was $8.9 million.
While this is a subjective assessment, I believe that Stratasys' is currently in a better position than 3D Systems, since it has a more concentrated approach and has made two major strategic acquisitions, while 3D Systems has made more than 40 acquisitions in the past few years, and it might be harder to successfully integrate all of the acquired companies.
Stratasys' valuation is more favorable than 3D Systems, based on their respective P/S ratios. 3D Systems' premium is unjustified, since both companies have similar financial profiles, while Stratasys' growth levels were above 3D Systems'.
However, 3D Systems has its strengths too, although they are currently not overwhelming. 3D Systems Direct Metal segment is seeing strong demand, while Stratasys is yet to enter the metals printing segment. This means that 3D Systems is better positioned to capture the demand in metals printing, and may offer a more diversified range of products in this field. It is to be seen what Stratasys intends to do about metals printing, and one possibility is to acquire a company (ExOne (NASDAQ:XONE) comes to mind). Stratasys has a substantial cash position, and might use the funds to make an acquisition in this field in the future.
The other strength of 3D Systems is its aggressiveness, especially with acquisitions, but this is a double-edged sword, and might blow up in the company's face, but, so far, 3D Systems has benefited immensely from its numerous acquisitions.
Both stocks facing selling pressure
In my last article on 3D Systems, I noted that the stock seems to be losing momentum and that it might be vulnerable to a pullback. The 50 day moving average line was the resistance line for the stock, and it was unable to penetrate it and move higher. In the meantime, Stratasys also succumbed and is also trading below its 50 day moving average line. My view is that Stratasys is less vulnerable to the downside, at least until their valuations come closer to each other.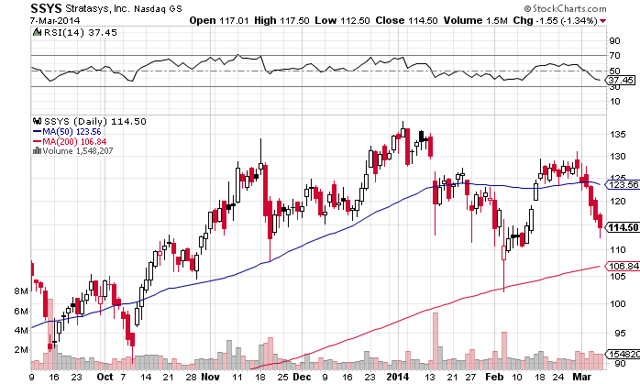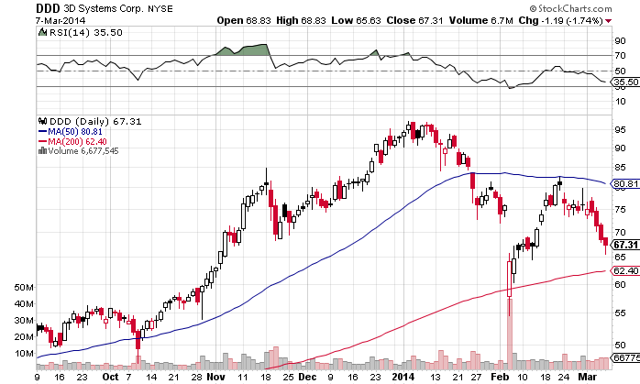 Source: Stockcharts.com
Conclusion
Stratasys remains in a great position to benefit from the growing demand for 3D printing products. The company is executing its growth strategy very well, its revenue growth and operating metrics are better than 3D Systems' and its valuation is more favorable at the moment. I expect Stratasys to outperform 3D Systems in the near term, until their valuations are more aligned. The company should continue to build momentum in the consumer segment and enjoy strong organic growth throughout the year and beyond.
Disclosure: I have no positions in any stocks mentioned, and no plans to initiate any positions within the next 72 hours. I wrote this article myself, and it expresses my own opinions. I am not receiving compensation for it (other than from Seeking Alpha). I have no business relationship with any company whose stock is mentioned in this article.