Qihoo 360 (NYSE:QIHU) reported earnings and revenue that blew past analyst estimates. The company also guided Q1 2014 revenue ahead of consensus. Qihoo posted another quarter of triple digit earnings and sales growth and continued to gain search market share, which stood at 23% in Q4. However, the stock paused and reversed lower after the earnings report. A possible area of concern is that daily unique browser home page visitors averaged 119 million in Q4, down 7 million sequentially, and home page daily clicks were flat sequentially. Although there is more good news than bad news, the stock itself might be ahead of itself, and may pullback and consolidate in the next couple of weeks or months. The company's valuation is quite high at the moment, and although revenue and earnings are growing in triple digits, the latest move may be overdone. I would at least take partial profits here if I were long Qihoo, and invest the money in Baidu (NASDAQ:BIDU), which might perform better in the next couple of months.
Q4 highlights
Qihoo posted another quarter of triple digit earnings and revenue growth. Q4 EPS was $0.70, a 218% increase over Q4 2012 and $0.27 ahead of analyst estimates. Revenue increased 115.3% to $221.6 million, and was $11.9 million above consensus. Online ad revenue increased 113% Y/Y to $142.4 million, while Internet value-added service revenue rose 124% to $78.9 million.
The company stated that, according to third party data, it had 23% search market share in Q4. Management also said that it aims to have 30% of the search market by the end of 2014.
While the results were overwhelming, market reaction was muted. It seems that the news was priced in. There is also one area of concern. Daily unique browser home page visitors in Q4 were at 119 million, up 28 million year-over-year, but down 7 million from Q3. And home page daily clicks averaged 681 million, up 231 million from Q4 2013, but flat sequentially. But, overall, the company is doing great, and its market share gains and strong growth have been reflected by the surging share price.
Time to take profits (and go long Baidu)?
I wrote my first article on Qihoo in March 2013, and the company was in the early stage of search market penetration, and the share price was around $32. The stock has risen almost 300% since, and I believe it may be prudent to take some profits off the table, and perhaps, use the gains to buy Baidu, which is more fairly valued. Baidu's recent efforts and accelerated revenue growth make the stock even more attractive at current levels. In my November article on Qihoo, I stated that Qihoo will continue to outperform Baidu, as its growth levels and market share gains might propel the stock even higher. Qihoo is up 46% since, while Baidu is up 16%. While Baidu's earnings growth was almost flat in recent quarters because of increased investments, it resulted in accelerated revenue growth and the company made significant progress in mobile monetization, which stood at 20% of total revenue in Q4. Earnings growth is expected to pick up significantly in 2015, and Baidu's current valuation makes it a more attractive trade at the moment, although Qihoo's premium over Baidu is partly deserved on much higher growth. Qihoo's share price is extended after a 50% run in the last two months, while Baidu is just attempting to break out from its two-month consolidation.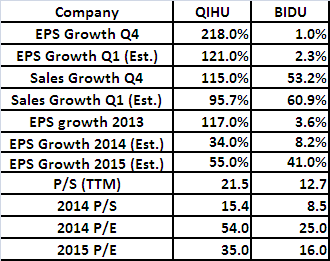 Source: Yahoo! Finance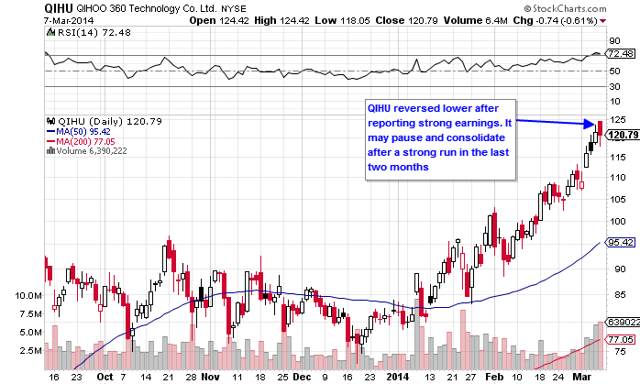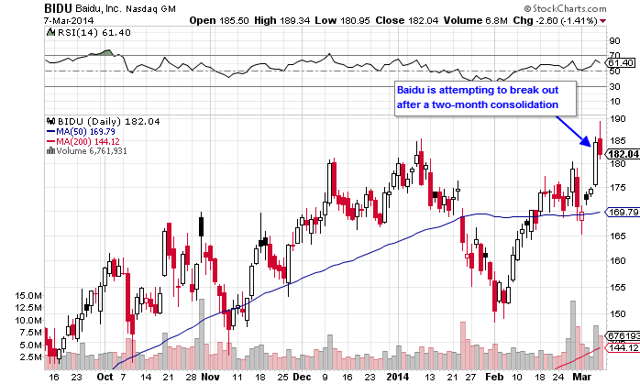 Source: Stockcharts.com
However, given the recent momentum, I would not be surprised if Qihoo continues to go higher. It currently trades at a 2014 P/S ratio of 15.4 and may move close to a P/S ratio of 20, implying 30% more upside from here. Still, I believe that Baidu has more upside. If Qihoo is to attain a 2014 P/S ratio of 20, Baidu could easily be trading at 12 or 13 times its 2014 sales, which translates into 40% to 50% upside. Baidu has been trading in a TTM P/S range between 11 and 13 in the last six months, and there may be room for the ratio to expand on accelerated revenue growth, which would translate into more upside than I anticipated.
Conclusion
Although Qihoo posted very strong Q4 numbers last week, its share price is extended and vulnerable to a pullback. Worries about a sequential decline in browser users might weigh on the share price. On the other hand, Baidu's recent efforts on the mobile front and accelerating revenue growth are encouraging, and Baidu may outperform Qihoo in the following weeks/months.
Disclosure: I have no positions in any stocks mentioned, but may initiate a long position in BIDU over the next 72 hours. I wrote this article myself, and it expresses my own opinions. I am not receiving compensation for it (other than from Seeking Alpha). I have no business relationship with any company whose stock is mentioned in this article.