The metals and mining sector is still one of the cheapest sectors in the stock market. Investors wanting to gain exposure to large-cap, diversified commodity plays can still buy globally operating, first-class businesses at distressed valuations. Rio Tinto (NYSE:RIO) is such a company. The company is busy exploring everything from aluminum to iron ore, copper, coal and other commodities which are essential for the construction and manufacturing industries -- especially in Asia.
Share performance
Rio Tinto's share price has fallen back lately even though the mining giant reported solid operational- and financial results for fiscal year 2013. Rio Tinto has declined approximately 12% from its 52-week High at $60.61.
(Source: Yahoo Finance)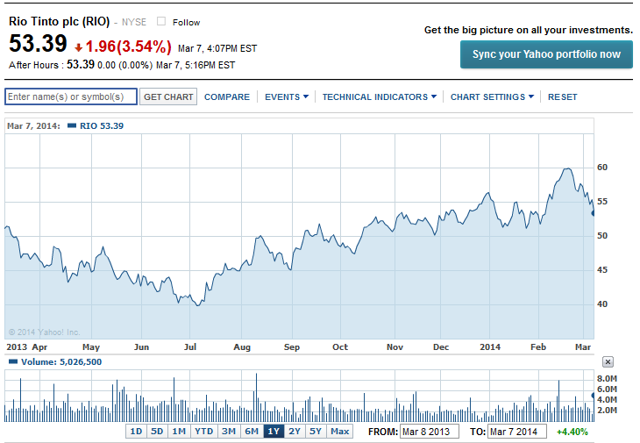 Compared to its peer firms, Rio Tinto has the best five-year performance with a return of 81%. BHP Billiton (NYSE:BHP) gained 60% while Vale (NYSE:VALE) is the biggest loser in the basic materials sector with a five-year return of negative 3%. However, Vale is another promising, contrarian bet for commodity investors based on its heavy iron ore- and China dependency. A rebounding Chinese economy could turbocharge Vale's earnings in the coming years and likely be a major catalyst for Vale's stock price.
Background
The basic materials sector has not been a great performer over the last years, mainly because large mining conglomerates are dependent -- to different degrees -- on the Chinese economy. Slower growth in China also slows down commodity demand. The mining sector consolidated extensively in 2011 after China's growth started to run into constraints. Lower commodity demand and lower commodity prices, impairment charges and a weak growth outlook all took their toll on share prices of mining companies like Rio Tinto and Vale.
However, I believe the worst is over for companies like Rio Tinto and too much negativity is now priced into stocks. Rio Tinto posted strong y-o-y growth in underlying earnings (plus 10%) in 2013 driven predominantly by cost reductions.
(Source: Rio Tinto 2013 Full Year Results Presentation February 13, 2014)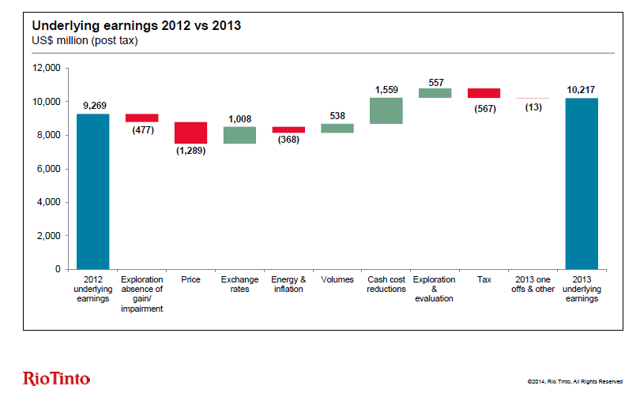 Rio Tinto also delivered results in other areas: Operating cash flows increased 22% to $20.1 billion in 2013 while the company pushed capital expenditures down to $12.9 billion (a decrease of 26% y-o-y). Scaling back capital expenditures has been a major theme for mining companies in 2013 in order to alleviate free cash flow. Further capital expenditure cuts are expected in the coming years (Rio Tinto intends to cut capex to less than $11 billion in 2014 and approximately $8 billion in 2015).
Market valuation
While Rio Tinto does all the right things to deliver value for shareholders (selective capex reductions, net debt reductions, increasing dividends etc), the market does not reward the company for the progress it achieved in 2013.
Rio Tinto trades at less than eight times forward earnings -- and is almost as ridiculously undervalued as Vale. Vale currently trades at less than seven times earnings while BHP Billiton trades at nearly thirteen times forward earnings.
I believe Rio Tinto, a mining- and metals corporation which conducts operations for more than 140 years, should trade at a substantially higher earnings multiple than 7.82. Stronger economic momentum in China and higher iron ore/coal/copper sales could justify a meaningfully higher equity valuation for Rio Tinto (as well as other mining companies).
(Source: Achilles Research, Finviz.com)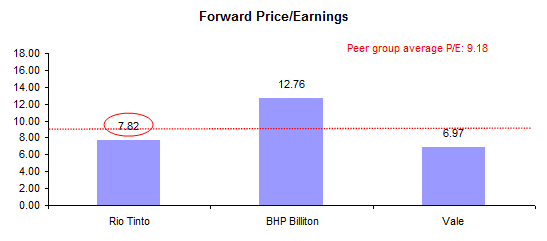 The summary table below compares key valuation metrics of large-cap mining companies Rio Tinto, Vale and BHP Billiton:
(Source: Achilles Research, Finviz.com)

Final thoughts
I think basic materials companies still make extremely attractive value propositions for long-term investors. Rio Tinto's valuation in particular appears to be depressed despite substantial y-o-y cost reductions, a turnaround in underlying earnings and improved operating cash flows. I believe Rio Tinto could trade at 13-15x forward earnings when China's construction industry gains momentum and the Chinese economy grows at a rate of 9-10% per year (current GDP growth target is 7.5%).
Rio Tinto has become leaner in 2013, has lower net debt (net debt declined by $4 billion from H1 2013 to H2 2013) and should benefit substantially from higher commodity prices for coal, copper and aluminum. I also see further upside potential for Rio Tinto coming from iron ore volume- and price improvements driven by China in 2014/2015. An investment in Rio Tinto is anti-cyclical in nature but could potentially be very rewarding when China's economy kicks into gear. Strong, long-term BUY.
Disclosure: I am long VALE. I wrote this article myself, and it expresses my own opinions. I am not receiving compensation for it (other than from Seeking Alpha). I have no business relationship with any company whose stock is mentioned in this article.