Apple's (NASDAQ:AAPL) Mac computers have advanced to a new high in worldwide market share, taking a small but significant bite out of Microsoft (NASDAQ:MSFT) Windows, according to data on the website of analytics firm Net Marketshare and echoed by StatCounter Global Stats. [graphs and charts below the fold.]

Ever since MS-DOS became standard on IBM (NYSE:IBM) and compatible PCs back in the early 1980s, Microsoft has dominated personal computer systems. Powered by the early drive by businesses to standardize, all other systems were marginalized. Apple itself was driven almost to extinction.
Windows IT Pro reported:
As of October 4, 2000, Apple's overall share was only 2.84 percent of all machines connected to the Internet… StatMarket notes that neither Apple nor Linux have made a dent in Microsoft's marketshare dominance.
But since the advent of the iPod back in 2001, Apple's Macintosh computer line has been slowly reasserting itself, driven by the "halo effect" first of the iPod, then the iPhone and iPad. Clearly, when people were introduced to one of the company's personal iDevices, they became more open to trying the computers, and global share has more than doubled since 2007.

Other players
Note: "Desktop" here is used to include traditional laptop as well as desktop computers as opposed to tablets. Whether ultimately this is a valid distinction or not, it has an operational value for the current discussion.
The StatCounter data shows that there are several small players. Linux has maintained a steady 1.13% over the past few months. Chrome OS, which runs on Chromebooks that were popular this past holiday season, more than doubled from 0.06% to 0.15%, trailing even its sister OS Android (0.85%). Both of these OSs are provided by Google (NASDAQ:GOOG).
The big question
For the first time in decades, Microsoft machines have fallen below the 90% mark. One has to wonder: Is this just a trifling change in the overwhelming dominance of Windows OS, or is this the beginning of a real erosion of that hegemony?
The big question is: Does 90% represent some sort of psychological mark? Before these new data points, other OSs could be dismissed as micro players that would never amount to much. However, as Windows dips below 90%, this is no longer so evident. Will an increasing number of people begin to question the long-held, taken for granted meme that Windows is the only real solution?
One thing is for sure. Macs can no longer be dismissed as a "toy." They never were, but it has always amazed me how so many otherwise intelligent people would argue in favor of this description.
We are no longer in the 1990s. Times have changed. No longer can Microsoft modify its browser and command the whole world to adjust to its system. The mobile PC - i.e. the tablet computer - is taking over a significant portion of users' tasks. Chromebooks offer lower cost alternatives that may meet the needs of many workers, and while Macs are not inexpensive, the overall value proposition they present is obviously winning converts.
Only time will tell how this will play out, but clearly something is happening here.
Investor's take
While the Mac line contributes only 11% of Apple's revenue (Q1 20144) this totaled $6.4 billion last quarter and $21.5 billion in fiscal 2013. Additionally, the Macs act as an anchor for all the other products. The iOS devices (iPhone, iPad, iPod Touch) all work best when paired with a Mac. Together they form the most compelling "ecosystem" in the industry.
The Macs will continue to grow market share, particularly as the value proposition becomes more evident in the business world. While Macs may be more expensive to purchase initially, generally they last a lot longer, have much higher resale value, and typically require a fraction of the maintenance of time/cost of Windows counterparts. This is one reason that Google has changed almost exclusively to Macs.
As Apple has diversified, any expansion will add to growth of the bottom line, but not in an enormous way. More significantly, it will act as validator of the overall ecosystem, reinforcing the product line as a whole.
However, there are limits to the growth it can make. Aside from the many people who have an irrational, ingrained hatred for anything Apple, as noted above, Macs cost much more than low end Windows PCs, even a bit more than comparably equipped, off the shelf mainline PCs. (Let's not talk about home built PCs. Most people are not interested in doing this.)
Microsoft implications
In my opinion, Microsoft has a real problem here. Tanner Helland provides the chart below, along with this commentary:
Microsoft revenue by division for the years 2010-2013. Overall revenue continues to trend upward, despite flat Windows sales. Note that as of 2013, both Office and Server/Tools brought in more money than Windows.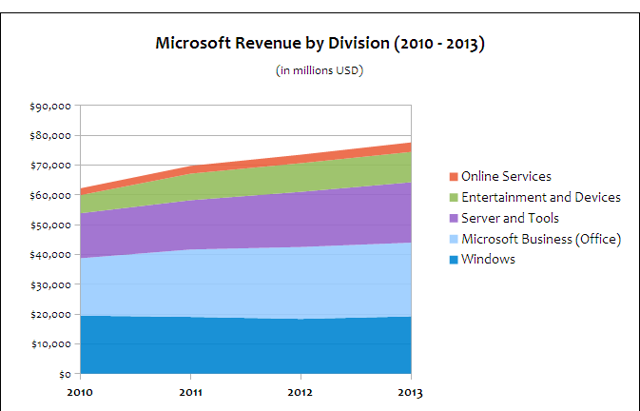 Remember, PC share erosion is happening on two fronts: Apple and Chromebooks. While the latter is a tiny percentage of users now, it did double its share, and if you combine the latter with Android as a desktop, the two add up to 1%. This product category, the desktop as a client, is in its infancy. If it catches on, it could seriously diminish revenue from Windows.
Microsoft is a giant with many deeply entrenched systems. Server and Tools do not seem to be greatly affected by the introduction of Linux, so why should Windows not simply shrug off this incursion? The Online Services, Server, and Entertainment divisions are all growing. So some nibbling at the edges may turn out to be insignificant.
Yet some of these other businesses grow from the perception that Microsoft is the only real game in town. If this diminishes significantly, then the future may be not be so rosy. Short term there it certainly looks like continued growth, but personally, I would be wary about long term investing.
---------------------------------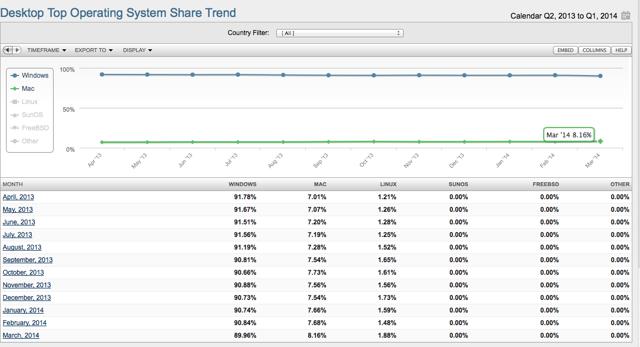 [Net Marketshare]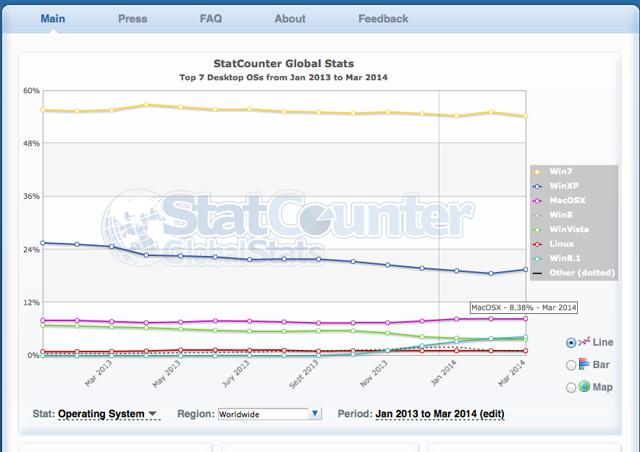 [data source: StatCounter]
=====
Related Articles:
Apple Mac Worldwide Surges, Almost Takes Fifth Place
iPhone 5c a Failure? - Baloney!
====
Disclosure: I am long AAPL. I wrote this article myself, and it expresses my own opinions. I am not receiving compensation for it (other than from Seeking Alpha). I have no business relationship with any company whose stock is mentioned in this article.