Most investors were happy to see the calendars turn to June and put a dismal month of May in the rear view mirror. Global equity markets took their cues from Europe for most of the month, as anxiety over the impact of sovereign debt woes on global growth dominated financial headlines and caused a wave of risk aversion to wash over equity markets. The May flight to safe havens demonstrated the extent to which stock markets are now intertwined; despite encouraging data releases in the U.S. and other corners of the world, worries about the "euro zone drag" rippled throughout the global economy.
Finding the big "winners" from last month is a challenging task; securities plunged on Wall Street and in Beijing, and everywhere in between. The S&P 500 SPDR (NYSEARCA:SPY) lost almost 8%, while emerging markets ETFs plunged as much as 10% in a few short weeks. The vast majority of country- and sector-specific equity ETFs finished May deep in the red. But there were a few relatively bright spots. Below, we sort through the wreckage from the May collapse to highlight five equity ETFs that turned in relatively impressive performances last month:
5. Internet Infrastructure HOLDRS (NYSE:IIH)
Miraculously, this ETF delivered a gain of 1.2% during May, making it one of the only equity funds to finish the month above water. Like most HOLDRS products, IIH is light on the diversification, spreading its holdings across only a handful of stocks; VeriSign (NASDAQ:VRSN) and Akamai Technologies (NASDAQ:AKAM), which combine to make up about 70% of total assets, both finished May in the black, accounting for IIH's big month (see Five Facts About HOLDRS Every ETF Investor Must Know).
click to enlarge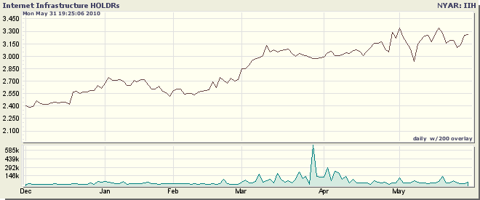 4. Market Vectors Gold Miners ETF (NYSEARCA:GDX)
A surging dollar weighed on most commodity prices in May, but a flight by suddenly risk averse investors to safe havens gave gold a nice boost during the month. A spike in bullion prices–GLD added 3.1% during the month–helped to soften the blow for GDX, which tracks the NYSE Arca Gold Miners Index. This ETF finished the month down just 1.3%, while the more speculative Junior Gold Miners ETF (NYSEARCA:GDXJ) slid nearly 7%.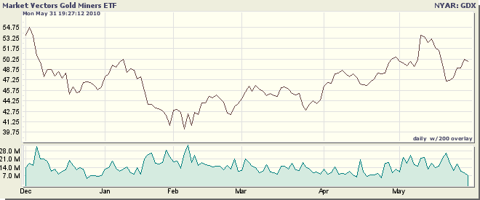 3. Claymore/NYSE Arca Airline ETF (NYSEARCA:FAA)
The airline industry generally isn't among utilities and staples in the group of usual suspects that perform relatively well during turbulent times. But FAA put up an impressive fight last month as hopes that a mega-merger would set off a wave of consolidation helped stocks hold their ground. FAA still lost about 3.7% on the month, but that was far better than most broad market ETFs.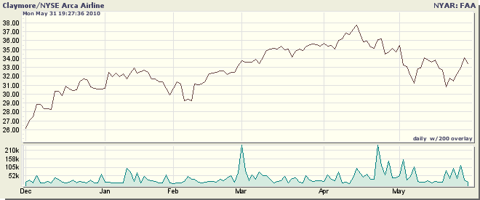 2. UBS E-TRACS S&P 500 Gold Hedged ETN (NYSEARCA:SPGH)
One of the newer ETNs available to U.S. investors, SPGH is also one of the most unique. The index underlying this product is designed to measure the performance of an investment strategy long the S&P 500 and hedged against fluctuations of the dollar relative to gold prices. The index does this by hedging beginning-of-period S&P 500 Total Return Index values with COMEX futures contracts. So in May, the blow of a plunging S&P 500 was softened by the exposure to gold prices; SPGH slid just 4.7%, about 320 basis points better than SPY.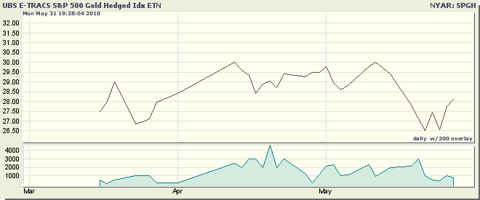 1. Global X Financials ETF (NYSEARCA:CHIX)
May was a brutal month for domestic banks, as worries that increased regulation will eat into profit margins at Wall Street institutions. But in China, where banks act more as lending institutions than sellers of complex securities, the financial sector continues to boom. CHIX lost just 1.8% in May, as Chinese markets held up relatively well amidst the global turmoil.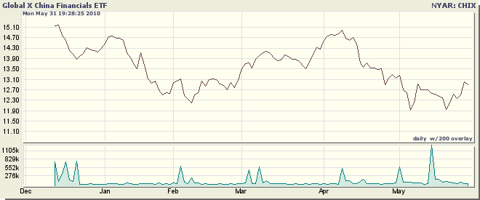 Disclosure: No positions at time of writing.
Disclaimer: ETF Database is not an investment advisor, and any content published by ETF Database does not constitute individual investment advice. The opinions offered herein are not personalized recommendations to buy, sell or hold securities. From time to time, issuers of exchange-traded products mentioned herein may place paid advertisements with ETF Database. All content on ETF Database is produced independently of any advertising relationships. Read the full disclaimer here.