The last five years have been favorable for stocks; although the return of the S&P 500 index year-to-date is only at 1.61%, one year return of the index is at 21.61%. Furthermore, the average annual return for the last three years is at 12.75%, and the average annual return for the last five years is impressive at 22.41%.
A Ranking system sorts stocks from best to worst based on a set of weighted factors. Portfolio123 has a powerful ranking system which allows the user to create complex formulas according to many different criteria. They also have highly useful several groups of pre-built ranking systems, I used one of them the "All-Stars: Buffett" in this article. The ranking system is based on investing principles of the well-known investor Warren Buffett.
The "All-Stars: Buffett" ranking system is quite complex, and it is taking into account many factors like; book value growth, operational P/E, price to book value, trailing P/E, price to Tangible book value, price to cash flow and EPS stability, as shown in the Portfolio123's chart below.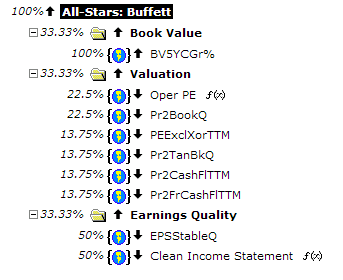 In order to find out how such a ranking formula would have performed during the last 15 years, I ran a back-test, which is available by the Portfolio123's screener. For the back-test, I took all the 7,014 stocks in the Portfolio123's database.
The back-test results are shown in the chart below. For the back-test, I divided the 7,014 companies into fifty groups according to their ranking. The chart clearly shows that the average annual return has a very significant positive correlation to the "All-Stars: Buffett" rank. This brings me to the conclusion that the ranking system is useful.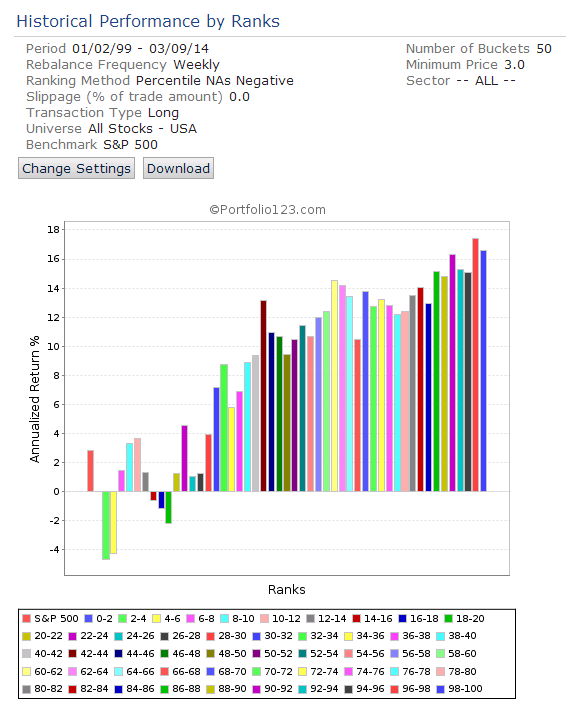 After running the "All-Stars: Buffett" ranking system on the companies which are included in the S&P 500 index and pay a dividend with a higher than 1% yield, on March 09, I discovered the twenty best dividend stocks, which are shown in the table below. In this article, I describe the first stock of the list Principal Financial Group Inc. (NYSE:PFG).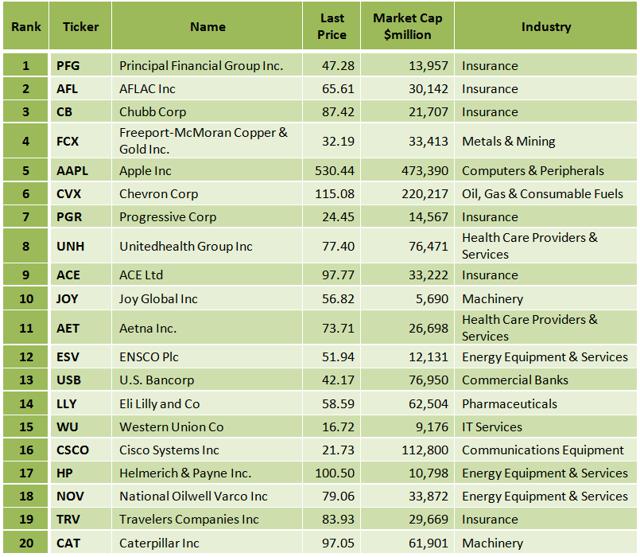 Source: Portfolio123
Principal Financial Group Inc.
The Company
Principal Financial Group, Inc. is a global investment management leader offering retirement services, insurance solutions and asset management. It offers businesses, individuals and institutional clients a wide range of financial products and services, including retirement, asset management and insurance through its diverse family of financial services companies. The company has $483.2 billion in assets under management and approximately 19.4 million customers worldwide as of December 31, 2013. Principal Financial Group was founded in 1879 and is headquartered in Des Moines, Iowa.
Latest Quarter Results
On February 03, Principal Financial Group reported its fourth-quarter and full-year 2013 financial results, which beat EPS expectations by $0.03 (3.20%).
Company Highlights
4Q 2013 Operating Earnings of $286.0 million, $0.96 per diluted share; Record 2013 Full Year Operating Earnings of $1,059.9 million, $3.55 per diluted share
4Q 2013 Net Income of $233.4 million, $0.78 per diluted share; Full Year 2013 Net Income of $879.7 million, $2.95 per diluted share
Record assets under management of $483.2 billion
Company declares first quarter 2014 dividend of $0.28 per share of common stock, an 8 percent increase over the fourth quarter 2013 dividend
In the report, Larry D. Zimpleman, chairman, president and chief executive officer said:
We ended 2013 with very strong results, posting both record total company operating earnings for the year and record assets under management. These results were particularly strong in light of continued macroeconomic volatility, demonstrating the strength of our global investment management strategy and our ability to focus and execute. Looking ahead, we'll continue to take advantage of opportunities created by changing global demographics by having the right strategy in the right markets at the right time to generate growth for years to come.
Major Development
Principal Financial had a strong finish to a great 2013. It ended the year with record full-year total company operating earnings of nearly $1.1 billion and record total company assets under management of $483.2 billion. Return on equity was 12.1 percent at year end, a 240 basis point improvement compared to full-year 2012.
Principal Financial is generating strong free cash flow. While it is returning value to shareholders by share repurchases and dividends, it is also deploying capital for acquisitions. During 2012, PFG announced two acquisitions: Claritas, a mutual fund and asset Management Company in Brazil, and Cuprum, a major mandatory pension provider in Chile. In February 2013, PFG completed the acquisition of Cuprum with a 90.4% stake in the company. PFG intends to acquire the remaining shares in Cuprum, which will bring the total cost to $1.5 billion less assumed debt. In April 2012, PFG acquired a majority stake in Claritas for an undisclosed amount. In early 2013, PFG announced an agreement to acquire a 55% stake in Liongate Capital Management, a global alternative investment boutique based in London and New York focused on managing portfolios of hedge funds, for an undisclosed amount.
Dividend and Share Repurchase
Principal Financial has been paying uninterrupted dividends since 2002. The forward annual dividend yield is at 2.37% and the payout ratio only 33%. The annual rate of dividend growth over the past three years was very high at 20.94% and over the past five years was also high at 16.87%. I consider that besides dividend yield, the consistency and the rate of raising dividend payments are the most crucial factors for dividend-seeking investors, and PFG's performance has been very good in this respect.
Since 2012 PFG's is paying a dividend every quarter, before it had been paying once a year, as shown in the charts below.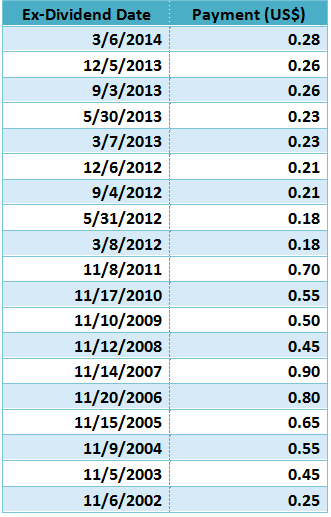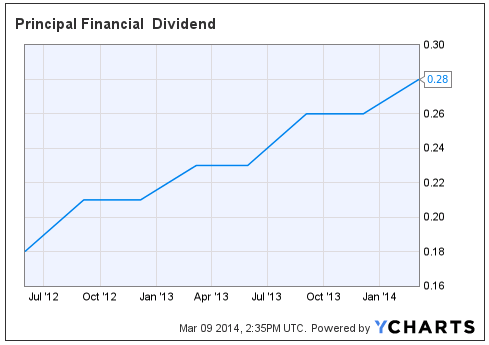 During the fourth quarter, Principal Financial did not repurchase shares, but it repurchased 1.5 million shares of common stock in the third quarter of 2013 at an average price of $41.55.
Valuation Metrics
PFG's valuation metrics are extremely advantageous; the enterprise value-to-revenue ratio is quite low at 1.44 and the enterprise value-to-EBITDA ratio is also low at 9.40. The price-to-free-cash-flow ratio is very low at 7.50. According to Yahoo Finance, PFG's next financial year forward P/E is very low at 11.10 and the average annual earnings growth estimates for the next 5 years is quite high at 13.43%. These give a very low PEG ratio of 0.83. The PEG Ratio - price/earnings to growth ratio is a widely used indicator of a stock's potential value. It is favored by many investors over the P/E ratio because it also accounts for growth. A PEG ratio less than one indicates that the stock is undervalued.
Technical Analysis
Personally I am using only fundamental analysis for my investment decisions. After many years of experience, and after having tried all kinds of decisions making including technical analysis, I have reached the conclusion that relying on fundamental information is giving me the highest return. Nevertheless, some investors are successfully using technical analysis to find the proper moment to start an investment (I am not talking about traders; my analysis is only for investors). The charts below give some technical analysis information.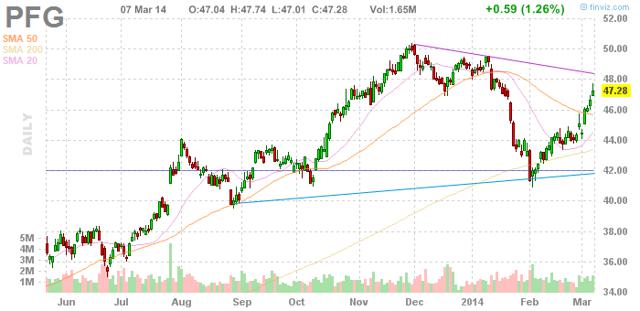 Chart: finviz.com
The PFG stock price is 6.68% above its 20-day simple moving average, 3.34% above its 50-day simple moving average and 9.07% above its 200-day simple moving average. That indicates a short-term, a mid-term and a long-term uptrend.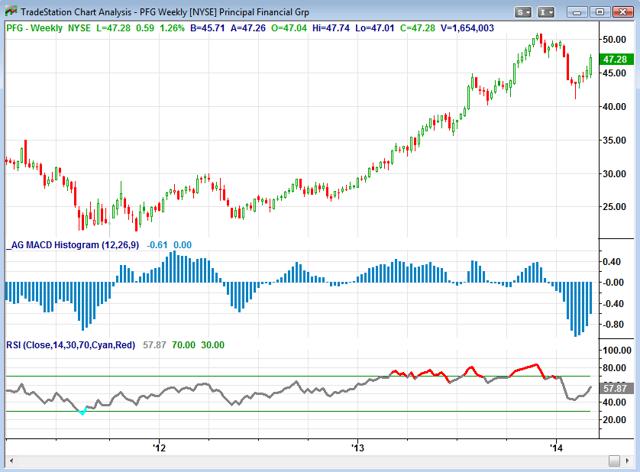 Chart: TradeStation Group, Inc.
The weekly MACD histogram, a particularly valuable indicator by technicians, is negative at 0.61 and ascending, which is a positive signal (a rising MACD histogram and crossing the zero line from below is considered an extremely bullish signal). The RSI oscillator is at 57.87 which do not indicate oversold or overbought conditions.
Risk
Principal Financial's results of operations are materially affected by conditions in the global capital markets and the economy generally, both in the U.S. and elsewhere around the world. Its assets under management and revenues may decline and its profit margins could erode. In addition, in the event of extreme prolonged market events and economic downturns, such as the recent global financial crisis, the company could incur significant losses. Even in the absence of a market downturn, it is exposed to substantial risk of loss due to market volatility.
Conclusion
Principal Financial continues to benefit from the global diversification of its business model. Despite continued macroecnomic volatility, and low interest rates its business fundamentals remain strong and its growth is turning into strong bottom line results. The company benefits also from the increasing longevity as longer lives will increase the need for greater retirement wealth.
Principal Financial has recorded strong EPS and dividend growth, and it has compelling valuation metrics and strong earnings growth prospects. PFG is generating strong free cash flows and returns value to its shareholders by stock buyback and by increasing dividend payments.
All these factors lead me to the conclusion that PFG stock is a smart long-term investment. Furthermore, the rich growing dividend represents a gratifying income.
Disclosure: I have no positions in any stocks mentioned, and no plans to initiate any positions within the next 72 hours. I wrote this article myself, and it expresses my own opinions. I am not receiving compensation for it (other than from Seeking Alpha). I have no business relationship with any company whose stock is mentioned in this article.