Chinese Exports Tumble
Over the weekend, China's General Administration of Customs reported February trade data, and the implications for TAL International (NYSE:TAL), Textainer Group (NYSE:TGH), and CAI International (NYSE:CAP) are quite negative as exports fell 18.1% year over-year!
Looking at January and February on a combined basis to adjust for the timing of the Chinese New Year, exports fell 1.6%.
This data severely undermines the hopeful spin management teams put on the better than expected January data they discussed on fourth quarter earnings calls in early- to mid-February (transcript):
Brian Sondey (TAL CEO)

Well, first thing I would say is the January improvement was actually pretty dramatic. Our results in January especially in terms of net pick up activity was probably the best January we have ever had. And so, it was really quite a good month for us. I think what I was trying to say in the comments is that, despite the fact that January was really good we still have a lot of headwinds in the first quarter in particular just a fact that Asia kind of shuts down for two weeks around Chinese New Year no matter how good the market is, you are going to have those two weeks kind of missing from your pick-up activity as well as the variety of other factors that I mentioned for accounting profitability.

In terms of trying to read into the market, it's very difficult to know and so our hope is and I think probably the hope of everyone in the shipping industry is that a strong January was perhaps an indication that, maybe we are finally going to have a year where trade growth overall surprises to upside. It seems that demand for cargo into Europe and in to the States was stronger than expected and it drove not just leasing transactions in terms of generating commitments but it actually drove pick-ups of containers in January, which is actually quite a good sign.

That said, at least when I talk with our customers they still remain somewhat cautious with their outlook, yeah January was strong and that's great but they are not yet ready to sort of commit to the fact that the year in general is going to be significantly better than last year. I think there is a consensus that it's going to better than 2013 in terms of trade growth but I wouldn't say there is a view that it's going to get back to that kind of 8% to 10% growth that we were used to historically.
Insider Selling
Further undermining the idea that conditions are improving and that January was anything other than a calendar shift is the insider selling by CEO, Brian Sondey.
If conditions were improving, why would Sondey have set up a 10b5-1 plan just three months ago? Even more interestingly, why would he have set the plan up to still have him sell shares approximately 20% lower than at the time the plan was set (sold 35k shares @ $43 on 3/3/14 vs. $53.31 closing price 11/13/13)?
In total, Sondey sold 75k shares last week (3/3/14 - 3/6/14) between $43 and $45 per share (this far exceeds the 28k restricted stock he was granted in January 2014).
Is Sondey concerned about the headwinds I described in "Trouble Ahead for TAL", such as expiring leases re-striking lower, rising depreciation, and declining gains on sale?
Does he realize better than most that the chart below (discussed in my follow-up article "More Trouble Ahead for TAL") is about to accelerate downward as more and more high rate leases expire into the current, low lease rate environment?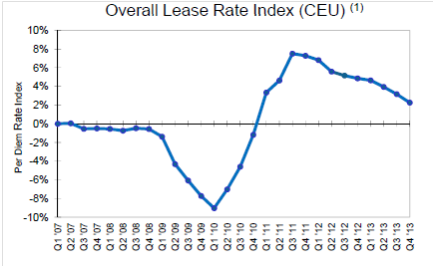 (1) Excludes impact of sale-leaseback transactions
Source: TAL Presentation (Feb 2014)
Summary
TAL's CEO understands better than anyone how difficult the container lease market is currently and how challenging the next few years will be for TAL as a result of lease expirations, accounting changes made, and TAL's substantial leverage.
Perhaps investors should take a cue from the CEO...
I reiterate my $18 price target based on the replacement value of TAL's assets.
Disclosure: I am short TAL. I wrote this article myself, and it expresses my own opinions. I am not receiving compensation for it. I have no business relationship with any company whose stock is mentioned in this article.