It is rare that you find a company with strong competitive advantages that is trading relatively cheaply against peers. It is even rarer that the same company is in an industry with a strong outlook on an upcoming megatrend. Agrium Inc. (NYSE:AGU) has a strong retail advantage and pricing margins among the best in its class. It is also trading at the cheapest enterprise-to-sales value within the fertilizer space, an industry that will benefit from some significant growth drivers over the next several years.
This article is part of our megatrend series, a look at the trends that will drive markets over the next decade. Within each megatrend, we will focus on two companies with the potential to outperform. The idea is that, even if the individual companies fail to execute on their strategic plans, the overwhelming force from the megatrend should drive strong returns.
Last week, we highlighted Symantec (NASDAQ:SYMC) and FireEye (NASDAQ:FEYE) within the cybersecurity industry. High-profile cyberattacks on companies like Target (NYSE:TGT) and Neiman Marcus are driving sales to companies offering data protection and management. The trend should gain momentum as the world gets connected and more information is put online.
Dual growth drivers behind nutrient producers
Worldmeters.info estimates there are 7.2 billion global citizens as I write this and the forecasts are staggering. Not only is global population set to increase by nearly a billion more people by 2025, but people are eating more and eating more meats. All this will put enormous pressure on our ability to produce enough crops.
The FAO estimates that food production will need to rise by 60% over next 36 years to feed the growing global population. This could require an annual increase in crop yields of 2.4%, well above the average annual increase of 1.2% across staple crops in the last decade.
There is still hope that producers can meet the demand. The graphic below compares nutrient application and crop yields across five regions. The link between nutrient usage and yields is obvious and increasing demand for production should act as a strong tailwind to nutrient prices for a very long time to come.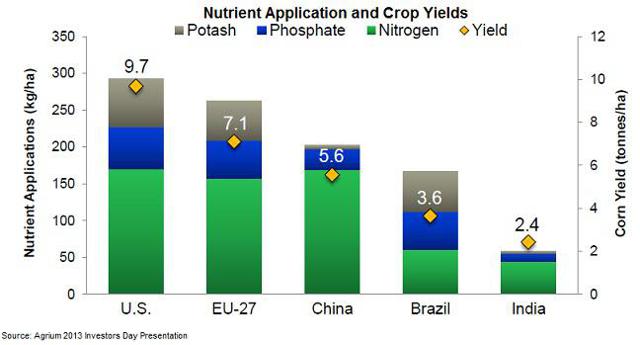 The nutrient industry will not only benefit from the need for higher yields to feed the world's growing population but research suggests that extreme weather patterns may actually reduce yield in the future. While production hit records last year, it was only a couple of years ago that grain prices hit all-time highs on global droughts. Agrium estimates that producers will need to spend an additional $40 billion annually on crop nutrients and $30 billion annually on seed protection to meet global crop consumption needs by 2030.
Best-of-Breed in Retail Space
Agrium is the largest nutrient retailer in North America and has more than 1,400 retail facilities in seven countries. The company has a strong presence in South America and Australia which have seen record droughts in the last few months and could contribute significantly to near-term earnings.
The focus on retail is part of the company's plan to diversify its EBITDA stream over the past decade. Segment EBITDA has broadened dramatically with the graphic below compared to 2005 segment reporting of nitrogen (58%), potash (19%), retail (16%) and phosphate (7%).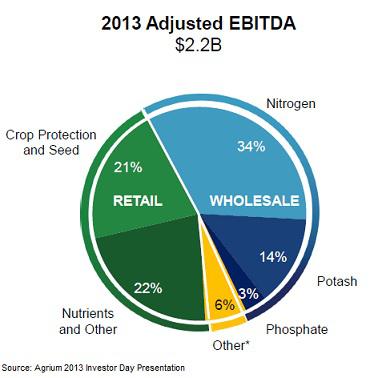 Beyond its leading retail operation, the company is also a major international wholesaler with sales in North & South America and Europe. The company is the world's fourth largest producer of nitrogen and the third largest North American producer of potash.
Low North American natural gas prices have helped the company build a pricing advantage in urea production, a source of nitrogen. Gas costs in production are just $4.35 per million BTU in Western Canada versus $10 per MMBTU in Western Europe and $7.00 per MMBTU in China. This has helped drive a 3-year average margin on nitrogen of $243 per tonne, 15% above the company's peer group.
Cheapest in the Industry
After researching the company and its competitive advantage in retail and margins, I was surprised to see that shares were the cheapest in the industry on an enterprise value-to-sales basis. The table below shows valuation multiples for the eight companies in the fertilizers industry. Agrium trades at a third the price of peers on an enterprise basis and at a 20% discount to the median price-to-earnings (P/E) multiple. Only CF Industries Holdings (NYSE:CF) trades at a cheaper P/E multiple.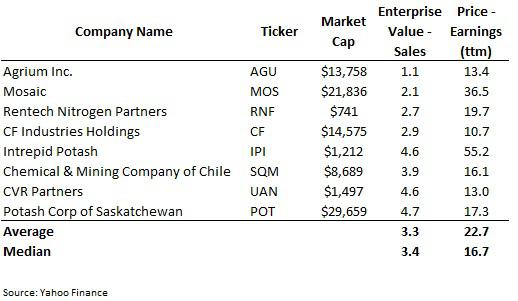 The company only started really increasing its dividend payout in 2011 but has made a strong commitment to return shareholder cash since then. Management is targeting 25% to 35% of free cash flow to return to shareholders as dividends and to repurchase stock on an opportunistic basis. Until recently, repurchases have been the focus for returning cash, with $1.4 billion in share buybacks over the last two fiscal years.
Shares trading at 13.4 times trailing earnings, well under the median of 16.7 times for the industry and 14.8 times average five-year multiple. Expectations are for $7.70 in 2014 earnings though expectations have come down recently on weaker commodity prices. Costs have increased at some expansion projects and my own estimate is for a conservative $7.55 in per share earnings. The revenue outlook beyond 2014 looks better and I think investor sentiment should improve to at least a 14.0 multiple on earnings, leading to a target of $105.70 per share.
As mentioned, I prefer enterprise-to-sales multiples for valuation because forecasting for sales is usually more accurate than for earnings. On expectations for $17.2 billion in 2014 revenue and a conservative multiple of 1.2 times, I think shares could go to $120 per share. This would still make it the cheapest stock in the industry on an enterprise basis.
Agrium is a leader in retail sales for fertilizers and holds a strong margin advantage in production. Besides being a Best-of-Breed in the industry, its shares are also the cheapest on an enterprise basis. All this with strong future demand from a megatrend and investors may want to add shares to their portfolio. I opened a position in mid-December and am already at a 10% gain but will hold the shares as a part of my long-term portfolio or unless they increase to above an enterprise value of 2.0 times sales.
Disclosure: I am long AGU. I wrote this article myself, and it expresses my own opinions. I am not receiving compensation for it (other than from Seeking Alpha). I have no business relationship with any company whose stock is mentioned in this article.