A few months ago I reviewed the remarkable accuracy by which financial markets had foreseen the resumption of economic growth in 2013. In addition the article asked investors to pay attention to four underperforming sectors (and their SPDR ETFs):
Why? If these sectors were not performing well, it cast a long shadow on the resiliency of the economic recovery for 2014.
In this update I am glad to report that three out of the four performing sectors have joined the stock market party that resumed in early February after some jitters earlier this year.
The basic materials SPDR XLB includes some of America's biggest and most innovative companies, "science" firms like DuPont (NYSE:DD) and Monsanto (NYSE:MON). Americans take great pride in our technological prowess and it is good to see companies in this sector once again outperform the market: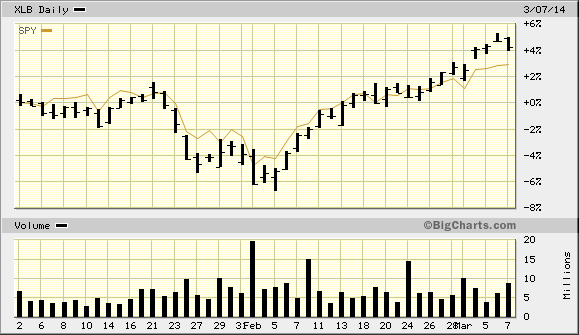 source: bigcharts.com
Even after adjusting for XLB's higher risk, which I make clear here is an essential step few Wall Street analysts bother to take, XLB has done well. Thus, one of the dominoes that might have fallen into the bear market column instead has joined its peers in suggesting 2014 will be a strong year for the economy.
Ditto for the Finance Sector, XLF. While its continued underperformance in February gave me the jitters, it has really "snapped to" in recent weeks and I expect this stellar strength to persist.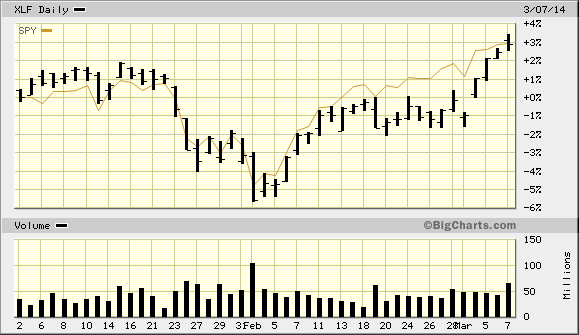 I always look for a fundamental reason why a technical event has occurred. To me, the market is saying that it likes the Fed's commitment (so far) to making monetary decisions based upon U.S. data; not foreign financial crises (e.g. Turkey) or political events (e.g. Ukraine).
The Utilities, XLU, also have started to toe the line. They are still slightly underperforming the broad market after adjustment for risk. But they have really closed the gap in the past month. More importantly, they have caught up to long term treasury bonds (NYSEARCA:TLT), which have gone nowhere over the last five weeks.
Once again, the fundamental reason for this is the economy-sensitive XLU offers the opportunity for dividend growth, while TLT does not. The market is telling us the resumption of growth prospects for 2014 makes the former more attractive.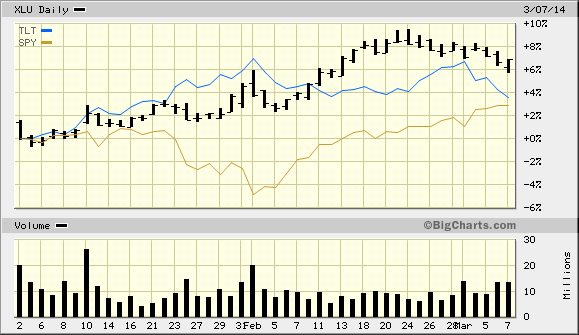 Finally, the energy stocks continue to lag on a risk adjusted basis. This sector is caught in the jaws of a technological vice: increasing supply of fossil fuels due to fracking, horizontal drilling and 4 dimensional mapping techniques; and decreasing demand as we adopt fuel efficient vehicles, heating systems, and industrial processes.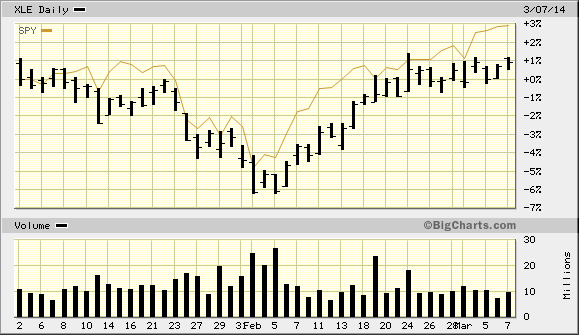 Many economists believe the recent softness in the economy has been weather related. As we New Englanders dig out of the snow in the now-later hours of daylight saving, we can take encouragement that financial markets are telling us the worst has already passed.
Disclosure: I am long XLV, IHI, IYT, XLK. I wrote this article myself, and it expresses my own opinions. I am not receiving compensation for it (other than from Seeking Alpha). I have no business relationship with any company whose stock is mentioned in this article.