JPMorgan Chase & Co. (NYSE:JPM) has had a quiet start to 2014. The stock closed 2013 at $58.48, and is at $59.09 as of this writing. Bank of America (NYSE:BAC), on the other hand, is up more than 10% in 2014. Sure, JPMorgan and its CEO had a difficult 2013, but how do 2014 and beyond look? Are litigation fears overblown?
When talking about the big banks, Bank of America seems to get the most coverage and love (or hate, depending on the situation). In spite of being a bigger company by market cap, JPMorgan does not get the attention that Bank of America does.
More analysts cover Bank of America (30) than JPMorgan (28).
Bank of America's potential dividend increase (although tiny) has received extensive coverage, while JPMorgan's much higher yield is rarely talked about.
Fellow Seeking Alpha readers/contributors also seem to favor Bank of America over JPMorgan. There are 90,000 followers for Bank of America, while JPMorgan commands one-third of it. In the first week of March, there have been eight SA articles on Bank of America, while JPMorgan has had one.
Does that make Bank of America the better stock to own? Or is JPMorgan quietly offering better value to investors? Let us look into five factors that support the latter statement.
Dare I Say, Dividends: JPMorgan yields the highest among big banks, at 2.60%. Critics might argue that the dividend is just back on track to where it was before the massive cut in 2009. But the chart shown below is impressive, nonetheless. Among the big banks, only JPMorgan and Wells Fargo & Company (NYSE:WFC) have meaningfully and consistently increased dividends since 2009.
JPMorgan has now paid the same dividend of 38 cents per share for three quarters, and going by recent history, investors can expect a dividend increase over the next two quarters. A low payout ratio of 34% should make investors optimistic, but it is in our best interests to be cautiously optimistic.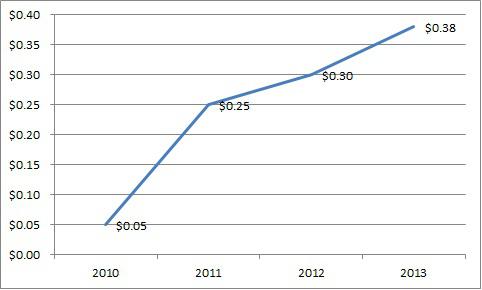 (Source: Dividend data from Yahoo Finance.)
Massive Insider Purchases: According to Yahoo Finance, insider purchases outnumber insider selling by 750K to 216K over the past six months. Director James Crown has five direct/indirect open market purchases since 2013, with the most recent purchases being on January 30th and 31st for a total of 500,000 shares.
The same numbers for Bank of America Corporation stand at 40K buys vs. 580K sells in the last 6 months.
Price Targets: According to about 35 analysts, the average price target for JPMorgan stands at $65. That represents an upside of 10%, without including dividends. Forward estimates have been fairly steady over the past 90 days, as shown in the table below. The 2014 estimate of $5.91 gives JPMorgan a forward PE of less than 10.
Bank of America's estimates have also remained steady over the past 90 days, but the stock is almost trading at its target price of $17.90. The forward PE stands at 13.

(Source: Yahoo Finance)
Citigroup's price target for Bank of America and JPMorgan stand at $19 and $72, respectively. That represents an upside of 10% for Bank of America vs. 22% for JPMorgan (excluding dividends).
Trailing and Forward Multiples: JPMorgan's 2014 and 2015 estimates call for 35% and 7% increases in earnings per share (after all charges) from the current $4.35. If you believe that is very optimistic, Bank of America's numbers are expected to go up 45% and 30% over the same time period. Using the same yardsticks for both the stocks, the table below shows that JPMorgan is undervalued compared to Bank of America.

(Source: Earnings estimate from Yahoo Finance.)
Currently, the five-year growth rate projected for Bank of America is at 20% per year for the next five years, and that looks very optimistic right now.
Customer Satisfaction: Isn't a business all about customers (and shareholders, of course)? Bank of America is the only bank that is yet to return to the pre-2008 level of customer satisfaction. JPMorgan, on the other hand, has topped the ratings in 2013 and 2012.
Conclusion: So, what are your thoughts of these two big banks? Do you believe JPMorgan's controversial 2013 has made investors overlook some of the positives that it has over the other major banks?
Disclosure: I have no positions in any stocks mentioned, and no plans to initiate any positions within the next 72 hours. I wrote this article myself, and it expresses my own opinions. I am not receiving compensation for it (other than from Seeking Alpha). I have no business relationship with any company whose stock is mentioned in this article.