For today's article, I'd like to take a look at MasterCard (NYSE:MA). This global payment provider has seen its shares go up by 447% over the past 5 years, which is even more than its largest competitor Visa (NYSE:V), as can be seen in the next graph.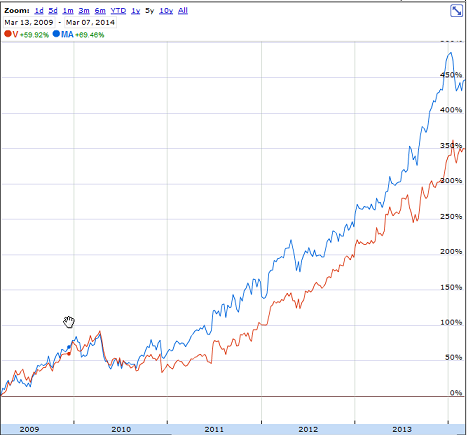 (From Google Finance)
Revenue and income
MasterCard's revenue has increased in each of the past 5 years, reaching $8.34 billion in the most recent fiscal year (2013). A large part of this growth comes from outside of the U.S. Last year, GDV (Gross Dollar Volume) was up by double-digits in Europe, Latin America and APMEA (Asia Pacific, Middle East and Africa), while GDV growth in the United States was only 6.6%.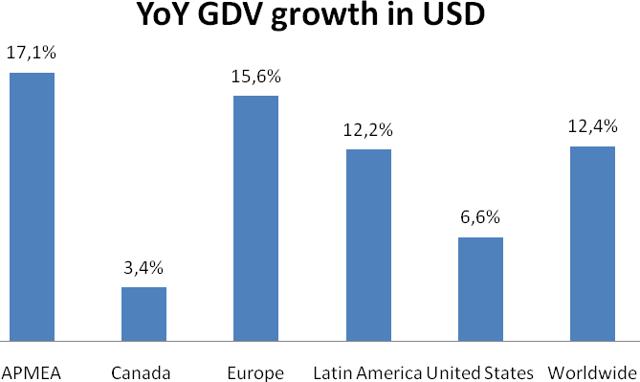 Click to enlarge
MasterCard's profit margin has gone up from 28.7% in 2009 to 37.3% last year, which means net income is growing at a far higher pace than revenue. Over the past 5 years, MasterCard saw its net income increase from $1.46 billion to $3.12 billion, while revenue went from $5.10 billion to $8.35 billion.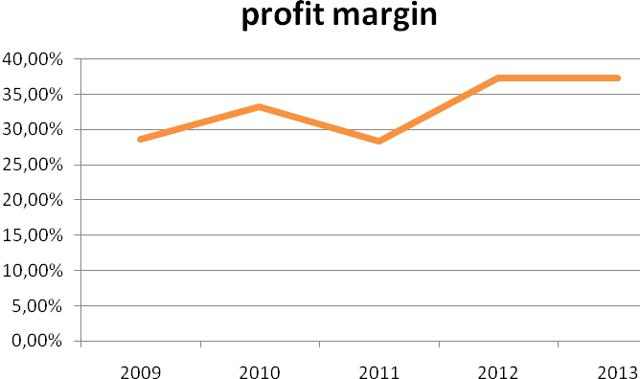 Click to enlarge
Balance sheet
MasterCard's balance sheet looks really good, with its current ratio at 1.82. The company has a large amount of cash and short-term investments, which is even more impressive when we consider the fact the company has no long-term debt.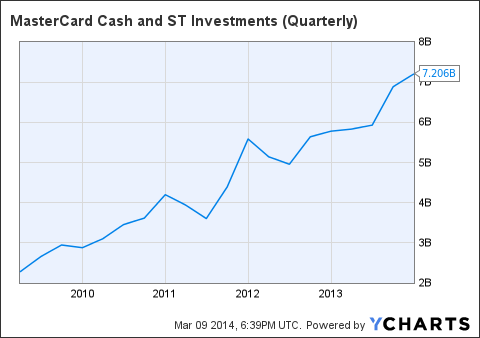 MA Cash and ST Investments (Quarterly) data by YCharts
Returning money to shareholders
With a current yield of 0.56%, MasterCard might not be the perfect stock for investors looking for high yields. Even Visa's dividend is higher (though 0.71% still isn't very much). However, MasterCard does return a lot of money to shareholders through the repurchase of stock. In fiscal 2013, the company bought back $2.44 billion worth of its own shares, meaning it spent almost 10 times as much on share buybacks as on dividends.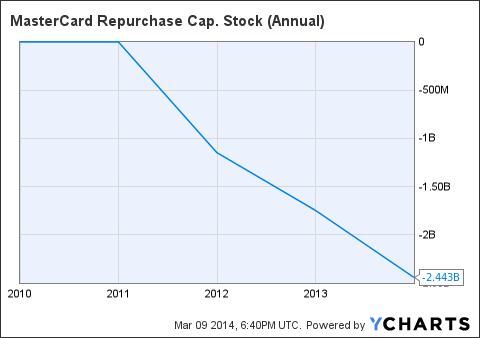 MA Repurchase Cap. Stock (Annual) data by YCharts
Forward estimates and price targets
Analysts expect MasterCard's earnings per share to reach $3.05 in the current fiscal year, giving the company a forward price-to-earnings ratio of 25.6. This is quite close to Visa, which has a forward P/E of 25.4. MasterCard's 5-year average P/E stands at 23.7.
With revenues expected to reach $9.31 billion and a market cap of $125.60 billion, MasterCard's forward price-to-sales ratio is 13.5, which is quite a bit higher than its 5-year average of 7.9. Visa is currently valued at 11.0 times this year's expected revenue, making it a lot cheaper than MA.
Analysts have an average price target of $89.70 for shares of MasterCard, which would be an increase of over 15% from current levels.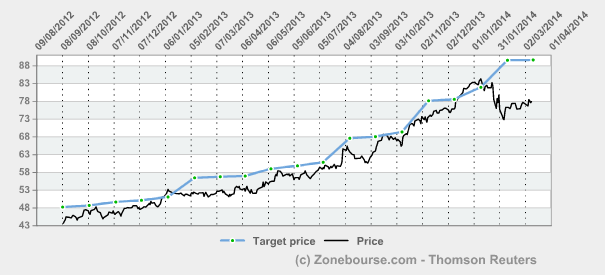 Conclusion
Though MasterCard is currently valued at higher multiples than its 5-year averages, I feel its strong growth in foreign markets makes it a great stock to hold for the next couple of years. MA spends a lot of money in share repurchases, which increases earnings per share. A dividend yield of 0.56% means investors looking for high income should stay away from MasterCard. However, if you've got time on your side, MasterCard might be a great investment over the next few decades.
Disclaimer: I am not a registered investment advisor and do not provide specific investment advice. The information contained herein is for informational purposes only. Nothing in this article should be taken as a solicitation to purchase or sell securities. Before buying or selling any stock, you should do your own research and reach your own conclusion. It is up to investors to make the correct decision after necessary research. Investing includes risks, including loss of principal.
Disclosure: I have no positions in any stocks mentioned, and no plans to initiate any positions within the next 72 hours. I wrote this article myself, and it expresses my own opinions. I am not receiving compensation for it (other than from Seeking Alpha). I have no business relationship with any company whose stock is mentioned in this article.