Yelp (NYSE:YELP) is one of those exciting social media services that has grown appreciably in the recent past. At first look, you see a growth company with increasing sales and astounding stock returns of nearly 300% in the last 12 months. However, a closer look at the company reveals its expensive valuation, outrageous spending and unsustainable business model. Although Yelp appears to be progressing toward profitability, it is an illusion created by the majority of its tech-peers for they seem to be in similar situations, at least on paper. In Yelp's case, the risk attached to future returns is fairly high, especially considering its current expenditure. The company's continued practice of infusing earnings back into the business runs a high risk of failure, which is why I think investors should sell off their holdings or, might as well, short the stock.
Earnings paint an unclear picture
The San Francisco, California-based online urban city guide has improved sales at impressive rates in recent quarters, but its earnings have mostly remained in the negative territory. The company reported revenue growth of 41.7% to $70.65 million in the fourth quarter of 2013 from Q4 2012, meeting analysts' consensus estimates. However, net income was nearly 21% short of expectations. The company reported a net loss of $2.07 million, or $0.03 per share for the quarter.
Q4 was not the only quarter it missed earnings. As a matter of fact, earnings were missed by wider margins in some of the preceding quarters. Somehow, the company manages to match the Street expectations for revenues but miss earnings by wide margins. Over the last five quarters, Yelp has reported revenues at average positive surprise of 3.38% while earnings were reported at an average negative surprise of 28.6%. None of those quarters saw more than 5.02% in revenue surprise. However, in Q2 and Q3 last year, earnings were missed by as much as 77% and 190% respectively.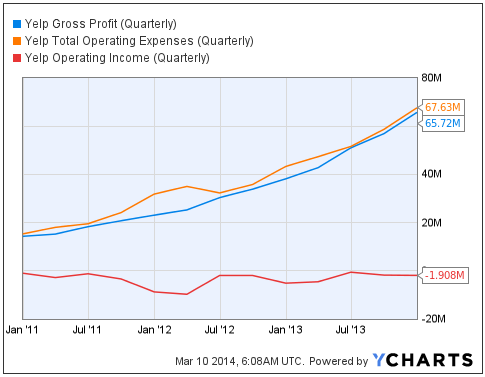 As shown in the graph above, the difference between gross profits and total operating expenses is almost constant. It begs the question: how long will Yelp give up all of its profits just so it can meet the revenue estimates? An anticipated loss, or a negative earnings, usually does not raise concerns about the company's fundamental health. However, an unanticipated or uncapped loss would raise an eyebrow or two. Sure enough, by 190% (or even 77%) earnings-miss, the company appears to have gone out of its way to reach the projected revenues. As long as it does that, it will keep growing revenues albeit at the expense of earnings. Perhaps a more important question to ask: would it be able to sustain the revenue growth once it takes its foot off the accelerator?
It can be argued that revenue should be the main focus for a company in growth stages and there are other tech-companies with astronomically high P/Es, such as Facebook (NASDAQ:FB), Netflix (NASDAQ:NFLX), etc., but these are businesses investing in future cash machines. Unlike Yelp they all have bright prospects, not to mention are market leaders in their respective industries. As a result, earnings reinvestment will only help in strengthening their positions. However, for Yelp, earnings reinvestment is like life support. In many ways, it resembles the case of BlackBerry (NASDAQ:BBRY), which had very little scope after the revolutionary Apple (NASDAQ:AAPL) iPhone and Google (NASDAQ:GOOG) Android devices swept the smartphone market.
Google to trounce Yelp
The playing field for leading listing services is becoming increasingly crowded, but Google will most likely trounce Yelp and others in this space, thanks to its one-stop nature of services. Google+ Reviews are integrated with local Google searches and Google Maps, giving it a reasonable edge over others. Already a high percentage of Google searches are embedded with Google+ Reviews, which will only help promote its app further.
Moreover, Yelp fares worse than some of its peers in terms of customer satisfaction. As a matter of fact, researchers have been on a Yelp-bashing spree for quite some time, coming out with studies that illustrate the amount of falsified reviews at Yelp. Sadly, it appears the company cannot do much to prevent such activity. One can easily surpass Yelp's review filter even by creating multiple accounts if he/she regularly uses those accounts. This is another aspect where Google holds a significant edge as it could track fake accounts more effectively than others by monitoring usage on other services like Google Maps, Gmail, etc.
Like that was not enough already, Google went a step ahead and made it possible for users to view menu, price, and availability of their preferred restaurants just by typing or speaking "what's on the menu at [restaurant]" on Google search. Clearly, this would push Yelp and others aside while Google would take the center stage and, in time, become the market leader. For that reason, Yelp's strategy of spending millions on marketing has a very strong possibility of backfiring. Unless it does something exceptionally revolutionary, it would probably end up surrendering its market share to bigger peers like Google.
Rapidly increasing share count and insider sales
In recent quarters, the company's stock-based compensations have usually resulted in insiders dumping their shares on the open market as soon as they receive them. The liquidation of awarded shares has significantly increased Yelp's common share count. The company had about 60 million shares outstanding when it debuted in March 2012. As Illustrated in the graph below, the share count has increased 17.35% to 70.41 million in two years.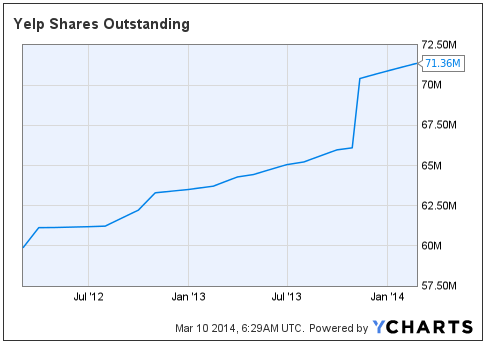 At this rate, Yelp will have over 82.6 million outstanding shares in the next two years, and that kind of dilution is bound to negatively impact its share price. However, it will take some time before the effects become evident.
According to OpenInsider.com, a service that screens SEC filings, insiders appear to be taking advantage of Yelp's rising share prices. It is noteworthy to see key officers (CEO, CFO, COO) and directors regularly exercising their options or converting their class B stocks so as to sell them directly on the open market. For instance, Yelp's director Jeremy Levine disposed nearly 70% - a sale worth $20.7 million - of his stake in the company last December. These sales clearly show the scant confidence that the company's top-most insiders have in its current valuation.
Bottom line
From a growth-centric standpoint, Yelp fails to convince me as it has missed earnings by huge margins during recent quarters. The company is in direct competition with Google, which - with its aggressive moves - will probably swallow Yelp's market share in future. Moreover, it has been rapidly increasing its share count and a lack of confidence is conspicuous among its insiders. In view of all that, it is about time Yelp makes a significant correction.
Disclosure: I have no positions in any stocks mentioned, and no plans to initiate any positions within the next 72 hours. I wrote this article myself, and it expresses my own opinions. I am not receiving compensation for it (other than from Seeking Alpha). I have no business relationship with any company whose stock is mentioned in this article.