J. Crew, which was bought by Leonard Green and partners LP and TPG Capital, has been a rumored acquisition target for several companies. Estimates call for a buyout price of $5 billion for J. Crew. Back in 2010, TPG and Leonard Green and partners took J. Crew private in a $3 billion deal. J. Crew has 330 retail stores. Sales grew 9% to $2.4 billion in the last fiscal year and EBITDA grew from $360 to $371 million.
Tadashi Yanai, Fast Retailing (OTCPK:FRCOY) CEO, wants to become the biggest clothing retailer in the world. Currently, his company is competing nicely with Inditex and Hennes & Mauritz (OTCPK:HMRZF), the two largest clothing retailers in the world. An acquisition of J. Crew might be the first step in growing its presence in the United States.
In the CEO message found on the company's investor relations site, the company said "M&A can also find partners that might facilitate a significant expansion of the Uniqlo brand in Europe and the United States." It was this reason that Fast Retailing acquired J Brand, a denim company in the United States, in December of 2012. Also don't forget that Fast Retailing offered $900 million in 2007 in an attempt to acquire Barney's.
The key for Fast Retailing is its fast casual Uniqlo brand. Uniqlo is a fast casual brand that offers clothing lines to meet trends and demands. The company regularly rotates lines, opting for a what's hot mentality, instead of the usual retail seasonal clothing lines. Uniqlo offers clothes for men, women and children. The brand has been successful in Japan and is currently in fast expansion mode for new areas in Asia (China, Hong Kong, Taiwan) and the United States.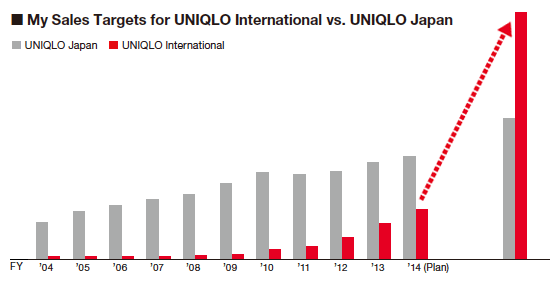 Lofty goals from Yanai set the company through 2020. By the year 2020, Fast Retailing aims to quadruple current sales to around $49 billion. Twenty percent of that total is estimated from US sales. By 2020, the company expects to have 200 stores in the United States. While this seems like a lofty goal for a company that once closed its U.S. stores, I believe the expansion will work this time around.
Keys to becoming the leading specialty retailer in 2020 are:
Mergers and acquisitions that can grow the brand in the United States, Europe or Asia
Continued expansion of Uniqlo in China and United States
Growth of global brands
Entry into new markets
Here is a look at sales that Fast Retailing has put up the last five years:
| | | |
| --- | --- | --- |
| | Sales in Billion Yen | Sales in Today's US Dollars |
| 2009 | 685 | $6.63 billion |
| 2010 | 814 | $7.88 billion |
| 2011 | 820 | $7.94 billion |
| 2012 | 928 | $8.98 billion |
| 2013 | 1143 | $11.07 billion |
As you can see the goal to hit annual sales of $49 billion in fiscal 2020 are lofty, but may be attainable with the current growth of stores in key regions. Sales nearly doubled from 2009 to 2013 as the company began its strong expansion plans. With a market capitalization of around $35 billion, investors already started to place bets on the future sales of the company.
In the most recent first quarter, sales grew to 389 billion Yen, which is equivalent to $3.77 billion US. This was an increase of 22.3% from the prior year. Net income grew 8.8% in the first quarter. Sales were led by Uniqlo Japan, which saw sales grow 1.8% to 208.4 billion Yen. The strongest growth came from Uniqlo international stores, which saw sales grow 76.8% to 114.0 billion Yen. Global brands, which includes the company's other clothing brands, saw sales increase 36.5% to 65.9 billion Yen.
For the full year, Fast Retailing estimates its sales will hit 1.32 trillion Yen, representing growth of 15.7%. This translates to $12.78 billion for the full year. The company breaks down the full year with the following projections:
· Uniqlo Japan: 720 billion Yen, +5.4%
· Uniqlo International: 350 billion Yen, +39.3%
· Global Brands: 250.0 billion Yen, +21.2%
Operating income is also expected to grow in double digits across all three business segments and overall for the fiscal year. Uniqlo international ended the fiscal year with 446 stores. That number is expected to hit 629 by the end of fiscal 2014. Stores are currently located in China, Taiwan, United Kingdom, France, Singapore, Malaysia, Thailand, Philippines, Indonesia, Hong Kong, South Korea, United States and Russia. In the spring of 2014, Uniqlo stores will also open in Australia and Germany.
Another key to Uniqlo's US expansion is the addition of Larry Meyer as chief executive officer. Prior to Unqlo, Meyer was with Forever 21 serving as an executive vice president, senior vice president and chief financial officer. Meyer's other retail experience comes from stints at Gymboree, Toys R' Us, Nielsen and Pepsi. Meyer joined Uniqlo in January as the chief operating officer, before ascending into the top role. As the CEO of Uniqlo, Meyer will oversee day-to-day operations of the brand and be responsible for expanding Uniqlo across the United States. At Forever 21, Meyer helped pick locations and control opening costs of new stores.
Stores in the United States are in New York (8), New Jersey (3), Connecticut (1) and California (5). Successful openings are also paving the way for more openings later in 2014. The Uniqlo at Menlo Park Mall in New Jersey grossed almost $100,000 in its opening day. Fast Retailing's goal is to open 20 to 30 stores in the United States annually. There will be 40 to 50 Uniqlo stores in the United States by the end of 2014. The company's goal is to hit $10 billion in sales in the United States by 2020.
One of the company's flagship Uniqlo stores on 5th Avenue in New York City is getting a makeover. The store is remodeling its second floor, which will re-open on March 28th. The highlight of the second floor will be a full service Starbucks restaurant called "Starbucks Experience." There will also be a new line of clothes inspired by artwork from the Museum of Modern Art. Uniqlo has a collaboration with the Museum and is one of its corporate sponsors, which could help boost brand awareness of Uniqlo.
Uniqlo's expansion in the United States will take on several fast casual brands that have had success in the country. Swedish company Hennes & Mauritz, better known as H&M, has expanded well into the United States. At the end of November, H&M had 305 stores in the U.S. after opening more than 40 in the last fiscal year. The company has plans to increase its overall store count by 10-15% annually, with the majority of the growth coming in Asia and the United States. I highlighted the growth options of H&M in a similar article focusing on U.S. expansion.
The comparison between H&M and Uniqlo is worth checking out. Consider that H&M has a strong presence around the world, but has pushed forth in the United States and Asia to maximize sales. In my last article, I discussed how the United States represented H&M's second largest country, in terms of revenue. If Uniqlo can grow its store count in the United States and Asia, it should see similar trends that H&M had. There continues to be a demand for fast casual in the United States.
The global brands business segment is also a key to future growth. The company had 214 GU branded stores, 61 Theory brand stores, and 375 Comptoir des Contonniers stores as of August 2013. The GU line continues to expand as it makes its way outside of Japan. In September, Fast Retailing opened its first GU store outside its home country, with a store within a store concept inside the flagship Uniqlo Shanghai store.
Fast Retailing trades in the United States as an ADR and foreign stock - (OTCPK:FRCOF). The ADR shares, which are the ones I prefer, are down almost 8% in 2014. Shares hit a 52-week high of $42 back in December. I expect a J. Crew buyout to send shares back above $40. If a deal does not happen, investors may see shares drop as far as $35. However, I still believe shares at today's price of $37 and either $35 or $40 are grossly undervalued for the company's ambitious plans. If Fast Retailing can truly become the number one specialty retailer in the world and maintain its huge expansion plans, investors will continue to see their shares rise through 2020.
Disclosure: I have no positions in any stocks mentioned, and no plans to initiate any positions within the next 72 hours. I wrote this article myself, and it expresses my own opinions. I am not receiving compensation for it (other than from Seeking Alpha). I have no business relationship with any company whose stock is mentioned in this article.