AMD (NASDAQ:AMD) reported solid fourth quarter results, which were slightly better than my forecast. Looking forward, management expects revenue to increase this year, relative to the year-ago period. That growth will likely have to come from the Graphics and Visual Solutions segment as the Computing Solutions segment will likely be adversely impacted by the weak PC market.
While my forecast is for revenues from Computing Solutions to decline 5% in 2014, the double-digit growth from GVS will offset the adverse impact from CS. Consequently, I think of revenue as being up in the low single digits. I'm forecasting EPS for 2014 of $0.03. This would be a substantial improvement from 2013.
Hopefully, we'll continue to see incremental improvement, because I continue to think of AMD as a $6B to $10B company that is trading at $2.9B. But the path to $6B requires revenue growth and deleveraging the capital structure.
Recent Developments
AMD and BlueStacks are offering a solution that allows dual-OS, Android and Windows. The solution will first be made available with several key retail partners across EMEA later this year.
There was a tender offer for up to $425M of 6% convertible senior notes due 2015, which were being purchased with the net proceeds from a $500M senior notes offering.
Business Summary
Advanced Micro Devices designs and produces microprocessors and low-power processor solutions for the computer, communications, and consumer electronics industries. The majority of the firm's sales are in the computer market with an increasing portion of revenue coming from graphics and visual solutions.
Over the next few years, management expects to generate about 50% of revenue from high-growth markets. So, while revenue from chipset and notebook unit shipments is likely to decline in the coming years, revenue from semi-custom, embedded, professional graphics, dense server, and ultra low-power client could increase in the coming years. I'm looking for wins in semi-custom; also, hopefully, this year we will see a significant contribution from dense server.
For the full year, revenue came in just better than my forecast of $5.244B. Revenue for the full year was augmented by sales of semi-custom SoCs and the Radeon R7 and R9 series GPU products. Most of that dropped down to the operating income level, as my forecast was $23M below the actual of $103M; operating income included a net benefit of $48M related to a patent legal settlement.
Dropping down to net income, AMD beat my expectation by $27M. The restructuring plan worked well as AMD was able to generate operating income for the year. It appears likely that there will be continued benefits from the restructuring plan during 2014, because operating expenditure as a percentage of revenue was above the target level during full-year 2013. Said differently, the restructuring plan enhanced the 2H13 operating income while the first half's operating expenditure was above the current and forecasted levels.
| | | |
| --- | --- | --- |
| For the quarter ending | 2013-03 | 2014-03E |
| Revenue | $1088 | $1350 |
| Operating income | $-98 | $72.5 |
| Net income | $-146 | $24.5 |
| EPS | $-0.19 | $0.03 |
While the first quarter may be weak proportional to the fourth quarter, it should be an appreciable improvement versus the year-ago period. The 24% increase of revenue should be led by sales from the GVS segment.
| | | | |
| --- | --- | --- | --- |
| Net revenue for the year ending (in millions) | 2012-12 | 2013 | 2014E |
| Computing solutions | $4005 | $3014 | $2949 |
| Graphics solutions | $1417 | $2193 | $2467 |
| All other | | $2 | |
| Total net revenue | $5422 | $5299 | $5416 |
| | | 2014 Growth rate | 2% |
For now, I think of CS revenue as declining 5% and GVS revenue as increasing 12.5%. The larger the decline in revenue from CS the larger the increase in revenue from GVS that is needed to offset that decline. Consequently, it is difficult to see total net revenue increasing by more than 1-4% during 2014.
| | | |
| --- | --- | --- |
| For the year ending (in millions except EPS) | 2013-12 | 2014-12E |
| Revenue | $5299 | $5416 |
| Operating income | $103 | $216 |
| Interest expense | $177 | $180 |
| Net income | $-83 | $24 |
| EPS | $-0.11 | $0.03 |
The operating financial performance in 2014 could significantly improve. Operating income is forecasted to more than double during 2014. But the interest expense is likely to remain roughly unchanged, which is at an approximated 9% effective interest rate. Net income is forecasted to be $24 million.
The quality of earnings during 2013 was high, as net operating assets decreased during the year. Also, AMD collected $5.1B of cash from its customers. Consequently, cash collected from customers was 96% of revenue. Additionally, the core operating margin increased from 8% in 2012 to 25% in 2013, but 2012's core operating margin was adversely impacted by almost $1B of charges. The adjusted core operating margin for 2012 is 26%.
| | | |
| --- | --- | --- |
| For the year ending | 2012 | 2013 |
| Net profit margin | -21.8% | -1.6% |
| Asset turnover | 1.21 | 1.27 |
| Financial leverage | 4.21 | 7.71 |
| ROE | -111% | -15% |
| Cash ratio | 0.72 | 0.68 |
| Defensive interval | 273 days | 375 days |
Besides the improvement in profitability during 2013, asset turnover also improved, but financial leverage increased. So, if the net profit margin increases during 2014 and 2015, the return on equity will be substantial because of the equity multiplier. Also, although the financial leverage is excessive, the defensive interval was 375 days at the end of 2013.
Risks
Competition from Intel Corporation (NASDAQ:INTC) could adversely impact the results of operations.
Variations in market growth and demand for AMD's products could adversely impact the results of operations.
PC market conditions could adversely impact the results of operations.
Global economic conditions could weigh on the results of operations.
The share price is likely to remain volatile, and investors could lose a portion or all of their investment.
Investors should judge the suitability of an investment in AMD in light of their own unique circumstances.
Risks not mentioned in this section could cause a significant decline in the share price.
Technicals & Valuation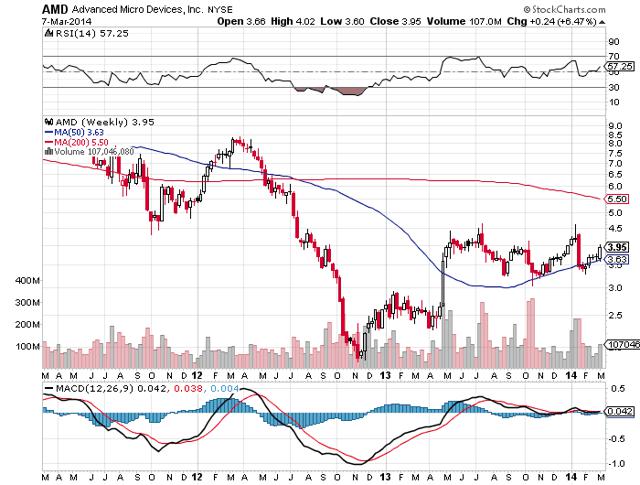 AMD is in a bull market of minor, intermediate, and primary degree. Right now, the share price is retesting the $4.50 per share level. The expectation is that the share price moves closer to the $5 per share level than it did during the previous attempt.
I continue to think of AMD as a $6B to $10B company that is trading at $2.9B. But the path to $6B will take some time. The debt level needs to be reduced as a percentage of total capital. And the plan to increase annual revenue needs to work. Dense server, professional graphics, and semi-custom SoCs sales could improve the profitability profile. Also, AMD is showing some potential in the ultra low-power client market, but the company faces stiff competition from Intel in the ultra low-power client market.
Disclosure: I am long AMD. I wrote this article myself, and it expresses my own opinions. I am not receiving compensation for it (other than from Seeking Alpha). I have no business relationship with any company whose stock is mentioned in this article.