The gaming industry is growing faster than expected due to increasing demand for online gaming and multiple gaming platforms including PCs, consoles, mobile phones, tablets and other devices that can play games as a secondary feature. This is the reason Activision Blizzard (OTCPK:AVTI), worldwide publisher of online, PC, video game console, handheld, mobile and tablet games, beat analysts' estimates with an earnings surprise of 19% in 2013. The transition to online and mobile gaming increased the demand for its best selling games Call of Duty, Diablo, StarCraft, Skylanders and World of Warcraft and increasing in game purchases helped the company to improve its gross and operating margins. In addition, new console systems from Nintendo (OTCPK:NTDOY), Microsoft (NASDAQ:MSFT) and Sony (NYSE:SNE) are expected to help the gaming publishers to regain some momentum in the 2014 to 2015 timeframe.
Financial Preview
For calendar year 2013, the company posted net revenues of $4.58 billion compared to $4.86 billion for 2012. For calendar year 2013, GAAP net revenues from digital channels were $1.56 billion and represented 34% of the company's total revenues. The drop in the company's 2013 revenues was due to the fact that "Call of Duty: Ghosts" was launched so close to the PlayStation 4 and Xbox One which became available on November 15 and 22. That means gamers ended up waiting to buy the game on a next-gen system rather than purchase a current-gen edition and this resulted in lower product sales.
The company's subscription and licensing revenues increased by 11.81% to 1.38 billion in 2013 from 1.24 billion in 2012. The increase in its subscriptions and licensing revenues is a positive sign for the company that gamers are increasingly shifting towards online gaming and purchasing online gaming ancillaries to improve their gaming experiences.
The PC Gaming Market is Growing Despite the Slump in the PC Market and Growing Console Market
PC game revenues continue to increase at a solid pace and are expected to pass $25 billion in 2017 up from about $ 20 billion forecasted for 2012. PC gaming is on the rise and while it will be easy to claim that these successes lie in the superior processing and graphical potential of the PC caused by such a lengthy console cycle, the truth is that the platform's reappearance may ultimately lie in much more mundane roots.
Though PC gaming as a whole will continue to grow in the coming years IDC predicts that PC gaming revenue in North America is set to decline. This is primarily blamed on a drop in casual and browser game revenues due to a proliferation of mobile devices in the region. Sinking revenues will be buoyed by game sales in emerging markets such as China, Brazil and Russia. IDC points out that PC gaming has massive potential in these territories due to the relatively low sales consoles in those nations.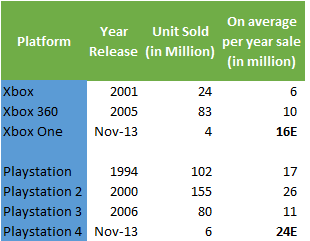 Moreover, strengthened by opening week sales in Japan, Sony has announced that PlayStation 4 has sold six million units worldwide along with 13.7 million PS4 games. Xbox One has sold more than four million units worldwide in a three month period. If both companies continue to sell their consoles at this rate then by the end of 2014 Xbox One will manage to reach sales units of 16 million while PlayStation 4 will achieve a higher target of 24 million units, assuming that gamers will buy the new model instead of previous models. Usually when companies introduce new models the sales of their old models continue to rise due to lower prices. The growth in PC gaming and the console market is a positive sign for the company that will increase its products' demand and improve revenues from in-game purchases.
Success Story - World of Warcraft
The PC gaming industry witnessed the staggering rise of World of Warcraft with more than 7.6 million monthly subscriptions. According to the company's statistics, there have been one hundred million World of Warcraft accounts worldwide since the birth of the game including both free and paid subscribers. This game has been played in around 244 countries around the globe. Around 500 million characters have been created in the game so far and 50 million searches per year on Google are related to World of Warcraft. In 2013, this game managed to bring $213 million in micro transaction sales for the company.
Diablo III Is the Fastest Selling Game
Diablo III, one of the fastest-selling PC games, sold over 3.5 million copies in the first 24 hours of its release and was the best-selling PC game of 2012 selling more than 12 million copies during the year. Diablo III was one of the company's biggest PC launches ever and helped the company to make 2013 a record year for the company at GameStop. This game not only broke the record for most pre ordered PC game of all-time on Amazon.com but it also shattered the record for best day-one sales for any PC game ever on Amazon. comprised at $59.99.
Call of Duty a Huge Success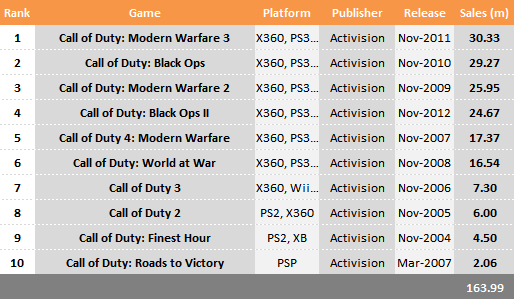 Source: VGChartz
Call of Duty has become one of the most successful video game franchises in history. As of October 2013, this franchise sold 164 million copies that only takes into account the top 10 entries in the franchise. As you can see, Call of Duty Modern Warfare 3 has sold the most units to date with 30.33 million whereas last year's entry, Black Ops 2, only managed to sell 24.67 million in comparison.
The most recent release, Call of Duty: Ghosts, was unable to attract gamers as its previous release because of the release of the next-gen console landscape of the Xbox One and PS4. Many players held out another few weeks to pick up copies of Call of Duty: Ghosts for the next-gen systems they've pre ordered. That's why the sales were not even close to Black Ops 2. However, I believe that now that PS4, Xbox One and other new consoles are in the market Call of Duty: Ghost sales will be much better and will have worked its way up into the top five of this list by this time next year.
Upcoming Projects
The outlook of 2014 seems quite impressive backed by the company's strong and diverse pipeline of games. This year, the company expected to release its newest billion dollar franchise "Destiny," an innovative shared-world, first person action game. The company also has terrific new games planned for the Call of Duty and Skylanders franchises, and Blizzard Entertainment has an expansion to the top-selling PC and console game Diablo III and another major new release titled Reaper of Souls.
Also in its pipeline for 2014 and the next few years are at least three potentially ground breaking new free-to-play franchises including Blizzard's Hearthstone, Heroes of Warcraft, and Heroes of the Storm and Activision Publishing's Call of Duty Online. I believe these games have great global potential and will enable the company to grow its revenues.
Free-to-play as a business model has now achieved scale both in the West and in China. Hearthstone, which released its open beta on PC last month and which Blizzard Entertainment plans to expand this year to tablets and smartphones, is already attracting millions of players with strong engagement and monetization in the West and China putting it on track to join World of Warcraft, Diablo and StarCraft as their fourth mega franchise.
Conclusion
The gaming industry is growing and it's growing faster than expected thanks to online gaming and multiple sources of gaming platforms. The advancement in technology and more realistic gaming experience increased the demand for PC gaming and multi-purpose consoles for gaming. The company's efforts to enhance the gaming experience with new and more attractive games will help it to increase its revenues and to achieve higher growth.
Disclosure: I have no positions in any stocks mentioned, and no plans to initiate any positions within the next 72 hours.
Business relationship disclosure: The article has been written by APEX Financial Consultants. This article was written by one of our research analysts. APEX Financial Consultants is not receiving compensation for this article (other than from Seeking Alpha). APEX Financial Consultants has no business relationship with any company whose stock is mentioned in this article.