I pledged at the beginning of the year to pick a company each month which would meet my specific criteria for a good long-term investment opportunity. Given my overall view that we are looking at low global economic growth and much financial and geopolitical volatility in coming years and decades, the companies I choose to cover must have a business model in place, which can meet these challenges and present us with an opportunity for a low risk in the face of adversity investment, with potential for a decent return. The focus is on long-term fundamentals.
For February, I picked Suncor Energy Inc. (NYSE:SU) The reason I picked it is because it is a company that has Canadian oil sands production as its business core, which I believe, is by far the best long-term oil & gas sector to be invested in. For January, I picked Kimberly Clark (NYSE:KMB) based on demographic trends, which I believe, will make its products, such as infant and adult disposable diaper brands very attractive.
For this month, I chose Barrick Gold Corporation (NYSE:ABX). It is a Canadian-based gold and copper mining company, which I believe, has the right ingredients to make my list of long-term investment opportunities within the context of the adversity I expect we will go through in the next few decades. Before I get down to the business of looking at the company's vital statistics, I want to look at the main product Barrick produces and its most probable long-term outlook.
Gold Shines:
The story on gold for the last two years has been that it lost its luster, declining from the peak it reached of just over $1,900, to under $1,200 an ounce. It is important to understand the context of this sell-off. At $1,900, the price was no longer driven by investors looking to buy and hold gold as a safety play, but mainly driven by those looking to get in on the momentum and profit in the short term. Once the price level approached the psychologically important $2,000 level, most investors figured that there is no point sticking with gold as a momentum investment, because there is little momentum left. At the same time, the stock market was recovering quite nicely from the 2009 lows, therefore, gold was abandoned in favor of other assets with better return potential.
It is important to understand that the rise in the price of gold was not just a result of inflation expectations due to all the money printing happening everywhere on the world, which never materialized, thus giving way to a sell-off. It was a flight to safety investment in the face of a world seemingly ready for financial disintegration. The flight to safety created momentum, and then more momentum was created as traders started trading the momentum. Then, as gold sold off due to many traders abandoning the gold trade in favor of the stock market, which in the 2010-13 period gained more momentum than gold, traders traded the downward momentum of gold as well. None of this has anything to do with the fundamentals of gold as a currency and commodity.
The long-term fundamentals for gold need to be assessed based on the long-term health of other currency and commodity assets. As a currency, gold has in its favor scarcity, which is something fiat currencies are increasingly losing.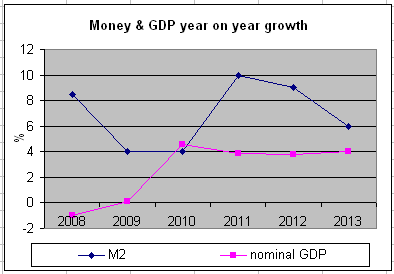 Data: St Louis Fed, nominal US GDP growth table
As the chart shows, money supply is outpacing nominal GDP growth in the United States by a very wide margin. The United States is the benefactor of having global reserve currency status, therefore, it is the most important currency. The excess money supply is, to some extent, absorbed by other economies, but the danger is that this money can find its way back due to a number of factors. The eurozone is also seeing increased money supply, as well as Japan. In the long term, gold will appreciate compared to these major currencies, simply because it has real limits on supply growth. While there is no limit for fiat, nor is there much will to place a limit on fiat currency growth anymore in the face of anemic global economic growth compared to the pre-2008 pace.
As a commodity, it has way more potential to rise in price compared to other commodities such as oil, because gold ownership in the form of items such as jewelry is a status symbol, and as an investment, it has a long-established tradition as a store of value. Oil prices, on the other hand, have nowhere to go from here. As we have seen in the past, any attempt for the oil spot price to rally far above $100 a barrel for the WTI leads to demand destruction, which then pushes the price back down, often below the initial starting point before the initial price rally. Demand destruction is far less severe when gold rallies. A steady increase in the price of gold encourages people to purchase physical investment-grade gold, even as jewelry demand drops. Depending on supply, economic, financial and political factors, potentially gold has no price limit.
Barrick Gold Corporation:
After posting a net loss of $10.4 billion for 2013, some may be wondering why anyone would consider Barrick to be a good long-term prospect. The reason I have to consider Barrick Gold as a good long-term investment opportunity is because the loss included $11.5 billion in impairment charges related to divesting itself from projects considered unviable. Current average all-in production cost per ounce was reported to be $915, which is over $400 less than the current spot price. Barrick also reported over 100 million ounces in reserves estimated to be viable at a spot price of $1,100 an ounce (Q4 & 2013 report).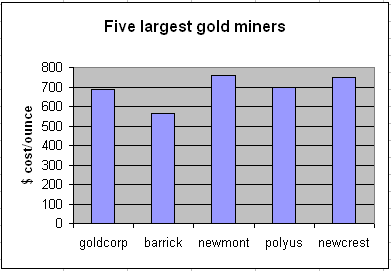 Note: Source.
The costs presented in the graph are not all-in costs, but only the operating cost of mining production in its strictest definition.
Aside from having the lowest production costs among the top five gold producers, Barrick Gold also has by far the largest proven reserve base. Reserves were slashed from 140 million ounces to just over 100 million as a result of introducing a more stringent price of $1,100 an ounce at which to evaluate economic viability of the resources, but even so, it is a far larger reserve base than any other major competitor. By comparison, Goldcorp (NYSE:GG) has 54 million ounces in proven reserves and is assuming a spot price of $1,300 an ounce (link).
I have no doubt that as the price of gold will continue to increase, Barrick Gold will also venture into higher-cost mining projects, therefore, we should not expect long-term production costs to reflect the current assumption of $1,100 an ounce gold. Given the large proven reserve base, which is estimated at a very conservative price level, Barrick Gold has the potential to do better than its peers and provide great potential for long-term returns for investors.
Disclosure: I have no positions in any stocks mentioned, and no plans to initiate any positions within the next 72 hours. I wrote this article myself, and it expresses my own opinions. I am not receiving compensation for it (other than from Seeking Alpha). I have no business relationship with any company whose stock is mentioned in this article.
Additional disclosure: I own physical gold as an investment.