May was in like a lion, and out like a lion – stocks lost more than 8% for the month, which was the single worst month since the bull market began back in March of 2009. An omen of more trouble to come? There's certainly not a lack of arguments to suggest that. On the other hand, gloom and doom headlines sell better ... let's not jump to conclusions based on fear-mongers' rants. Instead, let's look at the trend, and what the actual undertow looks like (as opposed to just looking at the evidence that supports our opinion).
We'll do just that below, but first, a quick look at last week's and this week's economic numbers.
Economic Calendar:
The big news from last week was on the real estate front. Not only were existing home sales better than expected, they were up from the prior reading, to 5.77 million. Even better, home prices – via the Case-Shiller Index – were up a stunning 2.4%, versus an expected 3.0% increase. The FHFA index confirmed the better price trend. And new home sales? They were up to 504K … well above the anticipated 425K, and leaps and bounds better than the multi-year low level hit just a couple of months ago.
Don't get too excited though. Remember, these are March's and April's numbers; the tax credits that were driving this strength have expired, and it is expected that May's numbers will reflect that sudden lack of stimulus. If anything, this high bar is a setup for disappointment a month from now.
Continuing claims were stable, as were new unemployment claims. That jives with stagnant personal spending, though personal income was up a hair (+0.4), as expected.
On the consumer sentiment front, confidence was up a little according to the University of Michigan sentiment index, or up a lot – by 9.7% - according to the Conference Board's measure.
Economic Calendar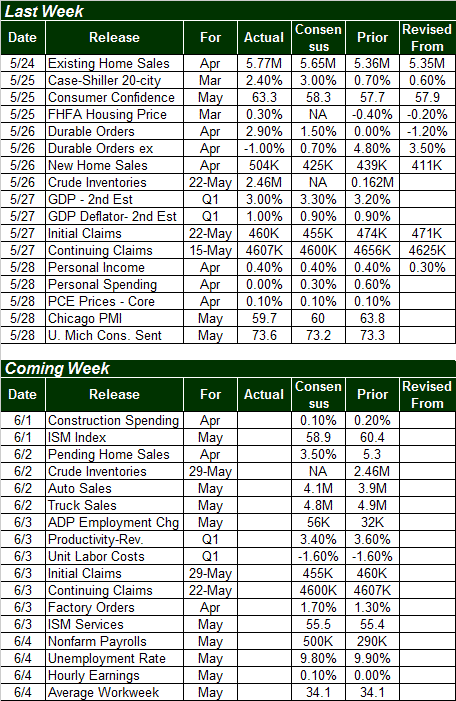 This week should be just as busy in terms of economic data, including data from the real estate realm. Construction spending is due on Tuesday; pending home sales are due on Wednesday. Both are expected to show stronger numbers, but the same caveat from above applies ... the numbers reflect a stimulus that is no longer in effect.
New unemployment numbers are slated for Thursday. The actual unemployment rate is expected to be a tad lower (to 9.8%), and non-farm payrolls are forecasted to hit 500K … well up from recent levels.
Tuesday's car and truck sales levels should move the market a little too; car sales should be up a little, while truck sales are expected to be down just bit, to 4.1 million and 4.8 million, respectively.
S&P 500 Index:

Don't read too much into Friday's decent-sized pullback. Volume was very light, and besides, though the S&P 500 Index (SPX) was off 1.24%, a bit of a pushback could have been expected after Thursday's 3.3% rally. That said, Thursday's rally was a light-volume rally as well, so it doesn't really indicate a majority opinion either.
In other words, we're still in limbo-land ... enjoying the fact that Tuesday's hammer bar (a reversal/bottom clue) is still intact, but legitimately concerned that we've not actually made any meaningful progress since then.
In the meantime, a big line in the sand has appeared - the 200 day moving average line (black) at 1104.9. That's where the SPX was halted on Thursday, and where it was capped on Friday before the big pullback. Given its historical - and recent – importance that's our make-or-break-point for the S&P 500.
(Click to enlarge)
NASDAQ Composite:
Just for a little extra perspective this week, we're going to throw in a quick look at the NASDAQ so we can identify a few more make or break hints.
As you can see, the composite is back above its 200-day average line, back inside its Bollinger bands, and almost back above an intermediate-term support line (blue). And=y healthy move to 2269 or higher, and the bulls' life will be much easier. If the VXN can move under 29.93 (where it's found a floor over the last three days), that'll help too.
Until one or both of those things happens though, it's all in question. In fact, the NASDAQ's line in the sand offers a much more defined bearish tripwire…. a move back to 2227 or lower. That's where the 200-day line as well as the lower Bollinger band line are now.
(Click to enlarge)
Sector Performance:
Gold stocks were back on top last week, though the arena remains highly speculative (i.e. risky) at this point – little consideration is being given to gold's fundamentals, utility, and liquidity at these prices. The disparity among the other sectors, however, is revealing a few opportunities (both long and short).
(Click to enlarge)
Industry Performance:
The fact that we saw some sectors gain while others lost ground last week is actually a good sign… it at least says we're back in a stock-pickers market. As for the best and worst of last week, we feel in most cases there really is something to the trends than just one good or bad week. In several cases, last week was another chapter in a long, ongoing trend.
(Click to enlarge)
Disclosure: No positions.