Rio Tinto (NYSE:RIO) released positive financial information on Thursday, February 13th, 2014. During 2013, Rio Tinto utilized various measures for cost reduction that have largely been successful and resulting in a 10.2% increase in earnings with Earnings Per Share at $1.98. However, does Rio Tinto offer a bargain for its currently traded price, or does Rio Tinto instead provide us with the road map for other similar companies within the industry to succeed?
More recently, Rio Tinto has received some negative ratings by analysts such as those at Citigroup who downgraded RIO, along with BHP Billiton (NYSE:BHP), on March 3rd.
Citi analysts led by Clarke Wilkins downgraded their recommendations for BHP and Rio from buy to neutral, with share price targets falling from $39 to $38 and $80 to $74 respectively.
Most of the downgrades are based on the single fact that Iron Ore prices have fallen once again as we head into the spring and summer months, mostly due to the slackening demand in China. A Wall Street Journal article which was reporting on the Chinese Iron and Steel Association indicated:
The association said that the pace of growth will slow to 3% this year from 7.5% last year. Construction in smaller cities and towns will likely support growth in steel consumption, Mr. Li said.
Now the price for Iron Ore per ton appears to be at roughly $117. Iron Ore is the key driver behind the downgrade according to the analysis from Citi:
Iron ore is the dominant earnings driver for the sector and [the] only positive ray of light is that $US80 a tonne iron ore has already been priced in and/or multiples re-rate as long expected decline finally happens.
The $80 reference, and the assumption that this is already figured into the price is due to the Goldman Sachs report that occurred back on January 21st which had a terribly negative perspective on the Iron Ore industry overall, stating that "the sunset of the Iron Age starts in 2014." In the analysis, it was noted that the expected price per ton was $108 for 2014 and $80 for 2015.
Here is how a variety of prominent Iron Ore miners have fared with respect to the spot price over the last year: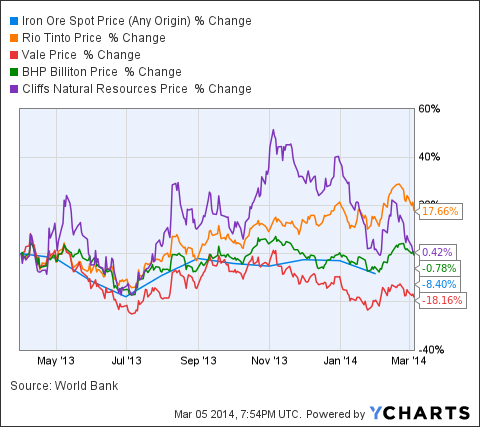 Iron Ore Spot Price (Any Origin) data by YCharts
Rio Tinto is the outperformer within this group, clearly doing better than its competitors and better then the spot price of Iron Ore. Vale SA (NYSE:VALE) is doing rather poorly with respect to the spot price of Iron Ore, as was noted in a recent report by analysts at Morgan Stanley on the topic, and they proceeded to upgrade the stock.
VALE has underperformed iron ore by ~20 percentage points prices over the past year. We believe this poor performance is unlikely to continue, and we view the current valuation as an attractive entry point.
Clearly if Iron Ore was our only basis for upgrading or downgrading a stock, then we can probably all agree that Rio Tinto should be downgraded and stocks such as Vale SA should be upgraded. However there are other factors to consider such as the financial state of the company (and please recognize that I am not doing a comparison or contrast of the two companies, VALE and RIO).
Summary of Financials/Earnings Report:
Here are the important things to consider with respect to Rio Tinto's earnings:
10% increase in underlying earnings for 2013 versus 2012 with $10.2 billion reported, and a 15% increase in full year dividend was announced as a result.
Cash flows from operations were up 22% due to successful cost reduction efforts.
Cost reduction was in the form of reduced Capital Expenditures [CAPEX].

All of this is good news. No doubt an increase in earnings was driven by an increase in the spot price for Iron Ore during the latter half of 2013 after the initial fall during the start of the year and into mid-summer.
As discussed earlier, like most mining companies, the stock price stays in lockstep with the spot price for Iron Ore as earnings often do as well. However Rio Tinto has managed to do better than the spot price recently. Why is this?
Some have discussed Rio Tinto as a much more diversified mining company than several competitors due to the fact that it has less then half (47% to 48%) of revenues generated through the sale of Iron Ore.
Here is a chart of the revenues by segment put together from Rio Tinto's most recent earnings statement: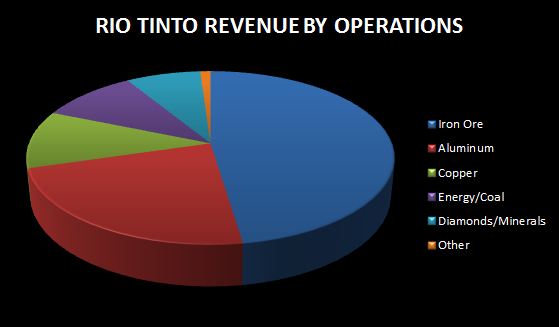 While 47% to 48% of revenues come from the Iron Ore market, the impact on net profit is closer to around 84%. Here are the Net Profits associated with each segment based on the most recently released earnings report: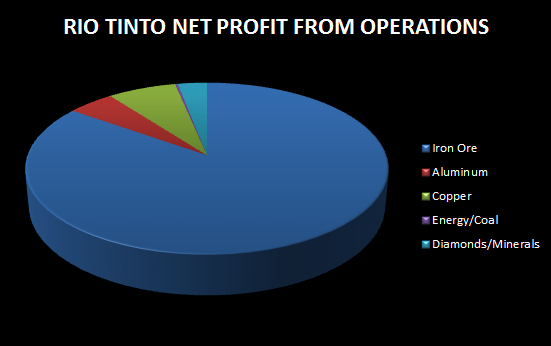 As one can see, this is still a company that is heavily dependent upon Iron Ore for its profitability and therefore, a valuation that is based heavily on the performance of Iron Ore is probably warranted. While greater revenue may not always be reflected in profits, it is a measure of risk, and one could probably take from this information that the risk factor associated with Rio as a result of other sources of revenue is much lower than other companies such as Vale SA. In fact, the chief competitive advantage of Rio is probably its moderate level of diversification across various segments in the basic materials sector.
Similarly Vale SA has invested heavily on vertically integrating with a fleet of ships for transport, and Cliffs Natural Resources (NYSE:CLF) has built a competitive advantage on the relationships and close spatial relationship with American Steel companies. It is simply impossible to survive as a modern day mining company without some sort of competitive advantage that does not pertain directly to mining.
The Viability of Future Iron Ore Operations:
From the most recently released statements, here is the price per unit of each core raw material that RIO sells in addition to the average exchange rate during 2013.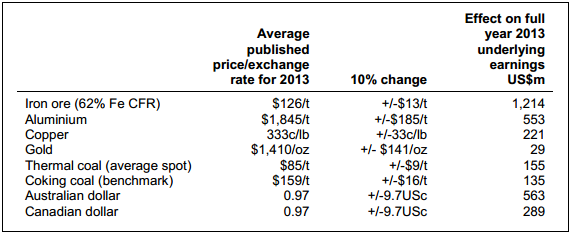 The average spot price for Iron Ore was roughly $2.00 less than Cliffs Natural Resources reported for 2013 in their recent report also issued on February 13th.
The trouble with Rio Tinto is that it has done surprisingly well for most mining companies during 2013 that were heavily dependent upon Iron Ore. While the recent earnings report clearly indicates that this optimism was warranted, it is also quite possible that the positives are already figured into the price for Rio Tinto.
The problems for Rio Tinto in the future largely surround the uncertainty contained with respect to Iron Ore's spot price. A consensus of 31 different firms finds that the Iron Ore spot price will most likely be lower at around $115 - $120. The spot price has already fallen since the end of 2013 to roughly $118.
Here is the consensus estimate from Metal Expert Consulting:

While the earnings report was certainly good news for Rio Tinto, we are left wondering if the positives were already calculated into the stock price. Rio Tinto is not trading at much of a bargain. In fact based on the spot price for Iron Ore and some key metrics, it is possible that Morgan Stanley's previously stated assessment of Vale as the stronger company is properly fitting.
Vale's forward P/E looks excessively low relative to Rio Tinto at one standard deviation below the historical average and not far from the 2005 all-time low. Vale's shares have historically traded at a forward P/E of 8.6x, or at a 15% discount to Rio's average multiple of 10.2x. However, based on our 2014 estimate, Vale is currently trading at 6.7x EPS, or approximately 31% below Rio's valuation of 9.7x ― twice the historical discount.
As one can see here, Morgan Stanley is offering Rio Tinto as an example of an either properly valued or overly valued company here with respect to others within the same industry; and more specifically, they believe Vale SA provides a better bargain. While I do not think this analysis is particularly appropriate, as it has some underlying assumptions that I question, I still think that Rio Tinto might have already had the positives worked into the share price by investors. One can easily see this in how the market reacted to the earnings report, as the reaction was mostly flat.
Conclusion:
Rio Tinto is a strong company that will see a modest increase in its share price in the future, even if it falls in the short-term, of that there is no doubt. For the long-term hold type of investor who is looking for a relatively low risk investment in the Iron Ore industry, Rio Tinto is probably the best company for an investment. However, Rio Tinto does not offer a deeply discounted share price with respect to earnings or the spot price of its chief revenue-generating raw material in comparison with the competitors.
Rio Tinto's success, as noted by its most recently issued earnings report, serves as a template for other similar companies to succeed in the future. Rio Tinto reduced CAPEX, and the results were incredible. The greatest lesson we can learn from Rio Tinto therefore, is that other mining companies might have a brighter future if they follow in the same footsteps.
One such company might be Cliffs Natural Resources, as they have recently initiated a reduction in CAPEX in an attempt to improve earnings during 2014 and compensate for a falling spot price in Iron Ore. If successful, we can only assume that Rio Tinto serves as a guide for things to come at Cliffs. Rio Tinto is a strong company, but it simply does not currently offer the bargain that an investor should be looking for.
Disclosure: I am long CLF. I wrote this article myself, and it expresses my own opinions. I am not receiving compensation for it (other than from Seeking Alpha). I have no business relationship with any company whose stock is mentioned in this article.