Our latest update (Jan 2014) on JinkoSolar (NYSE:JKS) argued that one should take advantage of the sell-off. This strategy has paid off after some good Q4 results. The shares have rallied strongly from the mid 20s and are (at pixel time) now above $36.

What's behind this strong performance? Let's go through the main items.
Strong results
Some highlights from the Q4 and FY 2013 results:
Shipments almost doubled in 2013 to 1933.1 MW (+62.7%), Q4 shipments increased 13% sequentially
Revenues increased 47.6% for the year to $1.17B. Q4 revenue increased 87.5% from Q4 2012 and 11.5% from Q3 2013
ASP (average selling prices) have stabilized (down somewhat in the first half of the year, mildly up in the second half)
Gross margin was at 24.7%, this is definitely a post-crisis figure (it was just 3.8% in Q4 2012)
Q4 EPS (fully diluted) was $0.94, for the full 2013 it was $1.28
The utility and distributed electricity generation business, only started last year, is growing fast, connecting 108 MW to the grid in Q4 and 213 MW in total.
The company had $141.2M in cash and cash equivalents and $326.2M in short-term debt and a negative working capital balance of $312.9M at the end of 2013
There is a total of unrecognized revenue of $28M on projects ('retainage contracts') where Jinko allows contractors to withhold payment of 5-10% of the full contract price for 1-2 years (depending on contract).
Interest expenses is only 3% of revenue, Arturo Herrero claims this is the lowest in (industrial) China
Overall outlook
Guidance: For the first quarter of 2014, total solar module shipments are expected to be between 440 MW and 470 MW. For the full year 2014, total solar module shipments are expected to be in the range of 2.3 GW to 2.5 GW, with total project development scale expected to be above 400 MW. [PR]
Pricing: the ASP (average selling price) during 2013 was $0.62 and the company expects this to be stable in 2014
Growth: The company expects to ship between 2.3 and 2.5 GW in modules plus 400 MW in projects, so 2.7-2.9 GW in total [Q4 CC]
Downstream; there is a pipeline of 700 MW in utility scale and 400 MW in distributed systems, since these projects generate higher margins (60%+ gross and 30%+ net) and are growing faster than their panel business, this is one of the more promising areas of the revenue stream and a main way out of commodification.
If you wonder why the stock price has rebounded so strongly, the main reason is analyst upgrades. It's noteworthy how the earnings report produced and increase in the average analyst EPS estimates for 2014 from $2.52 to $3.56
Geography of markets
There is a shift away from Europe, in part by anti-dumping rules and as a result, the European PV market has decreased from 17 GW to 10-11 GW in 2013.
Jinko is still the market leader in China, which is a very favorable metric as this is the biggest market in the world and one that is growing very rapidly
After some confusion (which led to a sell-off in the sector, see our last article), China has confirmed its market target of 14 GW for this year. This was another reason for the strong performance of the sector in general, and Jinko (as the Chinese market leader) in particular
There is a shift to emerging markets, US and Japan.
The market breakdown was nicely summarised during the Q4 CC:
we shipped to China was a 149%, Asia Pacific was 22, and the Europe was 20% and Emerging Market was 10% and North America was 7%. We're going to forecast in 2014, the China is around 35% to 40%, I think Asia Pacific is 20% to 25%, and Europe is 5% to 15% and Emerging Market 10% and North America is 12% to 15%. [Zhang Longgen Q4 CC]
So the main growth for Jinko is actually the US and Asia pacific (and the percentage for China is 49%, not 149%, obviously)
Margins
The reason for the strong performance can be summarized in one metric, JinkoSolar enjoyed an industry leading gross margin of 24.7% in Q4, compared to 3.8% in Q4 last year. Industry average is 13-15% so Jinko is 5-8% above that. The operating margin of 12% in Q4.
Managing the downturn
CSO Arturo Herrero argued that:
this down turn has provided a unique opportunity to deliver and initiate ourselves in front of our competitors [Q4 CC]
This is something we've pointed out in previous articles. Since solar cells are a near commodity, the industry tends to be cyclical with phases of oversupply, price falls, companies going bust and the survivors cutting back capacity expansion as a way to survive. The price falls generate new demand so the overcapacity has a tendency to eliminate itself.
Jinko has managed this downturn very well by having manageable debts (relative to other solar companies), and great cost management, which limited losses and provides them with a cost advantage over almost any other competitor. A crucial element in this is their nimble way they shift between markets.
We noticed this capacity half a decade ago when Jinko was very dependent on the Italian market, booming at the time, but it was able to shift rapidly to other markets when that boom was ended by the eurocrisis and a drastic cut in subsidies. Now they have positioned themselves well in the big growth markets, most notably China and Japan.
Opportunities
The solar market is still in an early growth stage. Until now, the expansion has been based on public policy, that is, subsidies. But solar energy is increasingly able to compete with other forms of electricity, depending on location (hours and intensity of sunshine, local electricity tariffs).
According to a Deutsche Bank report, the fall in solar panel price to around $0.60-$0.70 per watt has:
has already rendered solar power competitive "without subsidies" in Japan, South Korea, Australia, Italy, Greece, Spain, Israel, South Africa, Chile, Southern California, Hawaii and Chile - in some cases because electricity prices are ruinous. (Italy's solar is not efficient but electricity retails at $0.38 per kilowatt hour, compared with $0.15 in Germany and the UK). These regions could be joined within three years by Thailand, Mexico, Argentina, Turkey and India, among others. [The Telegraph]
The terrible downturn of the last years has actually put the industry on a much sounder footing. It has cleansed the industry of a lot of overcapacity and led to such price falls that it can compete without subsidies in an ever expanding geography.
So we're now in a new phase where solar installations are less dependent on subsidies and there clear winners have emerged like Jinko, but also companies First Solar (NASDAQ:FSLR), Trina Solar (NYSE:TSL), Yingli Green (NYSE:YGE), SunPower (NASDAQ:SPWR) and (despite a recent earnings miss) Canadian Solar (NASDAQ:CSIQ). This doesn't mean it's all plain sailing though, see below under 'risks.'
Since we're still in the early phase of expansion after the crash, there is still room for margin expansion as ASP stabilizes and costs are cut further and increasing shipments will reap some (modest) economies of scale and shift to downstream lead to margin expansion.
On the latter, Jinko, whilst optimistic, has declined to give any guidance for 2014, which indicates to us that we might already be nearing the end of the margin expansion phase for their panel production. Further improvements in revenues and profits need to come mostly from increased shipments and a shift to higher margin countries and activities.
On the latter, like other solar companies, Jinko is jumping on downstream projects (both utility scale and distributed). Not only is this market rapidly growing, it also generates much higher margins (60% gross and 30% net margins). Perhaps most important of all, it isn't liable to the highly cyclical nature of the panel business.
Things could even get more interesting for shareholders as management admitted that they are looking at possibilities for a strategic partner for downstream, and possibly an IPO. These activities started at zero in 2012, but there already is:
a total project pipeline which consist of more than 700-megawatt in utility scale and more than 400-megawatt in distributed systems. [Q4 CC]
This is very substantial and guarantees that income and profits will ramp up quickly from this business and overall margins are unlikely to have peaked.
Having managed the downturn so well, and being the market leader in the biggest market (CHINA) also enables Jinko to leverage its scale to enter new markets, which they're doing left, right and center. They are already big in South Africa, but are also making inroads in India, the Middle-East, and South America.
Risks
One of the main risks in the solar sector is always the arrival of a new capacity glut. The latest downturn was so bad and left so many companies struggling or even going under that there were de-facto capacity reductions the last couple of years. Together with the rise in demand, produced by plummeting ASPs, this has put the industry on a much more balanced path.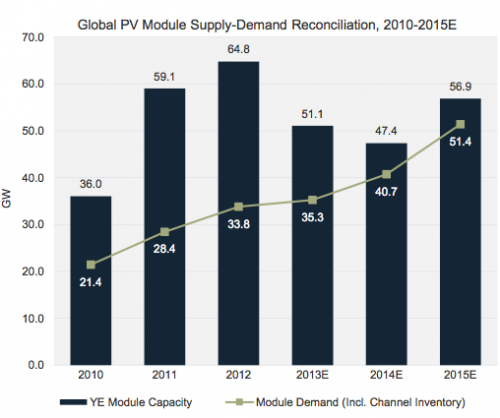 But for how long? That's the crucial question. Decisions about capacity additions are the domain of individual companies, but what may be logical from that point of view can easily result in a destructive glut for all of them together. For the solar investor, the risks are actually twofold:
Increased capex spending will impact financials negatively.
A new supply glut will destroy pricing power and send ASPs south again.
At least the first risk isn't a serious one for Jinko shareholders as they have purchased capacity from bankruptcy (of Topoint) and are on the lookout for more.
I think it cost us much because increase 100 megawatts, on the module side you maybe invest CapEx around the $5 million to $8 million. [Arturo Herrero Q4 CC]
But how serious is the second risk? The first signs might be worrying:
supply in terms of available capacity exceeds demand in 2014 by 16 percent for polysilicon, 20 percent for wafers, 19 percent for cells and 40 percent for modules. [Greentechsolar]
However, you have to understand that overcapacity is normal in this industry (see figure below) and even in years where the ASPs held up very well, there usually was substantial overcapacity, like in 2010.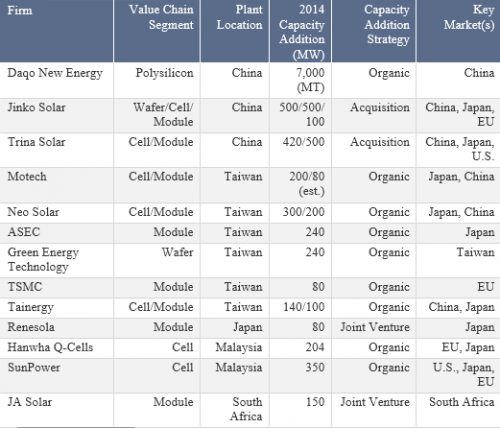 Full capacity might not be available due to various shortages (for instance, of polysilicon) or downtime, or capacity can be overstated considerably by companies or might be mothballed or simply represent planned additions.
This explains why module pricing over the course of 2013 was stable-to-up for the most part despite module capacity exceeding demand by 67 percent. [Greentechsolar]
So as a rough rule of thumb, a 30% capacity excess means a de-facto balanced industry. GTM Research argues
In conclusion, there are definite signs that at long last, balance between supply and demand in the PV market has not just been restored, but is beginning to trend in the opposite direction from the past few years -- with the very real possibility of a supply shortage in the offing [Greentechsolar]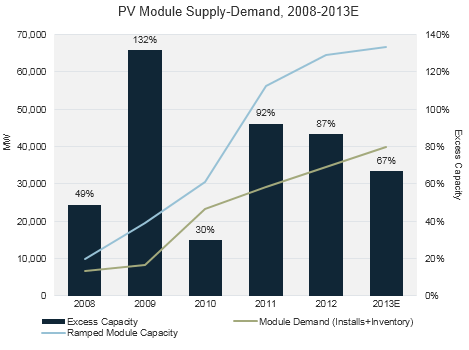 But this is dependent to some extent on demand exceeding their 42 GW estimate for 2014, although it has to be said that demand has a habit of exceeding early estimations. Their high case expects 50 GW of demand, which would lead to a tight market, but this isn't all good news.
The tightest part of the market is in polysilicon, the crucial commodity for much of the industry, where excess capacity is just 13% (based on a demand of 42 GW). Stronger demand could result in the price of polysilicon moving up to the $25 per kilogram level (from the low $20s today), leading to some margin pressure. Jinko management wasn't worried at this during the Q4 CC.
For starters, much of their polysilicon supply are under long-term contract and Arturo Herrero, when asked, argued:
I think the profitability too a lot is much. So the capacity definitely will increase in China. Then also look overall the polysilicon capacity right now, I think supply, the second figure maybe around I think 270,000 tonnes there. So that's easy to support around more than 60 gigawatts. [Q4 CC]
They see the risk of polysilicon above $25 per kilogram as small. There are of course other risks: A reduction in subsidies. However, with Jinko depending on China for 50% of its output and considering China's pollution problem, this doesn't seem much of a risk.
Another risk is an escalation of the anti dumping tariffs slapped on Chinese panels by the US. Jinko is optimistic it won't come to that and their position in the US is such. It's just 7% of their shipments and these can, to some degree, be circumvented, but US demand is supposed to increase to 12-15% so Jinko is expecting quite a lot of the US market.
One could wonder whether such an escalation would be in the US interest:
only a fraction of the solar industry's 145,000 workers were employed by manufacturers, who would stand to benefit from higher duties on imports, while installers would suffer... China, which has criticized the United States over the new investigation, has slapped anti-dumping and anti-subsidy duties on imports of U.S. polysilicon, solar's key raw material. [Reuters]
The new inquiry could lead to a closure of the 'Taiwan escape route' (Chinese solars shifted production to Taiwan to escape the US duties imposed on them last year). Jinko isn't in the first line of fire though:
So if US does decide to implement tariffs on Taiwanese-made solar cells, which Chinese solar companies would be most affected? That would be Trina Solar and Yingli Green Energy , says Citi: As of Q3 2013, TSL & YGE had 19.2% and 27% exposure to the US, respectively. [Barrons]
Conclusion
The shares have come a very long way in a very short term, multiplying from a low of $2 on August 3 2012 to $35 now. Should you still buy shares of JinkoSolar? Well, with a median expectation of $3.56 per share for 2014 and $4.75 per share in 2015, the shares are not very expensive and should, under normal circumstances still have some room to run.
There are significant risks though. The cycle of ASP stabilization and margin expansion could be nearing to its end. The company might well have to spend more on capex. The US could impose further punitive damages on Chinese (and Taiwanese) panels and cells, and poly prices could rise somewhat.
Against that are the tremendous opportunities of leveraging a much bigger footprint and brand recognition, a solar market decreasingly dependent on subsidies and the ramp up in the project business that generates significantly higher margins and isn't liable to the cyclical nature of the panel business.
So on balance, we say, yes, these shares are still a buy. Like we argued in our last article, buying on sell-offs seems much smarter to us, as the shares are very volatile (they are ideal instruments for swing traders).
Disclosure: I have no positions in any stocks mentioned, but may initiate a long position in JKS over the next 72 hours. I wrote this article myself, and it expresses my own opinions. I am not receiving compensation for it (other than from Seeking Alpha). I have no business relationship with any company whose stock is mentioned in this article.