Author's Note: This article replaces a previous article published on Thursday, March 6, 2014 titled, "Should You Avoid Coupons.com's IPO And Buy Undervalued Groupon Instead?" The previous article sourced the company's amended S-1/A SEC form filed on February 14, 2014 and should have sourced the S-1/A form filed on February 25, 2014 containing the 2nd amendment reporting a 2.5 for 1 reverse stock split. Therefore, the article is rendered inconsistent with the company's 2nd amendment to its S-1/A SEC filing on February 25, 2014 and was confusing to anyone reading it. My sincere apology to all!
Coupons.com's Valuation
The initial public offering of Coupons.com (NASDAQ:COUP) debuted on Friday, March 7, 2014, raising approximately $168 million from its IPO. The stock was priced at $16 per share, up from the previous $12 to $14, and not surprisingly, opened at $27.10 per share. Shares surged to $33 before closing at $30.
According to Coupons.com's S-1/A SEC filing on February 25, 2014, the company has never been profitable since it began in 1998.
We have incurred net losses since inception and we may not be able to generate sufficient revenues to achieve or subsequently maintain profitability.
After 15 years of coupon sales, Coupons.com's gross revenues for 2013 came in at $167.8 million. Not exactly a barnburner, but according to one source and the company's 2013 financial report, gross revenues jumped about 49% YOY in 2013, with Q4 income turning a net profit of $1.5 million. Net losses for the full year 2013 were $11.2 million.
Coupons.com's IPO generated approximately $168 million for the company. Coupons.com now has a sizable war chest to grow its business over the next 12 to 24 months.
Coupons.com, RetailMeNot and Groupon By Comparison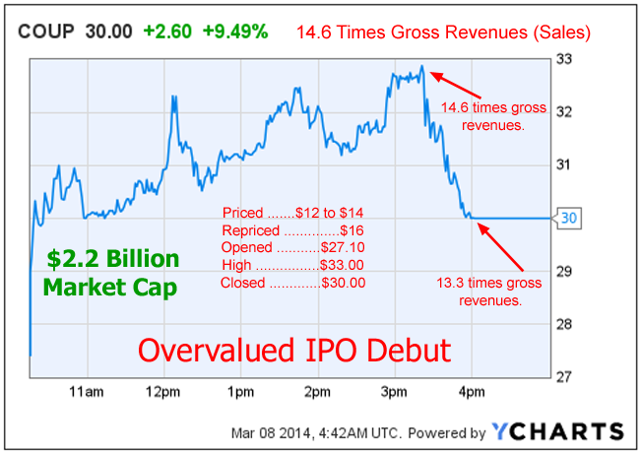 Based on Coupons.com's first day of trading, its current market cap at the close of trading ($30 per share) was approximately $2.2 billion, or 13.3 times gross revenues (see chart).
Coupons.com's closest competitor is RetailMeNot (NASDAQ:SALE) with a market cap of approximately $2.3 billion and 2013 gross revenues of approximately $210 million. Recently, shares have been trading around 11 times gross revenues. RetailMeNot has about $166 million in cash and equivalents as of December 31, 2013. RetailMeNot had a blowout 2013 Q4, as did Coupons.com and Groupon (NASDAQ:GRPN). But wait a minute - RetailMeNot is carrying a $41 million debt and Coupons.com's debt is listed as $23 million. Nevertheless, I would rank RetailMeNot ahead of Coupons.com, but both companies pale in comparison to Groupon.
Groupon is the largest mobile digital e-commerce company in the world. As you review Groupon's fundamentals, it is not difficult to understand Groupon's valuation is absolutely wrong. This assessment is not my exclusive reasoning, but a reflection of analysts' valuations and Groupon's intrinsic value. Groupon's market cap is $5.9 billion with $2.57 billion in gross revenues and trading at a meager 2.3 times gross revenues. Factor in no debt, $1.2 billion in cash and a blowout Q4 beating all estimates and Groupon looks irresistible.
Review the table below and you will find value hiding in plain sight.

Let's Find Groupon's Hidden Value
What is a fair market cap for Groupon? Should we use Coupons.com's rich valuation formula of 13.3 times gross revenues, a company that warned us in its S-1/A that since inception it has failed to achieve profitability? A company that only earned $1.5 million net revenues in Q4 2013 and reported annual gross revenues of $167.8 million, 15 times less than Groupon?
Maybe RetailMeNot's 11 times gross revenues would be your valuation choice? With $41 million debt and only $210 in gross revenues, it is 12 times smaller than Groupon.
Before you decide a proper valuation for Groupon, let's expand our valuation prospective by looking at some other social media stocks. Let's consider the following: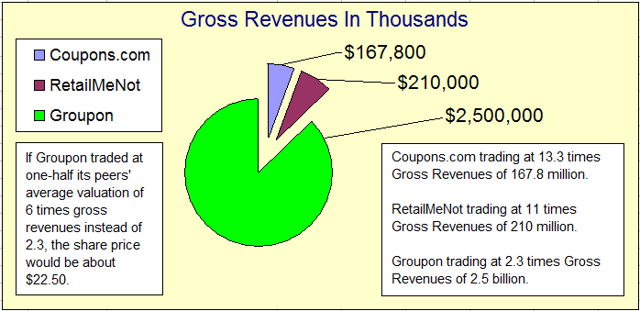 The pie chart to the right reveals Groupon's market dominance over its peers. It is not possible to adequately explain the glaring lack of parity between these valuations. If you believe that Coupons.com and RetailMeNot are fairly valued, then Groupon would be clearly undervalued. But to honestly postulate the argument that Groupon is somehow correctly valued at 2.3 times gross revenues cannot be based on sound judgment, peer valuations, conventional valuations or Groupon's fundamentals.
Through comparative analysis, Groupon is grossly undervalued at 2.3 times gross revenues, while Coupons.com and RetailMeNot are overvalued at 13.3 and 11 times gross revenues, respectively.
In a previous article, "'Buy' Ratings Mark Groupon As Undervalued", published in November 2013, I valued Groupon at a conservative 4 times gross revenues or $15 per share. This valuation remains unchanged because Groupon is clearly undervalued. If the same valuation were ascribed to Groupon as is its peers (11 to 13 times gross revenues), shares of Groupon would trade around $41 per share.
Conclusion
The facts are self-evident: Groupon is grossly undervalued at 2.3 times gross revenues and many investors know this to be true. By comparison to its peers, it becomes evident that Groupon's valuation should be much higher. A 4 times gross revenues valuation, $15 per share should be on the horizon, but that should be the low end of Groupon's valuation.
Disclosure: I am long GRPN. I wrote this article myself, and it expresses my own opinions. I am not receiving compensation for it (other than from Seeking Alpha). I have no business relationship with any company whose stock is mentioned in this article.