It seems that the "Big Two" Triple Net REITs have been getting a lot of the attention of late - both American Realty Capital Properties (ARCP) and Realty Income (NYSE:O) have been actively aggregating individual assets as well as acquiring large portfolios. Accordingly, some of the smaller Triple Net REITs have been equally as active, although not stealing headlines.
One such REIT, Spirit Realty Capital (NYSE:SRC), went public in September 2012 and has amassed a portfolio of over 2,040 properties with a Total Capitalization of around $7.7 billion. Since listing, Spirit's shares have increased by approximately 34.4%.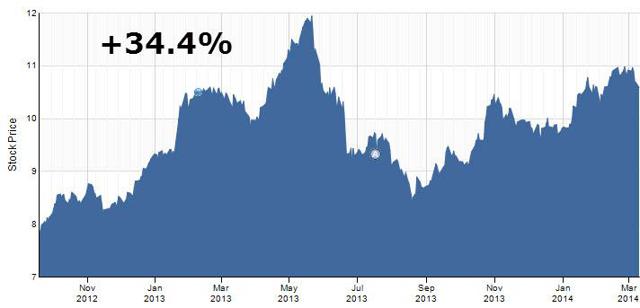 Over the last 90 days, most REITs have outperformed and Spirit' shares have climbed by around 7.2% during that time period. Spirit closed at $10.59 with a current dividend yield of 6.28%.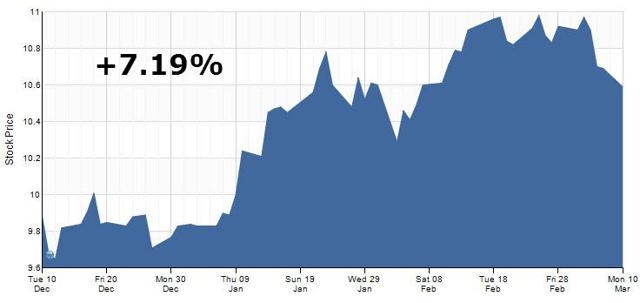 Recently I caught up with Spirit's President and COO, Peter Mavoides. He joined the company in September 2011. Prior to joining the company, he spent over 7 years as President and Chief Executive of Sovereign Investment Company, a private equity firm focused on investment opportunities relating to long-term, net-leased real estate. Mavoides previously worked with Eastdil Realty, a subsidiary of Wells Fargo Bank, and with Citigroup, where he focused on the structuring of sale-leaseback transactions. Mavoides earned a BS from the United States Military Academy and a MBA from the University of Michigan.
Thomas: Pete, congratulations on your Q4-13 results. Can you tell us about some of the improved metrics including occupancy (now at 99% from 98.8% a year ago)?
Mavoides: Occupancy is clearly very important and we are happy to report that we are essentially fully occupied. The occupancy improvement over a year ago, while positive, is not hugely material - but we believe it does demonstrate our strong effort to manage our portfolio. Our fourth quarter 2013 revenue nearly doubled from what it was in 2012, which is obviously due in large part to the Cole II merger, but also reflects a continued healthy performance by the combined portfolio.
To that end, as we mentioned on our earnings call, the Unit Level Rent Coverage ratio for those of our tenants who report unit level financials to us increased from what we see as a very healthy 2.7 times to 2.8 times, continuing what has been a long positive trend. We see that as an important indicator of the credit health of the portfolio, as we believe this ratio helps us measure how essential our properties are to our tenants and how much cash flow they generate through the units in excess of our rent.

Thomas: Last year Spirit increased the portfolio substantially with the acquisition of the CCPT2 portfolio. How did that improve the company's diversification?
Mavoides: Our merger with Cole II created a $7.2 billion entity, and we believe it resulted in a number of benefits for our shareholders. Specifically in terms of diversification, our annualized revenue concentration from our largest tenant and ten largest tenants as of December 31, 2013 now stand at 15% and 36%, respectively. Prior to the merger, Spirit's revenue concentrations from these tenants at December 31, 2012 stood at 29% and 51%, respectively.
Additionally, the merger diversified our tenant credit profile, taking us to 44% investment grade quality tenancy as of year-end 2013 from 21% as of the end of 2012. These numbers include both those tenants who carry a published rating from a nationally recognized rating agency, as well as those tenants that have investment grade characteristics as determined by a software product we license from Moody's Analytics, but who do not maintain a published rating. The transaction also improved our geographic and industry diversification as well.

Thomas: Can you discuss your current capitalization and what steps has the company undertaken to improve the balance sheet fundamentals?
Mavoides: We currently have an enterprise value of approximately $7.8 billion, capitalized with approximately $4 billion in publicly traded equity that trades on the NYSE under the ticker "SRC" and approximately $3.8 million in debt as of the end of 2013. On the debt side, we recently placed $330 million of A+ rated bonds from one of our subsidiaries in the asset backed finance market. We are very comfortable with our capitalization, as we believe we have well-laddered debt maturities and have match funded our long-dated assets with long-dated fixed rate financing, thereby locking in what we expect to be an attractive and growing cash flow to support our dividends.

Thomas: What is your 2014 acquisition guidance and how easy or difficult is it to source new acquisitions?
Mavoides: We don't provide acquisition guidance as we want to invest capital when we believe the risk-return parameters on new investment are rational, not because we have made a public commitment. That said, we closed approximately $250 million in the 4th quarter of 2013 and have had good traction thus far in 2014. We have a large portfolio with many tenant relationships and have been investing in Single-Tenant net lease properties as a Company for over 10 years, and our management team has been doing so as individuals for significantly longer.
As one of the larger players in the market, we see plenty of opportunities sourced from our tenant relationships, brokerage relationships and advisor relationships. In 2013 we invested over $400 million in new investments, excluding the Cole II (CCPT2) transaction. Of these investments 33% was sourced directly from relationships with existing tenants. In addition, nearly 60% were direct sale-leasebacks, where we negotiated and structure a transaction directly with the tenant. Given our knowledge of our market, our strategic relationships and our standing in the industry, we believe we can execute in a manner consistent with our investment philosophy.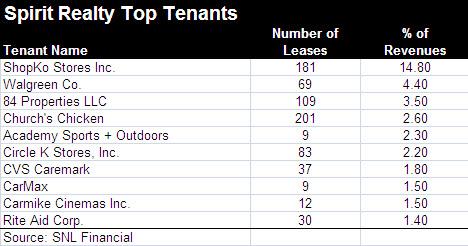 Thomas: Spirit has a new peer just down the street in Phoenix called American Realty Capital Properties (ARCP). With the growing trend toward consolidation, how will Spirit remain competitive and what are the biggest challenges in the highly fragmented industry?
Mavoides: ARCP is a formidable competitor and is newly located in Phoenix, but Spirit has been competing with them, as the former Cole, and others for the past 10 years. The net-lease market is very large and I believe we have a differentiated investment strategy and deal sourcing relationships that will allow us to continue to compete and grow.
We will continue what we have been doing, which is to primarily focus on investing in properties net leased to well-run, primarily unrated middle market companies in transactions where we believe our cycle-tested credit underwriting and structuring discipline allow us to create an attractive risk-return profile and effectively compete. While the market is highly-fragmented on the seller side, it is increasingly concentrated on the buyer side. We believe this lack of alternatives for sellers creates opportunities for Spirit.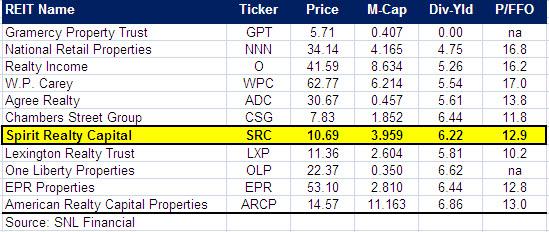 Thomas: What is Spirit's concentration level in terms of investment grade rated tenants and is that number growing?
Mavoides: As we discussed above, we are approximately 44% investment grade quality, which includes both tenants that maintain public ratings and tenants that have investment grade characteristics as determined by a software product we license from Moody's Analytics, but who do not maintain a published rating. That number moves around as we receive financial statements and re-rate the vast majority of our tenants on a quarterly basis.
As discussed above, we prefer to invest with un-rated tenants where we believe we can deploy our credit underwriting discipline to create a superior risk return profile for our investments. We believe that these investment opportunities generally offer superior growth, transaction and lease terms. As a result, I do not see the investment grade rated concentration number growing meaningfully, unless we enter into another Cole II-type transaction where we acquire significant investment grade exposure in a strategic M&A execution.
Thomas: What is Spirit's concentration in retail and what is the company doing to defend against the threat of e-commerce?
Mavoides: Spirit's portfolio was approximately 75% retail as of year-end 2013. In general, our tenants are performing well and their coverage of our rents is approaching an all-time high, which suggests the units we own are currently increasing their profitability despite the e-commerce battle. As part of our underwriting process, we explore how e-commerce as well as other sales channel threats may affect the performance of each Tenant and the units we are considering acquiring. Changing retail landscapes are always a threat to commercial real estate properties, but well underwritten operationally essential properties have proven to be very durable in the past, and we expect this trend to continue.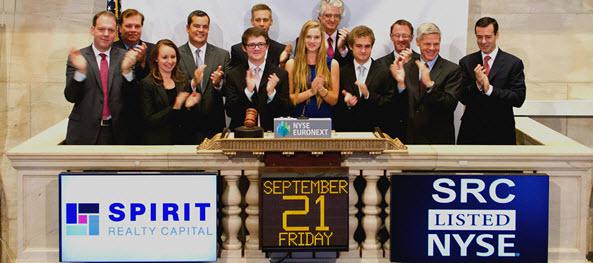 Thomas: Tell us about your dividend policy and specifically, how durable is the dividend today?
Mavoides: Our dividend policy is established and communicated by our board. That said, we currently have a published $0.665 annualized dividend, which we increased to that level in the 4th quarter of 2013. As we noted on our earnings call, that fourth quarter dividend was an increase of 1.3% and 5.8% over dividends paid for the fourth quarter 2012 to pre-merger Spirit and Cole II shareholders, respectively. I believe that this dividend is well-covered and secure. REITs tend to grow their dividends as they grow AFFO and FFO, I would imagine that our board would have a similar mindset, but I can't speak for them.

Thomas: How is Spirit positioned and what's unique about your company's investment strategies?
Mavoides: I believe Spirit is very well-positioned as one of the largest net lease REITs in the country. We are well-capitalized with an attractive cost of capital. Our focus on unrated middle-market tenants and directly originated sale-leaseback investments is an investment strategy that dates back to when the Company was founded and persists today. Both our portfolio and our investment strategy have been cycled tested.
As documented in Spirit's S-11 registration statement that we filed in connection with our 2012 IPO, we documented the Company's credit loss experience. Over the 10-year period leading up to the IPO, which included a very challenge economic cycle, the Company sustained credit losses of only 34 bps per year. We believe these losses demonstrate a very robust and disciplined business model, and when combined with the superior growth profile of our portfolio (86% of our leases provided for contractual rental growth during the primary term as of December 31, 2013) offer a very durable cash flow profile.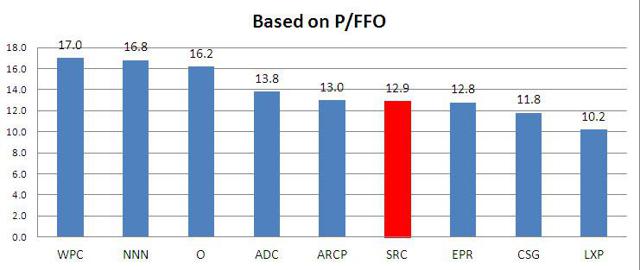 Thomas: Pete, thank you for taking your time to answer a few questions I look forward to seeing you next week on my panel at the Interface Net Lease West conference in Las Angeles (on March 19th).
Source: SNL Financial.
Other REITs referenced: (NYSE:GPT), (NYSE:NNN), (NYSE:WPC), (NYSE:ADC), (NYSE:CSG), (NYSE:LXP), (NYSE:OLP), and (NYSE:EPR).
REIT Newsletter: For more information on REITs, check out my monthly newsletter, The Intelligent REIT Investor HERE.
Disclaimer: This article is intended to provide information to interested parties. As I have no knowledge of individual investor circumstances, goals, and/or portfolio concentration or diversification, readers are expected to complete their own due diligence before purchasing any stocks mentioned or recommended.
Disclosure: I am long O, DLR, VTR, HTA, STAG, UMH, CSG, GPT, ARCP, ROIC, MPW, HCN, OHI, LXP, KIM. I wrote this article myself, and it expresses my own opinions. I am not receiving compensation for it (other than from Seeking Alpha). I have no business relationship with any company whose stock is mentioned in this article.