The China smartphone market is key battleground for OEMs in 2014 with IDC forecasting the market in China to reach 450 million units in 2014.
Some local Chinese smartphone vendors have already staked out their turf. Yulong which makes the popular Coolpad line is targeting 60 million units in 2014 this year and fast growing Xiaomi has set its sights on moving 40 million units. Both will have to be pretty aggressive to achieve those goals but they have a decent chance given how popular they have become in China.
The Wall Street Journal reported January 28, 2014 that sales of Coolpad in China were hotter than the iPhone and noted the success that other homegrown Chinese vendors such as Oppo and Xiaomi were having. Yulong's Coolpad brand overtook Apple (NASDAQ:AAPL) in China in July 2013 and has not looked back.
Xiaomi has been on a tear with sellouts of its products in minutes after their release. Xiaomi has already sold 15 million of its MI2 smartphone since its August 2012 launch and celebrated by cutting the price to $210 U.S. equivalent. Like Coolpad, Xiaomi passed Apple in China market share last October and shows no signs of slowing. Xiaomi's MI3 launched in October 2013 offers a compelling mix of features with a 5 inch screen and an Nvidia Tegra 4 processor, outgunning the iPhone 5C on pretty well every measure consumers care about.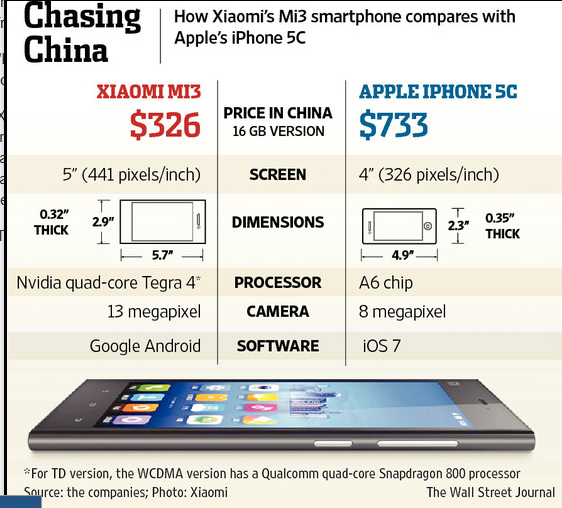 Source: Wall Street Journal
The Xiaomi MI3 was a sellout at launch moving 100,000 phones in less than 90 seconds. Xiaomi has ambitions globally but some observers think its success outside the protected walls of China might encounter some litigation from Western patent holders who think Xiaomi devices might infringe their intellectual property. In any event, both Yulong and Xiaomi are likely to take some market share in China in 2014.
Apple has ambitions to expand its 7% share of the China market fueled by its January 2014 deal with China mobile and many observers think it will do just that.
I am not one of them.
As mentioned earlier, the China market is expected to grow to 450 million units this year from about 320 million units in 2013. A look at the way the market is served is useful. The major players are Samsung, Lenovo, Yulong and Huawei with Apple having fifth place at 7%.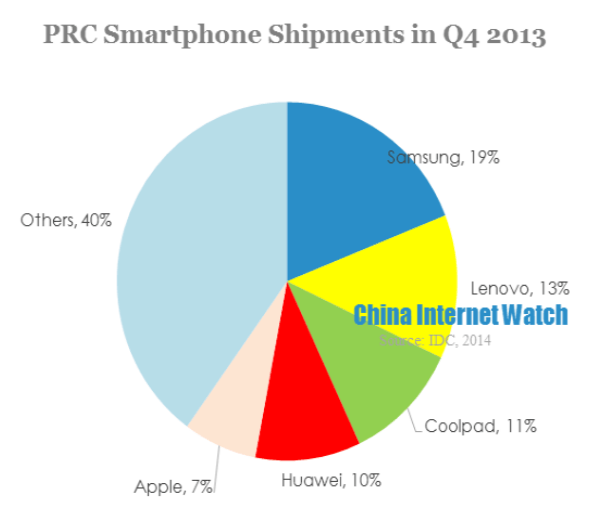 Source: China Internet Watch, IDC
Samsung is the big gun and in my judgment likely to fight hard to at least retain its market share, and it has the resources to fight. Lenovo is an aggressive competitor and has been gaining in China, as has Huawei. Yulong's Coolpad and Xiaomi have been on an absolute tear.
If you look at the whole market, the competitive positions become more defined. Assume Samsung holds its share; Lenovo inches ahead; Coolpad makes its 60 million units goal and Xiaomi makes it to 40 million units. Assume ZTE, Gionee, Nokia and Oppo also progress but only marginally. Even with the remaining suppliers losing on average 15 to 40% of their market share, what is left is not much for Apple to make into a meal.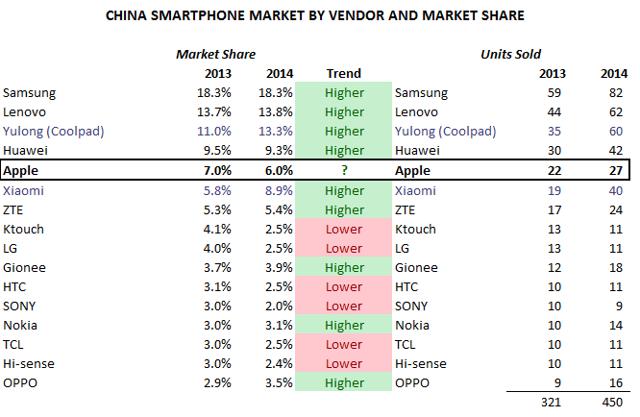 Source: Michael Blair analysis and estimates
North Americans like to think Apple is special, capable of anything. Apple has been in China for years and so far has a 7% market share. In my opinion, it will do well to hold 6% of the China market in 2014, adding about 5 million units to its 2013 sales in the country.
If you think otherwise, take a moment to think through who that market share is going to come from and how they might react to the competition from Apple. Selling more smartphones at higher prices is what Apple is attempting. In price sensitive China, that may take some doing.
At the same time, the outlook for the smartphone market in China is being ratcheted down by forecasters. IDC recently revised its outlook for China growth downwards and in my view that trend is just beginning.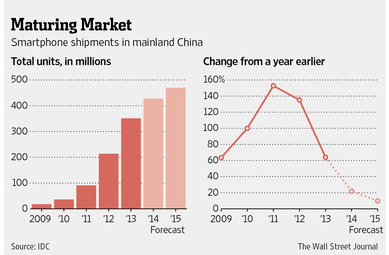 Apple will likely have a decent iPhone volume in Q2 with a contribution from the iPhone 4S units it is promoting at low prices in India, Indonesia and Brazil. Those lower priced units will bring down average selling prices somewhat to be sure but will still add to global market share, a metric Apple has seemed indifferent to for some time now.
I am not alone in seeing Apple on the brink of a slow decline. Jean-Louis Gassee wrote this telling article which should remind everyone of the scale needed to move the needle for Apple and the low probability anything will emerge that does. At the same time, BGR published an article on March 6, 2014 highlighting just how painful the China slowdown might be for Apple's current portfolio.
I will be submitting an article on Apple's Q2 with my forecast in a few weeks' time. At this point, my view is that the quarter will disappoint.
I am short the name.
Disclosure: I am short AAPL. I wrote this article myself, and it expresses my own opinions. I am not receiving compensation for it (other than from Seeking Alpha). I have no business relationship with any company whose stock is mentioned in this article.