One of the most comical U.S. stock market events so far in 2014 was the correction that took place not long after the start of the New Year. It wasn't the fact that stocks dropped by -6% over eight trading days in late January and early February. There's really nothing funny or even notable about that. Instead, it was the severe investor reaction to what was a generally short and shallow decline in stocks. It spoke volumes about how ill prepared the market is to endure any type of pain. And given the fact that the Fed is unlikely to ride to the rescue with another heaping of stimulus the next time the market falls into a sustained correction, it is worthwhile for investors to begin putting into perspective now what a real stock market correction might actually look like once it arrives.
The commentary about the stock market correction in late January was downright humorous at times. The stock market, after reaching new all-time highs on the S&P 500 Index (NYSEARCA:SPY) just days before, entered into a -6.11% peak to trough decline from January 22 to February 3 that brought the market back to levels last seen . . . wait for it . . . only three months earlier in October 2013. Remarkably, this mild pullback over a period of time lasting less than two weeks had the press using words like "panic" and "wipeout" and analysts who were suddenly proclaiming themselves as contrarians "calling for calm" and that "things are getting cheap".
Really? If we saw so much fussing and worry over a stock market decline from new all-time highs of just -6% over eight trading days, how exactly are investors going to react once we actually experience a meaningful correction? What this recent episode suggests if nothing else is that stock investor psychology is extremely fragile. But why? After all, shouldn't investors be feeling downright cocksure following what has been a virtually uninterrupted bull market since early 2009? Perhaps it is the idea that many investors deep down inside, whether they want to embrace it or not, are conscious of the possibility that much of the stock market recovery over the last five years is built on nothing more than policy stimulus and hot air. If this is indeed true, the rush to the exits may be far more dramatic than anything we have seen in past bear market episodes.
With all of this in mind, it is worthwhile for investors to begin putting into perspective what a true stock market correction looks like so that they can not only maintain their composure but also be prepared to capitalize once it finally arrives.
Let's begin with a fairly mild case. It has been two full years since the stock market as measured by the S&P 500 Index has experienced a peak to trough correction greater than -10%. In short, we are overdue, particularly given the fact that the global economic recovery has slowed and corporate revenue and earnings growth has effectively stalled over this same time period. From current levels, a -10% correction would imply a 187 drop in the S&P 500 to 1689. As for the Dow Jones Industrial Average (NYSEARCA:DIA), this would imply a decline of 1641 points to 14776.
So how much would this decline set the market back? It would send the markets back to levels that were near all-time highs only five months ago in early October 2013. Perhaps more notably, such a correction would have the S&P 500 Index breaking below its 200-day moving average for the first time since late 2012. I will have much more on the significance of such a break including what it might signal for the future of the current bull market in an upcoming article. But despite what is likely to be heightened investor jitters over such a move, sufficient bullish sentiment exists in today's market to eventually shake it off and keep many in the game.
Let us now advance to a more notable case. It is a commonly accepted notion that stocks enter a new cyclical bear market when they fall by -20% or more. The last time we witnessed a decline of this magnitude was nearly three years ago when stocks experienced a brief -21% peak to trough drop from late July to early October 2011. How would a fall of similar magnitude look today? On the S&P 500 Index, this would imply a drop of 375 points to 1501. As for the Dow, it would represent a decline of 3284 to 13134.
Such bear market inducing declines sound far more dramatic. But once again, these pullbacks must be kept in perspective to measure their limited significance. For example, such a decline on the S&P 500 Index would bring it back to levels last seen barely over a year ago in late February 2013. Moreover, such a decline would set stocks back to levels that would be less than -5% below what was the previous all-time high in stocks less than a year ago. In short, while such a correction would certainly hurt given the levels we are trading at today, stocks would still be sitting on impressive post-crisis gains when viewed from a broader perspective. And at 15 times trailing 12-month reported earnings following such a correction all else equal, it is not as though stocks would suddenly be considered "cheap" by historical measures.
It is worthwhile to take this look a step further into the bear market realm. According to the Stock Trader's Almanac and Ned Davis Research, the S&P 500 Index has experienced 26 separate bear markets since 1929 (five on this list are subject to debate but have been included for purposes of this discussion). Given that the average decline for the S&P 500 Index during these bear markets has been -30.6%, it is worthwhile what such a decline might look like on today's markets. Overall, it would strip 574 points off of the S&P 500 Index to a level of 1303. As for the Dow, it would shed 5024 points in falling to 11395. An S&P down 574 and a Dow down 5024 now enters us into a zone where the numbers seem big and somewhat alarming. But once again, perspective must come into play, for a decline on the S&P of this magnitude only sets it back to levels last seen less than two years ago in June 2012. And all else held equal, stocks would still be trading at 13 times trailing 12-month reporting earnings, which is starting to become interesting from a valuation perspective but not extraordinary by any means. Of course, all else is not held equal, and it is debatable given that the length of the average bear market is historically 387 days and that companies are operating at record high profit margins whether earnings will be able to sustain themselves at current levels. After all, earnings growth is actually known to decline every now and then too.
One final step is worth consideration. Between one-quarter to one-third of all bear markets throughout history have seen corrections in excess of -40%. Such a decline would bring the S&P 500 Index down 751 points to 1126. As for the Dow, this would send it back 6567 points and across the now legendary 10000 line to 9851. While a setback like this would be staggering from current levels, once again it would only bring the market back to levels last seen less than two and half years ago. Remarkably, such a pullback all else being held equal would only bring the S&P 500 back to its long-term average from a long-term valuation perspective based on the 10-year cyclically adjusted price-to-earnings (CAPE) ratio. In short, stocks would certainly be cheaper, but still not necessarily cheap.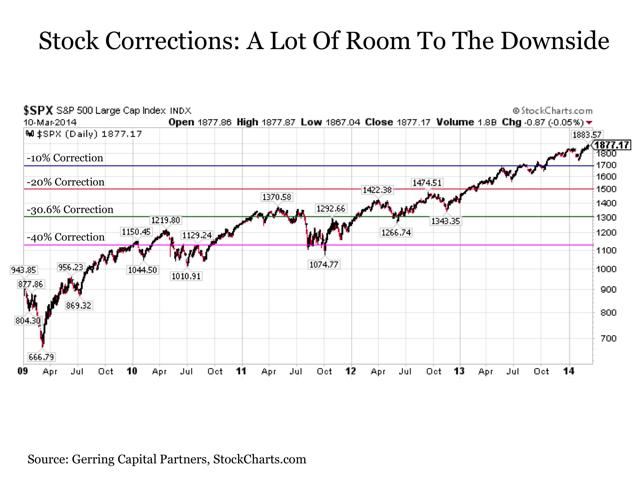 Of course, the mere mention of any such stock market corrections are absolutely absurd, right? After all, the U.S. Federal Reserve hangs on every tick of the market and will rush to provide support the moment stocks fall for more than a few trading days in a row, right? While this has been true in the past, the era of perpetual stock market stimulus to support ever rising asset prices may be drawing to a permanent close for the post-crisis period.
How could this be possible? After all, isn't our new Fed Chair Janet Yellen even more dovish than her predecessor? Maybe, maybe not, only time will tell. But one has to look no further than the language being put forth by FOMC members in recent speeches to find clear evidence that quantitative easing is a game that the Fed wants to exit once and for all. The fact that they have an effectively sponsored article out in the Wall Street Journal within minutes following any potentially shaky economic report reinforcing the point that the taper remains on schedule only emphasizes the notion that unless something extraordinarily shocking and extreme strikes the global economy or markets, that the Fed will soon be gone from asset purchases with no intention of coming back any time soon.
The Fed really has no incentive to continue applying any further QE style stimulus anyway when one stands back and views the situation from a balanced perspective. This is due to the fact that the Fed will have doubled its balance sheet by another $2.5 trillion since the summer of 2010 after it had already rescued the global economy from collapse in an effort to support more robust economic growth. But what does it have to show for all of its effort and generosity? The global economic recovery remains sluggish. Fiscal policy makers have squandered the time by continuing to dither. Industrial corporations, instead of hiring and engaging in growth-related activities, opted to focus on issuing debt to fund share repurchases while cutting costs to support their own profitability. Financial institutions opted to sit on reserves instead of actively engaging in lending activity and allowed this liquidity to leak into capital markets to artificially inflate asset prices. And those that directly benefited from the wealth effect have shown the propensity to save and concentrate their spending on discretionary consumer goods over capital investment.
In short, QE has not worked in creating sustainably strong economic growth. Instead, it has helped create a new set of imbalances and inflate a fresh set of bubbles across financial markets. And the fact that the Fed found itself trapped in its own stimulus program with no clear way out since last May only reinforces the fact that they are now likely eager to extract themselves from further stimulus and focus instead in the future on trying to fix the potential problems they have helped to create, not compound them further.
What does this all mean? The stock market is overdue for a sustained correction unlike anything investors have seen since the financial crisis from 2007 to 2009. And recent signs suggest that today's fragile investor psyche is ill prepared for such an outcome. Unfortunately, the primary crutch that rescued investors so many times since the March 2009 market bottom in the form of Fed QE asset purchases is now fading away and may never come back. As a result, investors that are continuing to enjoy the steady stock market rise would be increasingly well served to begin preparing themselves today for what a potential sustained and sizeable correction might look and feel like once it finally arrives. Perhaps even more importantly, those that stand at the ready to act when the time is right stand to reap the greatest gains from any such decline in stocks.
Disclosure: This article is for information purposes only. There are risks involved with investing including loss of principal. Gerring Capital Partners makes no explicit or implicit guarantee with respect to performance or the outcome of any investment or projections made. There is no guarantee that the goals of the strategies discussed by Gerring Capital Partners will be met.
Disclosure: I have no positions in any stocks mentioned, and no plans to initiate any positions within the next 72 hours. I wrote this article myself, and it expresses my own opinions. I am not receiving compensation for it (other than from Seeking Alpha). I have no business relationship with any company whose stock is mentioned in this article.
Additional disclosure: I am long stocks via the SPLV and XLU as well as selected individual stocks. I also currently hold a meaningful allocation to cash.