At the end of last month Linn Energy (LINE) (LNCO) released its fourth-quarter results and gave guidance for 2014, which included a capital spending program very different from that of last year's. For example, Linn's capital spending is quite a bit more geographically diverse this year. In addition, capital spending has been drawn down on areas with higher decline and a gassier composition. Overall, pro-forma capex has also declined thanks to synergies with Berry Petroleum.
Unfortunately, this was all overshadowed by what I believe will be a frozen distribution in 2014 and very thin coverage of those distributions. Much of this was due to the increased distribution obligation as a result of an increased share issuance done in order to complete the Berry acquisition.
This article will focus on Linn's capital program, which I believe shows a new focus on more prolific, higher-margin acreage. While some are concerned about a net decline in capital expenditure, personally I think Linn's capex choices were wise ones. This year will see lower asset declines and a focus on higher-margin oil in the company's newly-acquired premium acreage. Total capex will be $1.55 billion in 2014.
A New Focus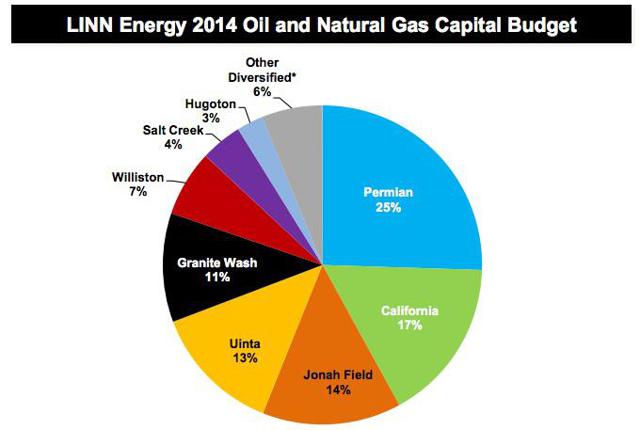 Click to enlarge
Courtesy of Investor Relations
As the chart above shows, Linn is now focusing the largest amounts of capital in the Permian and California, both of which are geographies in which Linn has added substantial acreage.
Let's start with the Permian, Linn's number one capital commitment. Last year the Permian accounted for 18% of capex. This year that number is substantially more. In the Wolfberry portion of the Permian, Linn operated seven vertical rigs at the turn of the year. That number will be reduced to just three this year. However, Linn will add one horizontal rig. In the Clearfork formation of the Permian, Linn will operate two more vertical rigs. Overall Linn will drill or participate in 170 wells in the Permian this year.
California has gone from just 1% of spending last year to 17% this year, thanks almost entirely to the acquisition of Berry acreage. In California Linn will focus entirely on the Midway-Sunset field. Some parts of the southern half of this field producing for over a hundred years now rely on thermal recovery methods will require little capital expenditure. The North Midway-Sunset, however, is an engine of growth thanks to brand new steamfloods. Linn has ramped up spending for its California acreage, and it's not hard to see why: All production from Midway-Sunset is oil, and because that oil fetches Brent Crude pricing, it isn't hard to see why Linn has made Midway-Sunset such a high priority.
The gas-rich Jonah field in Wyoming will continue operating two rigs using pad drilling. Jonah has maintained roughly the same portion of its capital spending as in 2013.
The Granite Wash play in the panhandle of Texas is not the primary concern that it once was for Linn. The proportion of Linn's capital spending has been drawn down in the Granite Wash from 38% last year to just 11% this year, largely because of production disappointments last year and because of higher margin opportunities elsewhere this year. Linn is shifting one horizontal rig down to the Permian from the Granite Wash. Overall, rig count in the Granite Wash will fall from eight to four.
The last significant area of capital spending for Linn is the Uinta Basin in Utah, which is now another growth engine for Linn. Linn will operate three rigs and drill a cool 115 wells there this year. On another positive note, drilling times continue to fall in the Uinta.
Conclusion: Higher Margins, Lower Decline
While Linn has cut its pro-forma capital spending relative to last year, much of this was due to either synergies or a refocus in priorities. This year Linn is shifting toward acreage with lower decline, higher margins and an oilier composition. Lower capital spending in the higher-decline Hogshooter shale play will also lead to less decline overall. Personally, I believe Linn's capital choices this year were well-made.
Disclosure: I am long LINE. I wrote this article myself, and it expresses my own opinions. I am not receiving compensation for it (other than from Seeking Alpha). I have no business relationship with any company whose stock is mentioned in this article.