Verizon (NYSE:VZ) has long been considered one of the established stock investments in the same category as AT&T (NYSE:T) and General Electric (NYSE:GE). That said, just because the company is in the blue chip category doesn't mean that it automatically makes a good, safe investment for the long term. Yet many believe that's the case; here's why.
Financials
Over the last five years, Verizon has been steadily rising from a low of $30s/share to where it is today in the high $40s/share. While this is not a stratospheric gain, it does represent a rough 30 percent gain in valuation in five years, far better than anything one would earn from a savings bank, a government bond, or even some corporate bonds.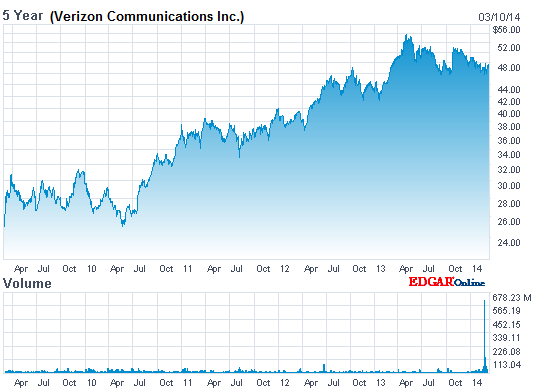 As a dividend-paying stock, Verizon has also been credited as being a "safe" stock for conservative investors. This would seem to be the case as the stock has continued to slowly increase its dividend payout from $1.50/share in 2004 to $2/share in 2013. However, a deeper look shows that the company itself took a dip in its ability to sustain revenue.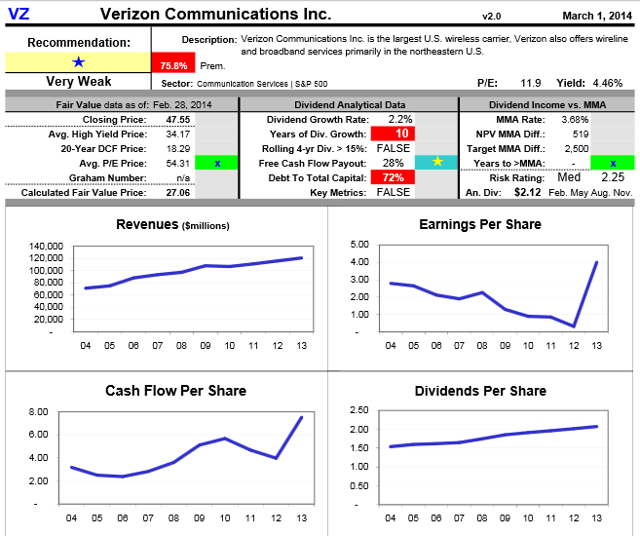 When earnings per share are examined, Verizon suffered a painful dip from $3/share to negative territory in 2012 before rising again near $4/share. That short of event might raise a few eyebrows and make dividend investors a bit nervous. Cash flow also took a dip at the same time before returning to former heights. However, what really delivers bottom line information is the revenue picture. The company has risen steadily from below $80 billion a year to its current level just shy of $120 billion. That sort of growth sustained over eight to nine years is what convinces many that Verizon will deliver financially in the long term.
Operations
In the bigger picture, Verizon is not being commended for its long-term performance and stability. There are some reasons for this.
First, Verizon is still carrying a chunk of hefty debt. This liability comes from its buyout of Vodafone for $130 billion, which required Verizon to issue over $113 billion in new bonds and corporate debt for cash flow. That's a big drag on a company's operations, even if the debt is to be paid back in the long term.
Second, Verizon has been steadily diversifying to offset the slow and expected decline of landlines business. Verizon has a strong base on the wireless side, but the company is not resting its laurels on existing account levels. With diversification comes risk, and critics are watching how Verizon expands into new ventures, including Internet services and digital television products. Recent TV and Internet account portfolios combined have experienced a 10 percent growth, which is a steady climb over the existing pools of 5.3 million and 6.1 million subscribers, respectively. That said, Verizon has to sustain this performance to keep a viable offset to landlines losses.
Third, Verizon is depending heavily on wireless phone growth continuing.
"Verizon Wireless is well positioned to remain a money-making machine, with industry-leading profit margins despite slowing industry subscriber growth and the aggressive "Uncarrier" price competition by T-Mobile US (NASDAQ:TMUS), analysts say."
The sector has been a major mainstay for company revenue and continues to grow as wireless devices continue to provide better benefits. Some voices are becoming worried that increasing price wars and competitiveness by AT&T, Sprint (NYSE:S), and T-Mobile will eat into Verizon's revenue flow, but so far that remains a "what-if" and Verizon's growth continues.
Conclusion
If Verizon can find a way to significantly pay down its debt from the Vodafone deal, the company will be in a much better position to continue improving as well as raising its dividend. Both are good signs for investors who like to put their money in companies that have long-term stability prospects. That said, Verizon will need a major spike in its new arenas (TV and Internet) as they represent the biggest market shares where gain can be realized. The wireless side is a moneymaker, but it is well-saturated. Verizon can only expect big jumps with new phones and large client accounts, such as corporations and agencies. The introduction of digital TV offers far more growth faster, which in turn produces subscriptions and ready cash to pay down the outstanding debt balance on the company's accounting books.
Given all the above, Verizon could be a growing long-term investment if it is successful at shaking off the liability handicap on its cash flow. However, if the debt remains in place, it will continue to hold down meaningful revenue growth. Investors should regularly watch how Verizon's balance sheet changes each quarter to see if debt-paydown progress is occurring timely.
Disclosure: I have no positions in any stocks mentioned, and no plans to initiate any positions within the next 72 hours. I wrote this article myself, and it expresses my own opinions. I am not receiving compensation for it (other than from Seeking Alpha). I have no business relationship with any company whose stock is mentioned in this article.