McDonald's Corporation's (NYSE:MCD) stock price is currently trailing downwards. The company is finding it difficult to sustain sales growth in a fight against rivals who are succeeding by offering a healthier variety of menu items and implementing discount strategies at their franchises. Such behavior is necessary given the severe weather and GMO hype that has negatively affected many food corporations. McDonald's sales at its domestic stores that were open for at least 13 months fell 3.3% this January and marked the third straight month of decline. If it doesn't find a way to get back its market share volumes will soon be traded for stocks that offer a better return.
In this article, I will take you through the company's recent performance. We will then have a look at whether or not there's any possibility that will allow McDonald's to get back on its feet.
The Year
The Situation May be Worsening

Click to enlarge
Source: Earnings Release
For 2013 McDonald's global sales increased 2% year over year to $28.1 billion with comparable figure rising by a minute 20 bps from the 2012 level. The company's average check increased however the lower number of guest visits dampened the net effect. The results were already anticipated as inflation partially explains the check increase whereas the lower guest count is a result of bad publicity that the corporation has received owing to health issues associated with its products.
Operating costs for both the company-operated and franchise stores remained fierce, increasing 2% and 6% higher than their share of revenue growth. Franchising still remained core to the company's business model with margins accounting for nearly 70% of total restaurant margins. On a constant currency basis consolidated margins from franchises improved 3% to $7.6 billion in 2013. Overall they also declined 60 bps to 82.4% as a result of flat comparable sales and higher occupancy costs.
From whatever perspective one saw McDonald's operating performance one thing was clear: there is room for generating efficiencies through cost management that will help bottom line but it is top-line growth that will be needed for the company to survive in the future. Diluted EPS rose 4% to $5.55 providing a net income return on the current share price of 5.8%.
This year's results signaled the fact that while the current year's results do not portray the corporation under a very bad limelight if things are left unattended there will be tragic consequences especially for investors.
The Present Scenario
Now, let's have a look how the company is trying to alleviate its problems through different measures. First and foremost, McDonald's is targeting the breakfast market by trying to generate more coffee-driven visits and increasing the other side offerings. This will be one of their main focuses for the next 2-3 years.
Although the traditional coffee is already popular there is a scope to increase the sales in espresso and specialty coffee brands. McDonald's is choosing this strategy owing to the growing demand in emerging markets like China, India, and Brazil due to rising household incomes in those countries. Even speaking domestically, 83% of US adults consumed coffee in 2013 which was up from 78% in the previous year.
The company's plan will be to add further sales through coffee by offering more breakfast variants such as the current pastries it is testing. Restaurants in San Diego recently began selling raspberry and cinnamon cream-cheese Petite Pastries in a test where consumers can buy two of the pastries for $1.29 with the purchase of coffee. The pastries would otherwise be priced higher at $1.99. Through such combinations, McDonald's is hoping to increase the falling trend of customer visits it has seen in the past couple of years (see graph below).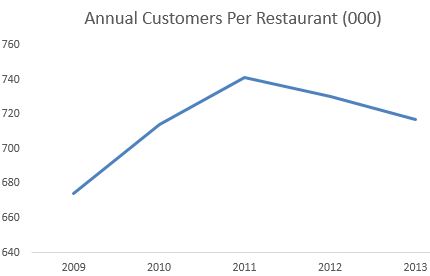 Source: Trefis
This move will also be supported through geographic expansion, diversified new restaurant development, extended operating hours, improved efficiency of drive throughs and providing more delivery service and dessert kiosks.
Expansion into Coffee is Promising, but Unconfirmed
Such plans may provide hope to investors but maybe McDonald's is forgetting how markets are already becoming saturated with coffee providers such as Starbucks (NASDAQ:SBUX) and Green Mountain Coffee (NASDAQ:GMCR) who are very appealing at the moment with their home brewing systems. Taking away their share will be a difficult task and one that may not be enough of a reason to retain an investment in the company.
Additionally, McDonald's is expanding its build-your-own burger test program that it introduced last fall at a single location. The program that is being extended to 100 other California restaurants will allow customers to pick their bun, patty, cheese, and toppings that would then be assembled into their personalized burger. The newer burgers will be priced higher than the normal price at $8 to $9.
Bottom Line
Tests Don't Ensure Profitability in the Future, Proven Results do
The company still doesn't understand that it is healthier offerings free of GMO that are attracting more and more consumers to competitors. Unless McDonald's changes its image to that of a healthier alternative no improvements or "tests" can guarantee a prosperous future. The company was once profitable and to date it provides growth in margins such as ROE and ROA well above the industry but what is to come is another matter.
After analyzing the company I don't think McDonald's presently holds much for investors. They're better off staying away from it so I am giving the company a sell rating.
Disclosure: I have no positions in any stocks mentioned, and no plans to initiate any positions within the next 72 hours. I wrote this article myself, and it expresses my own opinions. I am not receiving compensation for it (other than from Seeking Alpha). I have no business relationship with any company whose stock is mentioned in this article.