After employment in residential construction put on a surprisingly strong showing amidst a generally dismal January employment report, I decided to keep closer tabs on this important indicator of health in the home building industry. As expected, the February jobs report did not feature blistering month-over-month growth again for residential construction, but year-over-year growth remains strong (0.5% and 8.4%, respectively, off seasonally adjusted numbers). This growth still outpaces overall job growth in the economy. I still expect at some point soon the strong year-over-year growth numbers will start cooling off.
The S&P 500 (NYSEARCA:SPY) remained essentially flat on Friday after a swing higher and then lower. Curiously, the iShares US Home Construction (NYSEARCA:ITB) dipped almost 1% on a third down day in a row. At that point, the ITB hovered directly over its 20-day moving average (DMA) which has defined the general uptrend since the January/February breakout. It looked like a potential buy-the-dip opportunity, but a flurry of downgrades on a soft market day took ITB down another 1.8%. It now looks like a retest of the 50-DMA is right around the corner.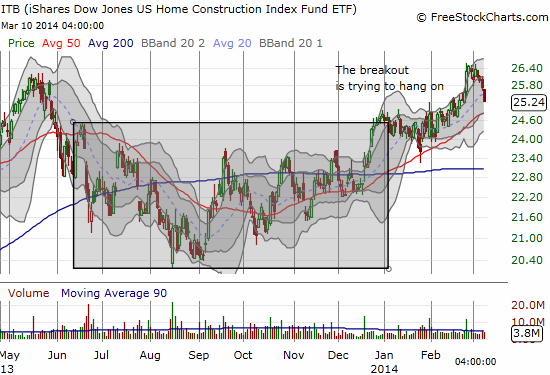 ITB's break out is in precarious shape with a retest of the 50DMA looming
Perhaps the 3 days of selling in ITB even as the general market flatlined was in anticipation of today's downgrades. On Monday, March 10th, several downgrades rained on the home building sector. Bank of America crushed two of my favorites KB Home (NYSE:KBH) and Meritage Homes (NYSE:MTH) with downgrades. Citi dropped Buy ratings from D.R. Horton (NYSE:DHI), New Home Company (NYSE:NWHM), and Taylor Morrison (NYSE:TMHC). I have scaled into a fresh round of call options on ITB and will look to restart a position in MTH. I am undecided on whether to move on KBH. I already own shares in DHI.
In parallel with ITB's small dip before Monday was an on-going dip in the iShares 20+ Year Treasury Bond (NYSEARCA:TLT) that looks like the completion/confirmation of a double-top for the year. Note that ITB was fine during early February's dip in TLT. ITB also still trades much higher than it did in early February. ITB dipped along with TLT's dip in the first half of November. In other words, correlations here are not (yet?) consistent.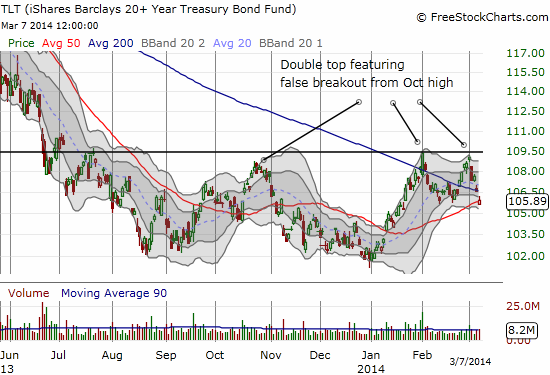 TLT hits a ceiling
Source for charts: FreeStockCharts.com
TLT is apparently peaking for now in the context of an on-going stabilization of rates that is yet to show the upward pressure that seems very likely to come in 2014.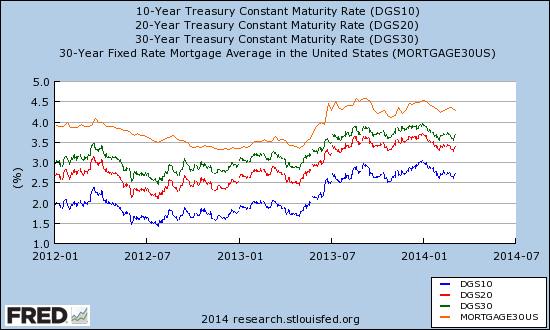 Rates have more or less stabilized since July, 2013
Source: St. Louis Federal Reserve
ITB's last positive catalyst was unexpectedly strong January new home sales data reported on February 26th: 9.6% above December's revised estimate and a 2.2% gain year-over-year. The supply of new homes for sale was a paltry 4.7 months of supply. ITB has rolled back those gains. Such a reversal is always a yellow flag, but for now, I am treating it as another buy-the-dip opportunity for select positions.
I conclude with a view of short interest in ITB as of February 15, 2014. Note that shares short almost doubled in about a month late last summer. In the last three months, shares short have completely reversed. This change in positioning could be a recognition that the breakout in home builders is underway. In the chart below, short interest is represented by the blue line and measured by the left y-axis in units of millions of shares. The red line shows ITB's closing price and is measured by the right y-axis in price/share. The title for the graph is unfortunately cut off but simply reads "iShares Dow Jones US Home Construction ."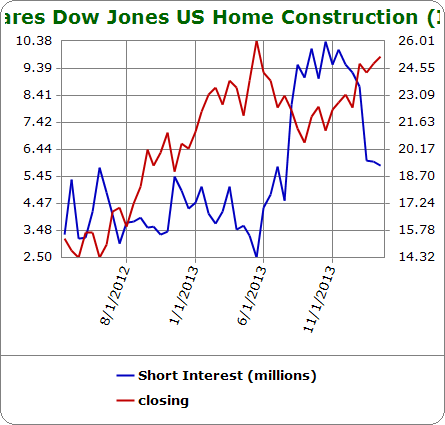 Shares short on ITB have completely reversed a near doubling in 2013
Source: Schaeffer's Investment Research
Be careful out there!
Disclosure: I am long ITB, DHI. I wrote this article myself, and it expresses my own opinions. I am not receiving compensation for it (other than from Seeking Alpha). I have no business relationship with any company whose stock is mentioned in this article.
Additional disclosure: I am long ITB through call options.