Everyone is familiar with The Walt Disney Company (NYSE:DIS), right? It is an iconic firm formed through the animations of the Disney brothers in the 1920s and is continuously identified with Walt's creation of Mickey Mouse. Today, it is under the leadership of the highly regarded Bob Iger, who has been CEO since 2005, and is one of the world's 10 largest media conglomerates. The company's stock has sensibly been going higher and higher and there is indication that it can continue over the long term.
The corporation has five segments and all of them are doing well. Results from the 2012 acquisition of Lucasfilm are dispersed among them. A brief description of each, ranked by First Quarter 2014 Operating Income, in decreasing order, follows:
Media Networks includes Cable Networks and Broadcasting divisions. They comprise American Broadcasting Company ("ABC"), Disney Channels, 80% ownership of Entertainment Sports Programming Network ("ESPN"), and a 50% stake in A&E Networks. The segment's operating income has just increased 20% in comparison to the same quarter one year ago.
Parks and Resorts are located internationally. Domestic results have been particularly strong. Operating income is up 16% as of the most recent quarter. Disneyland Paris and Hong Kong Disneyland Resort have observed increased guest spending; however, there has been lower attendance and occupied room nights at the former location amidst European economic difficulty.
Disney's Studio Entertainment segment includes Walt Disney Pictures and Pixar, and also Marvel Comics. Its operating income has recently increased 75%! Strength of the films Frozen and Thor: The Dark World are reasons. Additionally, Television, and Subscription Video On Demand ("SVOD") are witnessing higher international sales; though SVOD revenues are lower due to a domestic sale of library titles. Future projects include Star Wars: Episode VII.
Consumer Products' operating income is up 24% on the quarter. Merchandise Licensing and Retail businesses' performance is attributed to Planes, Disney Junior, and Monsters University items. The segment's North American comparable store and online sales have been growing.
The Interactive segment is the company's smallest in terms of operating results, but has been enjoying the highest growth. Games such as Disney Infinity and Epic Mickey 2, and also the company's Japan mobile business, are cited as reasons for a 38% quarterly increase in revenues and operating income gains of greater than 100%. However, the elimination of 700 jobs might be a cause of concern.
Disney reports cash provided by operations as having increased $68 million, from $1.14 billion to $1.21 billion. However, it has increased investments in parks, resorts and other property, amidst construction of a 1,000 acre Shanghai Disney Resort, which is targeted to open by the end of calendar 2015. Therefore, Free Cash Flow ("FCF") is specified to be $554M, down from $599M. Obviously resources are available for paying down debts, acquisitions, or returning it to investors.
The company should be here for the foreseeable future and then some. What's more, if things slow in Media Networks due to increased competitive pressures for advertising dollars, or lowered ratings for television; or a theme park is beset with a natural disaster; there are four other lines of business to help cushion any effects. Here are two charts showing diversification of revenues and operating income as of the First Quarter of 2014, the source is Disney's Form 10-Q: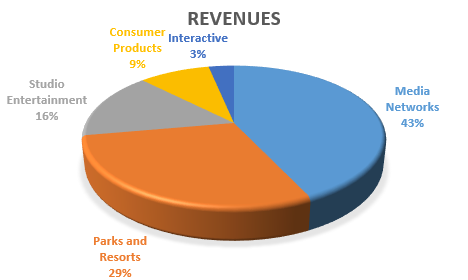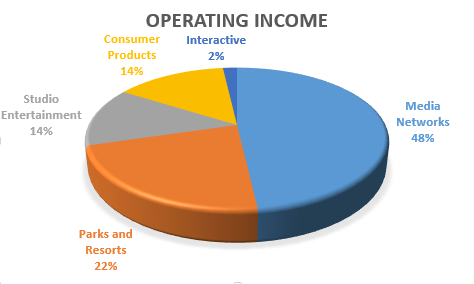 In a December 2013 presentation CFO Jay Rasulo indicates that he expects Parks and Resorts to be among the biggest growth drivers for the company. He also describes significant inroads obtaining viewership in Russia, Spain, and Germany. Perhaps insight into a future acquisition possibility, pursuant to winners such as Marvel and Lucasfilm, is provided in his statements about the importance of content for mobile devices:
…Mobile and the access to content on a mobile basis is the single largest technology in terms of impact on our industry, consumer benefit, and, frankly, for us opportunity…we like to think about every place in the world not being in sync in terms of the benefits of mobile…you look all the way out to Brazil, Russia, India, and China ("BRIC") and the next 10 beyond BRIC, mobile will be the primary means of access in those markets… I think that more and more viewing is going to move to mobile platform. And of course there is going to be demand from advertisers and distributors.
Rasulo also states that ESPN has been growing faster in terms of viewership than the most recent competitive entrant, Fox Sports 1. It is reassuring in light of the proportionate size of the Media Networks segment.
Turning to current sell-side research for coverage of the stock, JPMorgan's analysis is shown to be on target, as the firm has had an Overweight rating on Disney since October, 2011. In regard to Q1 earnings, the banking firm's note to clients says:
The company saw double digit profit growth in all of its major segments, which coupled with an accelerated buyback led to the 31% increase in EPS. The outlook remains positive with particular strength expected at both the Studio and Cable Networks in the March quarter, as well as at the Parks with bookings pacing up 7%. We are raising our F2014 EPS estimate to $4.04 from $3.98 reflecting the FQ1 beat partially offset by a more conservative stance on programming expense at the Cable Networks later in the year…
The equity has continued to run up since the February 5th report, in which JPMorgan reiterates its Overweight rating and increases its price target to $85 from $80.
The success of Disney's buyback plan has been observed by Jim Cramer. Here is parallel commentary from the JPMorgan team discussing it among other reasons why Disney's stock is terrific:
Disney remains one of our top picks in media given its favorable earnings and FCF outlook with continued strong growth expected at the Media Networks and Studio, further profit expansion at the Parks, and accelerated cash returns to shareholders (buyback was $1.7b in FQ1). We also favor the company's unique brands and assets with high barriers to entry that add confidence in the longer-term earnings growth outlook. We find valuation attractive at 17.8x our F2014E EPS, still at the lower end of its historical premium to its peer group.
With 1,784M average diluted shares as of Q1 2014, the banking firm forecasts 1,708M in Q4 and 1,670M in 2015.
Disney also pays investors $0.84 annually in dividends to yield just over 1% at its current share price of $82.21.
The 52 week high for DIS is recorded as $83.65, and set on Friday, March 7th. Generally it is sensible to look for a price at least 5% lower at times like now. However, nearly everything is looking up at this mega cap constituent of the S&P 500 and Dow Jones Industrials Average.
The Walt Disney Company has multiple segments and they are all reporting strong results. It is investing in its successful businesses, might make another acquisition involving mobile technology, and has handled shareholder cash like a fiduciary should. Anyone who followed JPMorgan's advice about it in 2011 has made a lot of money, though a worthwhile opportunity may still remain.
Disclosure: I have no positions in any stocks mentioned, but may initiate a long position in DIS over the next 72 hours. I wrote this article myself, and it expresses my own opinions. I am not receiving compensation for it (other than from Seeking Alpha). I have no business relationship with any company whose stock is mentioned in this article.