The world's largest home improvement retailer Home Depot (NYSE:HD) reported solid fourth quarter results February 25. Though we'll do a deep dive into the firm's quarterly performance in this article, for some background on how we derive Home Depot's valuation, please click here.
The firm's comparable store sales advanced 4.4% in the period, while comp sales for US stores jumped 4.9%. Adjusting for the extra week in the same quarter a year ago, net earnings jumped nearly 20% in the fourth quarter, a very impressive showing. 2013 marked the company's strongest comparable store sales growth in 14 years thanks in part to solid execution and a recovering housing market. Free cash flow for the year totaled $6.2 billion, about 7.9% of sales and up from $5.7 billion last year. Thanks to the strong cash flow performance, Home Depot increased its quarterly dividend to $0.47 per share ($1.88 per share on an annual basis, representing about a 2.4% annual yield).
Looking ahead, Home Depot remains positive about growth as it continues on the arc of recovery. For 2014, the company expects sales growth of approximately 4.8%, comparable store sales growth of approximately 4.6%, and operating-margin expansion of approximately 70 basis points. Diluted earnings per share, after accounting for share repurchases, is expected to reach $4.38 per share, slightly better than our forecasts (see pro formas in 16-page report). We expect to raise our fair value estimate of Home Depot upon the next report update in light of the better-than-expected outlook. Shares, however, continue to trade within the fair value range (the margin of safety bands). Home Depot is priced at more than 18 times this year's earnings, and we're not betting on further multiple expansion.
According to the S&P/Case-Shiller Home Price Indices, national housing prices closed the year of 2013 up 11.3%. Nationally, home prices are back to their spring 2004 levels (image shown below). However, both the Chairman of the Index Committee David Blitzer at S&P Dow Jones Indices and Home Depot believe that the pace of housing price improvement will slow in 2014:
Blitzer: "The S&P/Case-Shiller Home Price Index ended its best year since 2005...However, gains are slowing from month-to-month and the strongest part of the recovery in home values may be over. Year-over-year values for the two monthly Composites weakened and the quarterly National Index barely improved. The seasonally adjusted data also exhibit some softness and loss of momentum."
Home Depot: "It is not our view that all housing metrics will sustain the growth rates from 2013 going forward. This last year saw a particularly strong recovery in housing prices but we do expect the housing recovery to continue, expect that home prices will increase even though at a lower rate and expect that affordability will support growth in the home improvement market."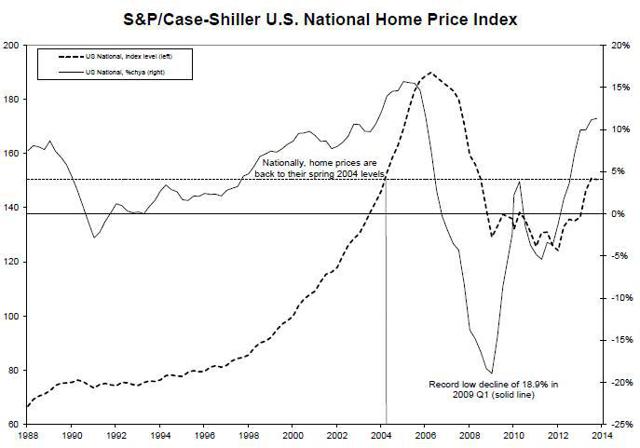 Image Source: S&P/Case-Shiller
Given the strong recovery in housing prices since the depths of the Great Recession, we think a slowing of the pace of price increases is inevitable. However, that doesn't mean than Home Depot and other housing-related firms such as Lowes (NYSE:LOW) and Lumber Liquidators (NYSE:LL) won't continue to perform well on a fundamental level. Even the homebuilders have revealed some impressive performance as of late (see here). Still, absent appliance-giant Whirlpool (NYSE:WHR), valuations for housing-related ideas are fair, and we don't expect to put more capital to work in the theme.
Valuentum's Take
Home Depot's equity price performance in the past few years has been impressive. The company has ridden the housing market recovery to new heights, and while its valuation multiple indicates that most pricing expansion from here will likely come from earnings growth, the fundamental performance of Home Depot is worth noting. We'd wait for a pullback in Home Depot's shares to the lower end of our estimate of its fair value range before considering the company in the actively-managed portfolios. Our best ideas are always included in the Best Ideas portfolio and Dividend Growth portfolio.
Disclosure: I have no positions in any stocks mentioned, and no plans to initiate any positions within the next 72 hours. I wrote this article myself, and it expresses my own opinions. I am not receiving compensation for it (other than from Seeking Alpha). I have no business relationship with any company whose stock is mentioned in this article.