In the industry of upstream MLPs, one of the cheapest, yet still high-quality partnerships available are Mid-Con Energy Partners (NASDAQ:MCEP). Among upstream MLPs Mid-Con is unique in its purity: This is not only a pure play oil partnership, but also a pure-play on enhanced oil recovery in the traditional basins of Oklahoma.
As a "captive" MLP, Mid-Con acquires by receiving drop downs from its parent company. In an industry where most other partnerships have varying exposure to natural gas, you might guess that Mid-Con would be the most profitable on a per BOE basis, and you'd be right: In 2012 the partnership earned over $68 in EBITDA margin per barrel, compared with a peer average in the high 30s. Mid-Con obtains a higher margin because, in this environment, a barrel of oil fetches a much higher price than does a barrel of dry gas or natural gas liquids.
For this same reason, Mid-Con's distribution coverage ratio, measured by price to DCF, is also a cut above the rest. For example, while in 2013 most upstream MLPs were lucky to have distribution coverage ratios at 1.1 times, Mid-Con finished the year with distributable cash flow at 1.22 times distributions.
Operational Review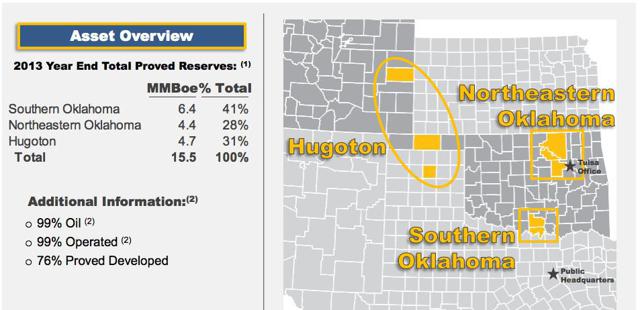 Here is how Mid-Con does it. The partnership operates in some of the oldest oilfields in the country, nearly all of which are in Oklahoma. Maturing quite a few years ago, most of Oklahoma's oilfields require enhanced recovery techniques to continue drilling. That's where Mid-Con comes in. Mid-Con specializes in water flooding, whereby water is injected into an oil reservoir, causing some of the remaining oil to "migrate" to a different field and is eventually extracted.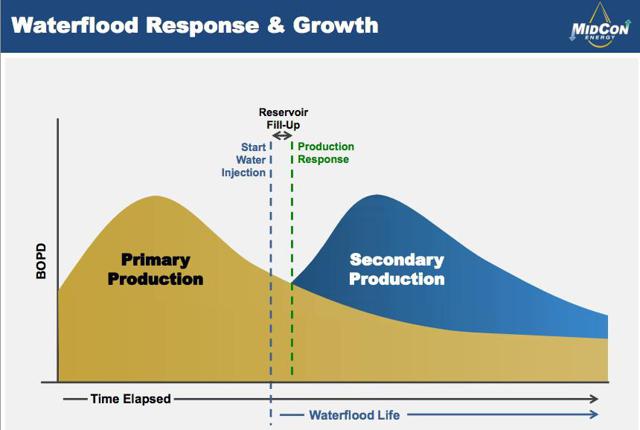 Courtesy of Investor Relations
The chart above shows that water flooding provides a "second bell curve" for an eligible oil field.
Work To Be Done in 2014
This year Mid-Con's capital budget is a fairly modest $30 million. Continuing a process it began last year, Mid-Con is focusing not on drilling but on increasing the water pressure of its operations by converting oil wells into injectors. Because of this, oil production will increase from 907,000 barrels last year to just over a million barrels this year, but distributable cash flow in 2014 will be slightly less than that of last year. If it weren't for a recent acquisition, Mid-Con's oil production this year might have declined as the company converts production wells into injection wells.
Management expects the higher water pressure in its reservoirs to pay off nicely in 2015, and we will hopefully see greater production growth at that time. Despite a flat to declining per-share DCF, management expects to raise distributions by another four percent. And although we will have to wait another year for production growth, Mid-Con's current distribution yield of 8.8% will pay us handsomely to wait. In fact, in a previous article I mentioned that Mid-Con's distribution was safe at a WTI oil price as low as $73 per barrel. Mid-Con is a safe way to build income.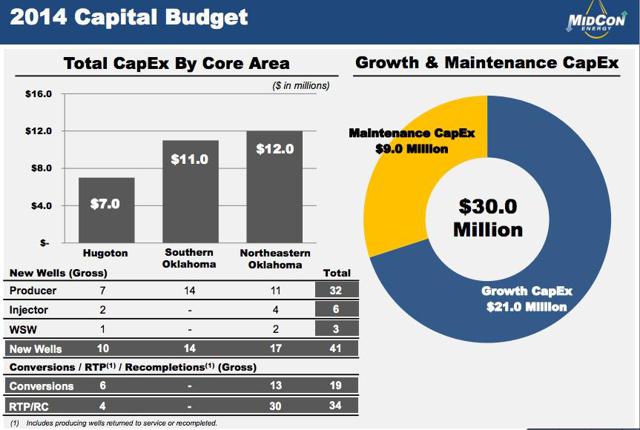 Here is a quick breakdown of the partnership's capital spending plans for 2014. Mid-Con will drill 41 new wells, 32 of which will be producer wells, and six of which will be injectors.
Drop Down Acquisition
On February 28th, Mid-Con made a drop down acquisition from its parent company for $41 million, $34 million of which was paid in common units. The acreage lies in both the Oklahoma and Texas panhandles. This is a very accretive deal. In fact, the price of this deal was only 5.5 times estimated trailing twelve month cash flow, and the property has an estimated reserve life of 12.6 years at current production levels. This is one of the better acquisitions I've seen. While the acquisition certainly isn't as large as that of most other upstream MLPs, it is a big deal for a smaller partnership like Mid-Con.
Valuation and Conclusion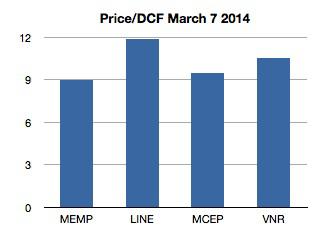 Chart based on Price to DCF guidance for 2014 for each respective partnership.
The above chart illustrates why I believe that Mid-Con is one of the most buy able upstream MLPs right now. Of the highest quality, safest upstream MLPs, Mid-Con trades at one of the lowest valuations. In fact, only Memorial Production Partners (NASDAQ:MEMP) is cheaper than Mid-Con right now. But Memorial is primarily a producer of dry gas. So, if oil exposure is what you're looking for, then Mid-Con is your best choice right now.
Mid-Con offers a pure-play on high-margin, enhanced oil recovery operations. The distribution yield is very safe and the partnership recently made a very accretive acquisition. This year, Mid-Con's per share DCF will be flat, but management expects this metric to start growing in 2015. While Mid-Con is not as cheap as it once was, I still believe that this partnership is a solid buy.
Disclosure: I am long MCEP. I wrote this article myself, and it expresses my own opinions. I am not receiving compensation for it (other than from Seeking Alpha). I have no business relationship with any company whose stock is mentioned in this article.
Additional disclosure: I am long MCEP for a family account.