A decline in gold prices, considerable capital cost increases, higher operating costs and setbacks in ongoing growth projects took a toll on the stock prices of North American gold companies in 2013. However, in the recent past, gold companies have shown the intent and have taken several measures to improve their earnings and strengthen cash flows. Improving operating cost structures, reducing capital costs and prudent capital allocations are some of the initiatives that gold companies are taking to strengthen their returns.
Goldcorp (NYSE:GG) is among the U.S. gold companies that possess a solid balance sheet, have an attractive growth profile and have been taking initiatives to lower costs to support earnings growth. GG has been making progress in lowering its costs in recent quarters, which bodes well for its earnings growth. Also, the company, last week, announced to sell its stakes in Primero Mining Corp., which will further strengthen its balance sheet.
Sale of Primero Shares and Bid for Osisko Mining
Last week, GG disclosed that it is selling its stake in Primero Mining Corp. The company owns about 20% of the outstanding shares of Primero. The sale transaction will allow GG to collect total proceeds of about $202 million (C$224 million). The proceeds from the transaction will further strengthen GG's balance sheet and improve financial flexibility, which will help the company finance its ongoing capital cost needs and/or fund the Osisko Mining (NYSE:OSK) bid. GG is targeting to acquire OSK and made an offer to OSK shareholders for $2.34 billion (C$2.6 billion), set to expire on 15 April 2014. I believe the transaction will be completed; however, GG might increase the bid for the transaction. If the transaction is completed, it will improve GG's risk profile, as OSK operates in a stable political jurisdiction.
Maintaining low cost structure
Cost of production for gold companies in the last decade has increased notably, which has had an adverse effect on the earnings of companies. However, GG has a lower cost structure as compared to its competitors and has been making efforts to further improve its cost structure. The chart below reflects the increase in cost of production for gold companies from 2003-2012.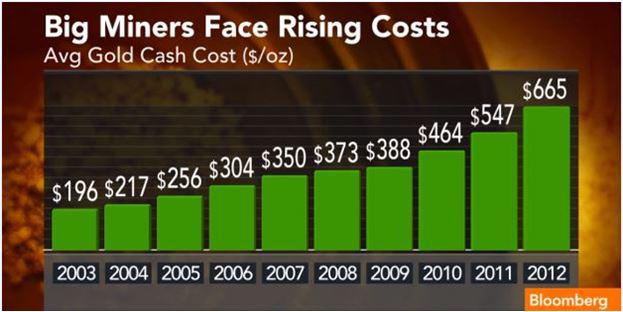 Source: Bloomberg.com
The chart below displays that GG has lower cash costs as compared to IAMGOLD (NYSE:IAG), Kinross Gold (NYSE:KGC), Newmont (NYSE:NEM) and Agnico Eagles (NYSE:AEM).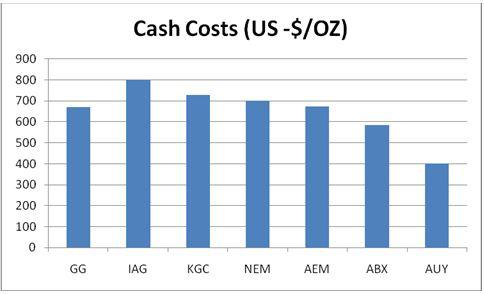 Source: Companies' Quarterly Reports
In Q4'13, the company experienced a 9.5% QoQ drop in co-product cash costs, and more than a 35% QoQ increase in total gold production. The table below displays co-product cash cost and total production comparison for GG for Q3'13 and Q4'13.
| | | | | |
| --- | --- | --- | --- | --- |
| Mine | Co-Product Cash Costs Q3'13 ($/oz) | Co-Product Cash Costs Q4'13 ($/oz) | Production Q3'13 (in thousands of ounces) | Production Q4'13 (in thousands of ounces) |
| Penasquito | $843 | $666 | 113.9 | 141.7 |
| Pueblo Viejo | $576 | $614 | 75.4 | 104.7 |
| Los Filos | $640 | $637 | 73.4 | 94 |
| Musselwhite | $768 | $675 | 59.8 | 74.6 |
| Red lake | $640 | $500 | 97 | 128 |
| Porcupine | $637 | $671 | 76 | 78.9 |
| Marigold | $938 | $969 | 25.2 | 28.1 |
| El Sauzal | $751 | $850 | 21.4 | 21.3 |
| Wharf | $980 | $1,092 | 16.7 | 10.8 |
| Total | $714 | $645 | 558.8 | 768.9 |
Source: Quarterly Reports
Attractive Growth Profile
The company has an impressive growth profile among its competitors in the industry, which is likely to benefit its future financial performance. Gold production for GG is expected to increase to about 4 million ounces, up about 50%, by 2016. In line with the company's plans to increase its gold production, three new projects are expected to start contributing towards its production in 2014. The Cerro Negro project is expected to start its first production by mid-2014, with an expected production of 130,000-180,000 ounces. Cochenour is another project which is expected to start production in 2014, about six months ahead of schedule. Also, capital costs for Cochenour are expected to be $500 million, about $40 million below previous estimates. The third project expected to begin production in 2014 is Eleonore, which is scheduled to start production in Q4'14, with an expected contribution of 40,000-60,000 ounces towards total production in 2014.
GG's projects, which are expected to start production in the upcoming years, have lower costs, which will help the company improve its costs structure and strengthen its cash flows. Also, as the company has observed notable capital costs in recent years to finance its growth projects, the capital costs are expected to drop in the future, as growth projects start production. The drop in capital costs is expected to strengthen GG's free cash flows. The following two charts show the annual production increase and drop in all sustainable costs [AISC] for GG for upcoming years.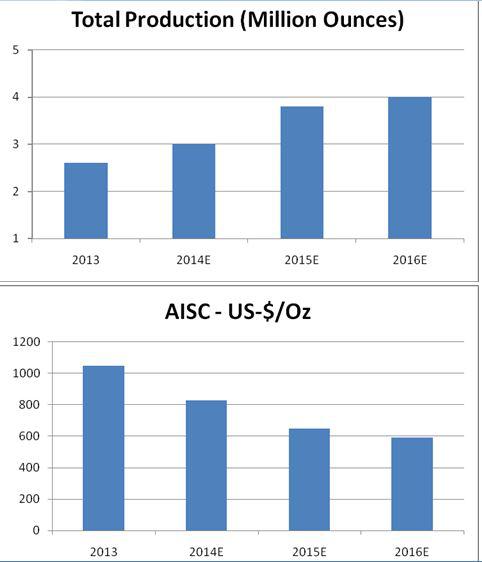 Source: Company Financials and Horizon's Estimates
Final Take
The company is among the leading gold companies in the U.S. with operations in a stable political jurisdiction, attractive growth profile and relatively stronger balance sheet (as reflected below in the chart by GG's lower long term debt to equity of 11%). Also, the company's cost structure and cash flows are likely to improve along with the gold production increases in the future. In addition, the planned sale of Primero shares and acquisition of OSK will portend well for GG's financial performance and stock price in upcoming years.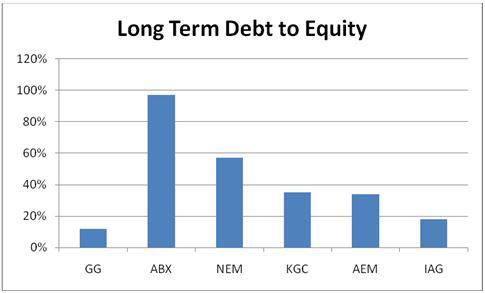 Source: Reuters.com
Disclosure: I have no positions in any stocks mentioned, and no plans to initiate any positions within the next 72 hours. I wrote this article myself, and it expresses my own opinions. I am not receiving compensation for it (other than from Seeking Alpha). I have no business relationship with any company whose stock is mentioned in this article.