Driven primarily by residential construction, spending on construction increased in April, according to the report from the U.S. Census Bureau. Private non-residential construction was up 2.0% from March, but down 16.1% from April last year. Private residential construction was up 4.5% from March and 4.6% from a year ago. Public construction numbers were stronger than the private sectors. Private construction is 65% of the total.
Calculated Risk provides the following graph that shows the private construction data going back to 1993:
For large image, click here.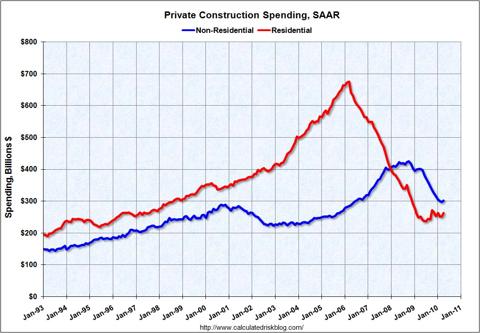 Click to enlarge
Two things to note:
The

increase

in

residential

construction

is

probably

supported

by

the

latest

Federal

income

tax

credit

for

home

purchase

which

requires

completion

and

closing

on

or

before

June

30

;

and

Thus

far

,

the

increase

in

construction

spending

is

less

than

experienced

in

2009

for

the

previous

income

tax

credit

program

.
There is widespread concern that residential construction spending may subside after a rush to build for the tax credit ends. If that is to be the case, the effect may be seen as early as June as construction winds down in front of the close out of the tax credit window. The month of July will definitely show the effect, if there is to be one.
The biggest headwind to growing the new housing construction numbers is the number of distressed sale properties (short sales and foreclosures) that will still be coming to market in the future months. Lender Processing Services (LPS) reported yesterday that there are still more than 7 million homes in the severely delinquent (over 90 days) status, including REO properties. REO stands for real estate owned (foreclosure completed by the bank). The number of such homes decreased slightly from March (-1.6%), but the proportion of delinquent homes progressing further in the foreclosure process increased. Fewer delinquent homes were finding remediation.
LPS has reported that the average duration of occupancy after foreclosure proceedings have started is 438 days. Also, 19% of homes 18 months or more in arrears are still occupied by the delinquent mortgagor. This indicates that the workout from this big inventory of troubled mortgages may take years rather than months.
Disclosure: No positions.