Baidu Inc. (NASDAQ:BIDU) is often referred to as the Google of China. Both bullish and bearish sentiments are being argued in the market regarding investments in the stock. In this article, I will discuss the recent performance of the company, the present changes occurring in the industry, and how the company is dealing with rising competition.
Recent Performance
The top line of the company has grown at a CAGR of approximately 18% over the past four quarters. The company generated revenues of $1.573 billion during the most recently ended quarter reflecting a stunning 50.3% increase compared to the revenues generated during the same period in 2012. However, the impact has not yet trickled down to the bottom line of the company. Net earnings during the final quarter of 2013 decreased by 0.4% compared to the earnings generated during the same quarter in 2012. However, considering the fact that Baidu is a growing company it is quite comprehendible. In comparison to the corresponding period in the previous year the company's SG&A expenses increased by a steep 135% in 2013 owing to promotional spending for its new products; the R&D expenditure increased by 80.1% as well.
Baidu delivers services to users, customers, and its union members. Breaking down the revenue among the various services offered by the company it was apparent that BIDU derives 99% of its revenue from its online marketing services. Online marketing customers of the company grew by double digits (26.3%) since last year generating per customer revenue of $6,971 which is an increase of 13.1% from 2012.
Industry Outlook
The company projects it will yield a stellar growth of more than 50% in the first quarter of 2014. However, the profits may still remain flattish this year since it is investing heavily in its R&D and marketing heads. The company is on course to introduce more mobile products this year to capture and retain a significant market share of the rapidly growing internet and mobile traffic in China. By year-end 2013 618 million people were recorded have been online in China reflecting an increase of 9.5% compared to internet usage in 2012.
Baidu is still a leader when it comes to traditional computer-based searches securing an 80% market share in this segment. The problem, however, is the changing consumer behavior which is now increasingly tilting towards smartphone and tablet searches; 80% of the total number of internet users accessed the internet through wireless devices. Video streaming and downloading through smartphones has surged by 83.3% YoY. With Baidu spending aggressively to acquire online traffic, 20% of its revenue was reported to be injected from mobile traffic.
Other than online video streaming and music downloads, online shopping is the next "big thing"online. As of the report published by CNNIC, more brick and mortar stores are developing shopping guide apps and payments supported by smartphones; the response is in relation to the preference of the younger population to shop through smartphones as opposed to PCs. Presently, about 20% of consumers prefer to shop using Smartphones and this number is growing.
Seeing the profit potential in the market rivals like Qihoo 360 Technologies Co. Ltd. (NYSE:QIHU), Tencent Holdings Limited (OTCPK:TCEHY), and Alibaba Group Holding Ltd. are all struggling to grab a meaningful chunk of the market as well. Recent moves by these companies are a considerable threat to Baidu's mobile market share. Baidu's market share stood at approximately 71% at the start of 2013 and declined by a whopping 8% by the time the year ended. Qihoo is largely responsible for cutting into Baidu's market share and this is evident in the graph below.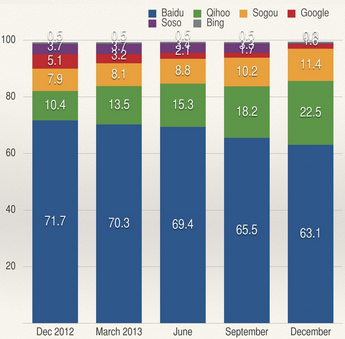 Source: Tech in Asia
Furthermore, Baidu's top line is heavily reliant on advertisements. Internet advertising was the fastest growing advertising medium last year. Aggregate advertising is expected to indicate a growth rate of 6% this year while smartphones will be a key growth driver for advertising growth. With 4G technology picking pace, China users' interaction with their devices is expected to increase even further. CTR reports that approximately 20% of the regular smart device users refresh their phones about 96 times a day. With escalating internet advertising and smart device usage Baidu's top line will definitely receive a positive boost.
Lastly, to combat its declining market share the company is diversifying its revenue base into other internet services. Baidu has already penetrated into Qihoo's antivirus market. In December 2013, Baidu launched its mobile antivirus app six months after it had launched its antivirus programs for PCs. The company expanded its online video and music downloads as well. To improve its search offerings for users the company acquired 91 Wireless app in July 2013. This acquisition also improved Baidu's competitive position against Tencent and Alibaba. To gain an additional edge over its advertising business Baidu purchased a GroupOn like website Nuomi. The upcoming boom in the online shopping makes 58.com a potential acquisition target for Baidu. The company also promoted its mapping services aggressively in 2013 in an effort to capture the market share.
Concluding Remarks
The year 2014 is an investment year for the company. The company is not only making efforts to strengthen its competitive position within China but it is also gradually introducing its services into other areas like Thailand. With regards to the declining market share, the company is still leading the market and is in a strong position to fight the encroachment of its market share. With its healthy level of cash flows and continual growth in its top line the company is in a position to introduce new services to the market, make acquisitions, and strengthen its current foothold. These efforts are bound to hurt the short term profitability of the company, however, the long term profits of the company are bound to grow.
Disclosure: I have no positions in any stocks mentioned, and no plans to initiate any positions within the next 72 hours. I wrote this article myself, and it expresses my own opinions. I am not receiving compensation for it (other than from Seeking Alpha). I have no business relationship with any company whose stock is mentioned in this article.