BioLineRx (NASDAQ:BLRX) is a clinical-stage biopharmaceutical company dedicated to identifying and developing promising therapeutic candidates. On Friday March 7, 2014 the company announced it closed a secondary offering at $2.50 a share. On Monday, March 10, 2014 the company's Chief Executive Officer, Kinneret Savitsky, Ph.D., and Chief Financial and Operating Officer, Philip Serlin, presented at the 26th Annual ROTH Growth Stock Conference in Dana Point, CA. The table below is from BioLineRx's Prospectus Supplement dated March 4, 2014 and summarizes BioLineRx's current pipeline.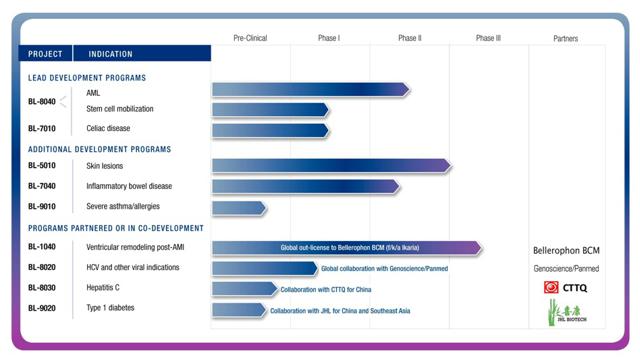 I would like to draw attention to several of the programs in particular that I believe the market has yet to discover. The first, BL-1040, is used in the prevention of pathological cardiac remodeling following a myocardial infarction. This gel provides mechanical support allowing the damaged tissue to heal as a more compact scar. The story of BioLineRx's out-licensing arrangement with Bellerophon is hidden in BioLineRx's Prospectus Supplement dated March 4, 2014. Under terms of the arrangement, Bellerophon is obligated to use commercially reasonable efforts to complete clinical development of, and to commercialize BL-1040. BioLineRx has already received $17 million from Bellerophon from this deal, and is entitled to receive up to an additional $265.5 million from Bellerophon. That is more than four times BioLineRx's current market cap which is less than $60 million.
BioLineRx also has a cancer stem cell project in phase 2 trials, BL-8040. The drug is used for treating acute myeloid leukemia (AML) along with other hematological indications. In December 2013, the company announced positive initial results for the phase 2 study. Interim results are expected in the second quarter of 2014 and final results are expected sometime in the second half of 2014. The projected market in treating AML is expected to grow to over $700 million by 2018. The American Cancer Society estimates that AML will cause over 10,000 deaths in the United States alone in 2014. Stem cell stocks have been red hot this year and BL-8040 offers another potential catalyst that could push shares of BioLineRx higher.
Another program in BioLineRx's pipeline that has potential to become a large revenue generator is BL-7010. On Monday, March 10, 2014 BioLineRx announced that BL-7010 successfully completed the single administration, dose-escalation stage of its Phase 1/2 study with no serious adverse events or dose-limiting safety issues reported. The study for BL-7010 is currently taking place in Finland as a two-part, double-blind, placebo-controlled dose escalation study in 24 well-controlled celiac patients.
The study began by evaluating six dose levels of BL-7010 to a placebo, followed by the escalation stage which reached the highest planned dose level. All patients completed their participation in this part of the study. The objective of the study was to assess the safety of repeated doses of BL-7010. The positive results allow BioLineRx to proceed with the repeated administration stage of the study where each patient will receive either BL-7010 or the placebo three times a day for 14 days. Results for this phase of the study are expected sometime in mid-2014. The company expects to commence a randomized controlled efficacy study by the end of 2014.
BL-7010 is a treatment for celiac disease. Celiac disease is an autoimmune disorder of the small intestine. It occurs in genetically predisposed individuals and is caused by an immunological reaction to gluten, found in wheat, barley and rye. The disease damages the lining of the small intestine and leads to dyspepsia and a number of other symptoms in the digestive tract. Celiac disease is said to affect over 1% of the world's population and with no approved treatments on the market. The only treatment for people who suffer from celiac disease is a strict gluten-free diet, which is difficult and costly to maintain. The celiac market is expected to grow to $8 billion by 2019. Dr. Kinneret Savitsky, Chief Executive Officer of BioLineRx recently said, "Despite the significant need for new treatments, there are only a handful of clinical-stage projects under development worldwide for this disease, which we view as a significant opportunity for our product."
Micro-cap companies all come with inherent risks not seen in larger companies. Like most clinical stage biopharmaceutical development companies, BioLineRx has a history of operating losses and may never be profitable. The company is exposed to risks of failure in the development of its pharmaceutical products. The company has an annual burn rate of $15-$18 million. Though its recent secondary offering proved successful, future financing has the potential to be difficult, especially if market conditions deteriorate. Investors owning shares of any micro-cap company should be prepared for price volatility.
Recent trading activity in shares of BioLineRx shows a dramatic increase in interest in the company's stock. In the past five trading days, the average daily trading volume is over 1.4 million shares. This average is more than six times the three-month average daily trading volume of 240,364 shares. Shares traded at $5.10 as recently as February 2013, and have a 52-week low of $1.55. Shares were picking up steady momentum between the second half of 2013 and the beginning of March 2014. This is when the company announced the pricing of its secondary at $2.50. Any positive announcement from BioLineRx could help the stock regain that upward momentum and test the $4.00 to $5.00 level that it traded at in early 2013.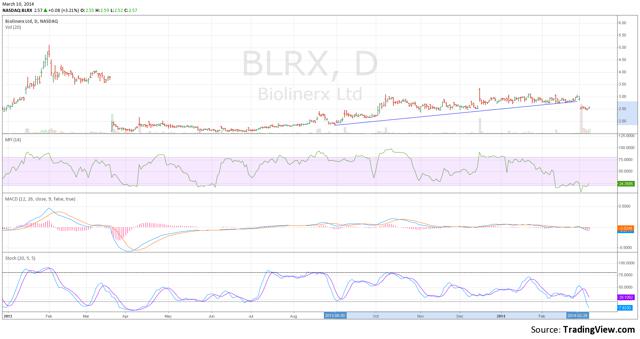 BioLineRx now has about 32 million shares outstanding, no debt, and over $40 million in cash including the proceeds from the recent secondary offering. There are over 349 Biotech companies trading in the United States. The average Price/Sales ratio was 10.27 as of January, 2014. The Price/Sales ratio for the 100 companies in the iShares NASDAQ Biotechnology Index (NASDAQ:IBB) is over 7.00. Recognition by the market of the $17 million BioLineRx has already received from Bellerophon would give reason for the stock to trade at a higher multiple. BioLineRx offers a broad range of programs that could potentially drive shares of the stock higher.
BioLineRx will report fourth-quarter and year-end 2013 results on March 17, 2014. Roth Capital Partners recently lowered earnings estimates from $0.66 per share to $0.74 per share for the full-year 2013; however Roth raised its estimates for full-year earnings to $0.84 per share in 2014 and $0.25 in 2015. The 2014 estimate would give BioLineRx a 2014 P/E of just over 3. Positive announcements from BioLineRx have been occurring more frequently and the time may be now to buy shares before the market recognizes the potential for the company and lifts the price of its stock higher.
Disclosure: I have no positions in any stocks mentioned, and no plans to initiate any positions within the next 72 hours. I wrote this article myself, and it expresses my own opinions. I am not receiving compensation for it (other than from Seeking Alpha). I have no business relationship with any company whose stock is mentioned in this article.
Editor's Note: This article covers one or more stocks trading at less than $1 per share and/or with less than a $100 million market cap. Please be aware of the risks associated with these stocks.