Public Storage (NYSE:PSA) was back in the preferred stock market today with a new series of perpetual preferred that is being used to pay down their term loan from Wells Fargo (NYSE:WFC). The details of the issue are: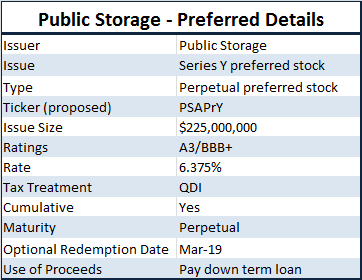 The prospectus is available here, and the termsheet here.
Anyone that follows me or has read any of my articles on preferred stock knows that I believe the new issue first has to be measured against other options available within the issuer's preferred complex (if available) and then against peers. This type of process allows one to understand how the new issue is being priced versus the company's outstanding issues as well as versus issues of their peers (again, if available).
First, let's view the new issue against outstanding Public Storage preferreds:

Click to enlarge
As the above table shows, the new issue was priced "on the screws" relative to existing issues. If you are willing to pay a slight premium, however, you can pick up existing preferreds (PSAPrO and PSAPrQ) cheap to the new issue.
How does the new issue compare to peers? For Public Storage, the following peers were used for fundamentals: Cubesmart (NYSE:CUBE), Extra Space (NYSE:EXR), Sovran Self Storage (SSS) and the former subsidiary of PSA, PS Business Parks (NYSE:PSB)
First we have to get a fundamental snapshot in order to understand the financial differences between the various constituents.

Click to enlarge
As the table above demonstrates, the entire storage sector trades very rich, with an above average P/FFO, P/B while having below market yields. Partially, this is due to the growth within the sector, growth opportunities due to a fragmented industry and relative security of the properties (pay lest your stuff ends up on Storage Wars).
Importantly, Public Storage's market capitalization is greater than the remainder of the industry combined, their balance sheet is bulletproof due to their use of preferreds and they are widely considered "best in breed" in the storage space. As a result of this, their preferred stock should trade at lower yields than their peers.
The peer preferred comparison contains the following constituents: Public Storage, Cube Smart, Realty Income (NYSE:O), Kimco (NYSE:KIM) and Digital Realty (NYSE:DLR). The last two, Realty Income and Kimco, were used due to their size and recognition as being the leaders in their respective subsectors. Digital Realty was selected as it is the largest in its space, but is currently under stress (the "value play").

Click to enlarge
As was expected, Public Storage trades at a lower yield than the peer group (as it should) and the new issue trades where it should. Interestingly, however, the PSAPrO is only eight basis points tighter than the OPrE and KIMPrH on a stripped yield basis. I would buy PSA at those levels rather than the Realty Income or Kimco. Cube Smart has a much higher yield due to its size, but note that its financial position is still quite strong.
Bottom Line: I am not a buyer of the new Public Storage Series Y perpetual preferred stock, "preferring" instead their series O (or Q) preferreds or those of Cube Smart (should you want to stay in the sub-sector).
Disclosure: I am long CUBE, DLR. I wrote this article myself, and it expresses my own opinions. I am not receiving compensation for it (other than from Seeking Alpha). I have no business relationship with any company whose stock is mentioned in this article. CUBE exposure is through the CUBEPrA. This article is for informational purposes only, it is not a recommendation to buy or sell any security and is strictly the opinion of Rubicon Associates LLC. Every investor is strongly encouraged to do their own research prior to investing