Mortgage rates and U.S. Treasury rates are directly linked with each other and when one changes the other rate shows the same trend. After the U.S. recession period from Nov 2008 till May 2009, the U.S. Treasury rate artificially stayed at low levels due to a high level of Fed purchases of debt instruments to stabilize the economy. When there is a high demand for debt instruments in the market, yield decreases due to an increase in the value of U.S. Treasury rate resulting in debt instruments being sold at a premium or above par. This has been one of the primary factors behind an attractive market for MBS (Mortgage Backed Securities) as the decline in treasury rates has resulted in the increase of MBS value.
Furthermore, this increased mortgage rate has helped the mREITs during the past as higher mortgage rate (Lending Rate) compared to lower borrowing rate increased the Lending-Borrowing gap which is called Net Interest Spread. This broad gap increased the profit margin for REITs and was the reason for higher growth and dividends during the past few years but now the environment is changing. As the U.S. economy is returning to stability, the Fed has announced a tapering policy to cut down its debt buying level by around $10 billion every month from an $85 billion peak level. This policy has started to decrease the net interest gap for mREITs as the 10-yr note Treasury yield appreciated from 1.69% in December 2012 to 3.02% in December 2013 due to which many REITs, including Annaly Capital, had to face decreased profits and some even reported negative cash flows statements. During the pre-announcement of tapering period, U.S. Treasury rates and mortgage rates started to increase (due to the anticipation of high market interest rate) which forced the mREIT industry to decrease the value of MBS securities, resulting in a lower book value per share during the second half of 2013 (compared to 2012).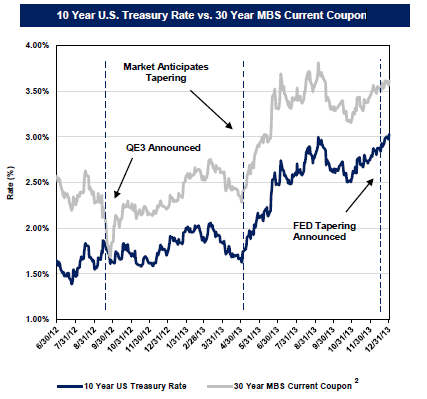 Source: AGNC
We expect that in the medium term the U.S. Treasury rate might stay low due to the current high level of demand of debt instruments by foreign central banks. China and Japan have been purchasing U.S. Treasury notes in order to support their economic growth as they plan to increase their Dollar reserve and the best way to buy into the Dollar is through U.S. Treasury notes. China increased its U.S. Treasury holdings by $12.2 billion to reach a peak of $1.32 trillion while Japan increased its level by $12 billion to reach $1.19 trillion in November 2013.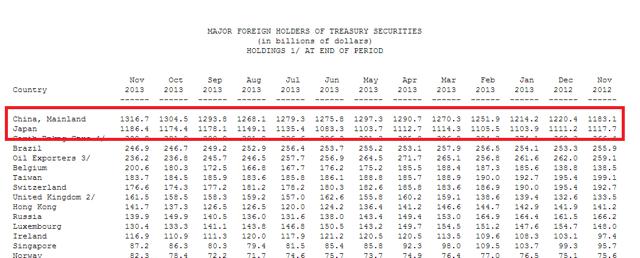 Source: Treasury.gov
This demand will maintain the current downward pressure on the U.S. Treasury rate because the excess supply that will be created by a decrease in the Fed's debt purchase level might be consumed by these countries.
Chief fixed-income strategist at Janney Montgomery Scott, Guy LeBas said, "While foreigners won't be the sole source of buying when the Fed reduces its purchases, foreign demand should prevent U.S. rates from rising too quickly."
According to most of U.S. analysts, China has no option other than buying U.S. Treasury notes due to the trade surplus with the U.S.
"As long as China has trade surplus with the U.S., it needs to put the dollar reserves somewhere and the Treasury bond market is the world's most liquid bond market," said Jeffrey Young, U.S. rates strategist at Nomura Securities International in New York. "China likely continues to do small tweaks on their monthly holdings but it is highly unlikely it would dump Treasury because that would hurt not only the U.S. but China itself too."
However, if we look at the long-term scenario, we can see U.S. Treasury conditions weakening. China's economic growth rate is slowing down which means that it will be reducing its demand for T-bills in the future. Furthermore, China is also looking at other options to diversify its foreign exchange reserve due to the fact that it has a large portion of U.S. Treasury bonds in its foreign exchange reserve of $3.6 trillion. This poses a high risk to the Chinese economy due to the U.S. debt problem, which might have been solved for now but uncertainties will remain. Li Daokui, an economist at Tsinghua University, disagrees with Jeffery Young and believes that China has the capacity to divert from U.S. Treasury bills and according to him China can diversify its foreign exchange reserve by selling half of its current U.S. Treasury holdings and spending that amount into three different financial assets; stocks of multinationals in the Chinese market, other countries' sovereign debt with higher than AA+ rating and utility corporations in mature economies. Chinese analysts believe that even though selling U.S. Treasury means hurting their own economy as it will decrease the value of remaining U.S. Treasury bonds, it will be better than experiencing the U.S. economic spillover which can hurt their economy even more. Furthermore, the reason behind keeping such a high level of U.S. Treasury bonds was U.S.-China relations which are also worsening due to past U.S. failures in reducing violence and conflicts. These worsening ties are also encouraging China to move away from U.S. Treasury bonds and Japan is expected to follow in the long term as well. However, it might not be as easy for Japan due to strong US-Japan relations.
"In the longer term Japan may also rebalance its portfolio a tad to diversify away from holding US government debt," said Yoshikiyo Shimamine, executive chief economist with Dai-ichi Research Institute in Tokyo, " However Tokyo's political dependence on Washington - for example, in its defense pact - mitigates against a sudden switch."
When the dumping of U.S. Treasury bonds starts in the market, the U.S. Treasury yield will certainly increase as China and Japan are the largest consumers of Treasury bonds, posing a huge threat to the U.S. economy and especially the REITs industry. Higher U.S. Treasury rates in the future make REITs a very risky investment in the long term.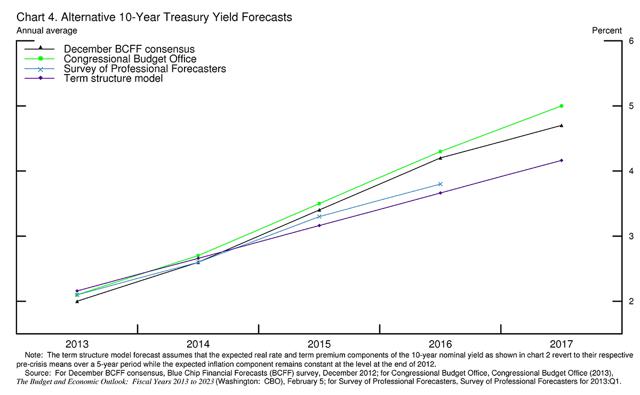 Source: The Budget and Economic Outlook: Fiscal Year 2013 to 2023
Introduction
Annaly Capital Management (NYSE:NLY) is a New York based mortgage real estate investment trust (mREIT) involved in the financing and management of mortgage related investments including mortgage pass-through securities, collateralized mortgage obligations (CMO), and other agency backed obligations issued by Freddie Mac and Fannie Mac. The company has chosen to be taxed as a REIT which means that if it pays 90% of its taxable income to the shareholders as dividends, it will be exempt for taxes. If we look at the company's performance during 2013, we can see that early speculation of Fed tapering has drastically hit mREITs such as American Capital Agency (NASDAQ:AGNC) and Annaly Capital. Annaly reported a reduction of 30% in its share price during 2013 closing at $9.97 per share while its competitor, AGNC, reported a decline of 36% during the same time period.

Source: Y-charts
Dividends and Interest Rate Spread
The entire REIT industry has reduced its dividend per share (quarter over quarter) due to the reduction in share price value and narrowing of net interest spread caused by early Fed tapering speculations. Annaly reduced its dividend per share by 60% year over year as it reported a $0.30 dividend per share for the fourth quarter of 2013. AGNC also decreased its dividend level by 48% during the same time period.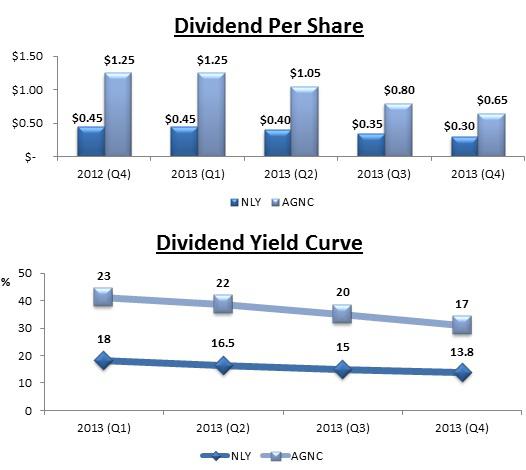 Although both companies' dividend yield has decreased over the year, AGNC's yield still seems to be more attractive as it had a 17% yield during the fourth quarter of 2013 whereas Annaly only managed an approx. 14% dividend yield. This has largely been caused by the decrease in net interest spread in the entire REIT industry. Furthermore, the operating cash flow (OCF) yield of American Capital was 27% which shows that it can sustain a high level of dividend and has the capacity to further increase dividends. Annaly painted a very different picture and reported approx. $3.9 billion as operating net cash outflow during the first and second quarters of 2013 each, because of which its OCF yield cannot be determined. However, Annaly managed to increase its interest rate spread by 0.03% to 1.01% during the third quarter of 2013 which shows an improving performance quarter over quarter as can be seen from graph below.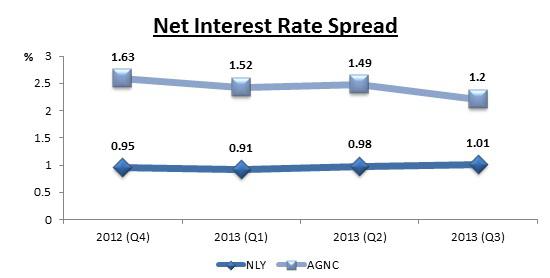 That being said, this interest rate spread is still not good enough to compete with AGNC as its third quarter 2013 net spread was 1.20% (as shown in graph above). This further increased to 1.57% in the fourth quarter of 2013 and we are currently waiting for Annaly's fourth quarter performance results.
During the time period between the second and third quarter of 2013, Annaly's cost of funds increased by 0.29% while at the same time its LT debt level increased to $4.9 billion. This is not a positive sign as it indicates that due to an increase in debt level, the company became more risky as increasing rates on borrowings indicate an increase in business operating risk. The LT debt of American Capital Agency decreased by almost 71% from $12.3 billion to $3.6 billion and its borrowing rate decreased from 1.43% to 1.39% during the same period. The borrowing rate should be a factor that any investor should consider before investing as it shows how much risk is added due to further borrowing. This can create problems for REITs in the future due to interest rate fluctuations.
Company Portfolio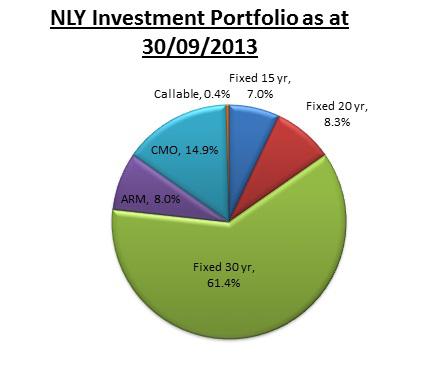 All these investments are agency mortgages which means they are backed by government organizations like Fannie Mae, Freddie Mac or Ginnie Mae who assure that they won't be defaulted. If we look at Annaly's portfolio we can see that a major portion of the investment is in fixed 30-yr mortgage back securities (MBS). A longer duration of investment indicates that more interest risk is involved which means that Annaly's portfolio is already exposed to high risk.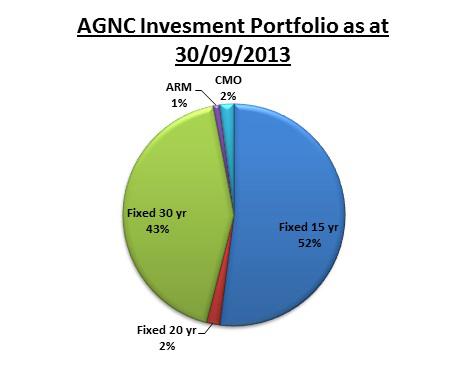 If we look at American Capital's portfolio we can see that it has a large investment in 15-yr mortgage backed securities which shows that the company is focusing more on getting higher returns and reducing its portfolio risk at the same time. This can be considered as a better investment strategy by American Capital as it is not only reducing the interest rate risk through hedging but the investment has been done in such a way that when the mortgage rates increase, the company's book value will decrease by a lesser amount than Annaly's (as it has more than 60% of its investment in 30-yr fixed mortgage).
If the mortgage rates increase the value of 30-yr mortgages will decrease twice as compared to 15-yr mortgages. Considering the changing market situation, it would be better for Annaly to decrease its 30-yr mortgages as the mortgage rates are expected to increase in the long term.
Book Value per Share
Both companies show a downward trend in book value per share due to tapering hat hit the entire REIT industry and we can see that American Capital's stock depreciated by 24.4% during the first nine months of 2013 whereas Annaly's stock only depreciated by 20%. Furthermore, Annaly did not repurchase shares during the year while American Capital purchased 0.3 million and 11.9 million shares during the second and third quarters of 2013. This shows that American Capital's share repurchase program did not do any good because even after spending a huge amount of capital to repurchase stock it was still unable to stabilize the book value per share.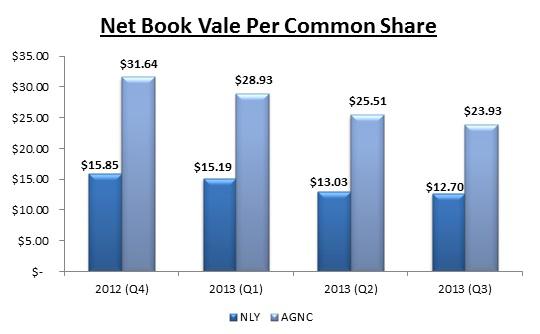 Furthermore, AGNC also purchased stock of approx. $400 million in another undisclosed REIT agency. This is a positive move by the company as it would be earning a portion of what the other REIT is earning and the stock was purchased at a 20% discount to book value. Also, AGNC does not have to pay for hedging this investment. This means that the company has reduced its expenses by not paying for extra hedging costs.
Conclusion
Currently the shares are priced at around $11 per share for Annaly Capital and around $22 per share for American Capital Agency and the book value per share is $12.70 and $23.93 per share respectively. This shows that the shares are currently being sold at a discount for both companies. Although book value per share gives some idea of a company's valuation, REITs depend more on future market interest rate than on book value per share. The reason behind this is that investors earn one third of their return as capital appreciation and the remaining through dividends. Because of this, we think that investors should focus more on short-term returns in REITs rather than as a long-term investment. In our opinion, American Capital Agency will prove to be a better investment over Annaly Capital as it has a higher dividend per share, better operating cash flow position and a higher Interest rate spread which will give better returns to the investors. At the same time, it is less risky than Annaly due to its portfolio composition. For short-term investment, American Capital Agency will be better whereas long-term investment is not recommended as we think that long-term interest rates will not favor the mREIT industry overall.
Disclosure: I have no positions in any stocks mentioned, and no plans to initiate any positions within the next 72 hours. I wrote this article myself, and it expresses my own opinions. I am not receiving compensation for it (other than from Seeking Alpha). I have no business relationship with any company whose stock is mentioned in this article.
Additional disclosure: Equity Flux is a team of analysts. This article was written by our Basic Material and Financial analyst. We did not receive compensation for this article (other than from Seeking Alpha), and we have no business relationship with any company whose stock is mentioned in this article.