By Bryan McCormick
First, a correction to yesterday's calendar. I had listed Motor Vehicle Sales as due yesterday, but they will be reported today. Retail sales reports, which would also normally have been out yesterday, have been moved to today as well.
Generally each automaker begins issuing results at noon ET, though there is no fixed timetable. Domestic sales in aggregate are expected to come in at 8.9 million. Ford (NYSE:F), Honda (NYSE:HMC), Toyota (NYSE:TM), and Daimler AG (DAI) may be active before and following the reports.
MBA Purchase Applications will be released at 7 a.m. ET. I follow only the purchases component of the mortgage report as it indicates new activity rather than refinancing. The previous report came in at 185.7.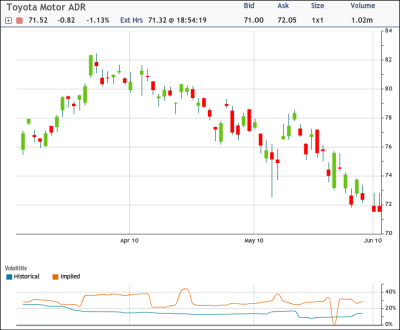 A reading higher or lower than that last number by 5 percent or more would be bullish or bearish, respectively. The SPDR S&P Homebuilders (NYSEARCA:XHB) and its underlying assets may move on the release, as well as banks with large mortgage exposure such as Bank of America (NYSE:BAC), Citigroup (NYSE:C), JP Morgan (NYSE:JPM), and Wells Fargo (NYSE:WFC).
The Challenger Job-Cut Report will be released at 7:30 a.m. ET. The last report, which is seen as somewhat of a leading indicator, showed that 38,326 job cuts had been announced but not yet carried out. A higher number by 20 percent or more would likely be seen as bearish; a report lower by the same factor would be bullish.
The ICSC-Goldman Store Sales report will be released at 7:45 a.m. ET. There are two components to the report, the week-over-week and the year-over-year changes. The last week-over-week change came in at -0.8 percent while the year-over-year registered 1.3 percent. Stronger-than-expected positive numbers would be seen as bullish while drops, reported as negative numbers, would be bearish.
Redbook Store Sales will be reported at 8:55 a.m. ET. There are two components to the report, the month-over-month change and the year-over-year change. As with the ICSC report, most traders focus on the year-over-year numbers.
The last month-over-month change was 0.3 percent and the year-over-year 2 percent. Negative readings in either component of the report would be bearish while stronger positive numbers, especially in the year-over-year reading, would be seen as bullish.
Traders will be especially focused on retail sales as they have shown troubling weakness in the last several reports. As a result, the SPDR S&P Retail (NYSEARCA:XRT) and Retail HOLDRS (NYSEARCA:RTH), along with their underlying assets, may be active before and after the ICSC-Goldman and Redbook releases.
The NAR Pending Homes Sales Index will be released at 10 a.m. ET. The index last came in at 102.9, for a month-over-month change of 5.3 percent. There is a wide range of expectations from a bearish -2.5 percent to a bullish 8.8 percent. As with the MBA report, XHB homebuilders exchange-traded fund and mortgage-exposed banks may be active before and after the release.
(Chart courtesy of tradeMONSTER)