In a recent article I reminded readers of the long term ability of Dividend Growth Investing to outperform the broader market such as the S&P 500 (NYSEARCA:SPY). According to research by Credit Suisse over an extended period the sweet spot for dividend growth was higher yield with a low payout ratio followed by a lower yield and again, low payout ratio. Now certainly quality of the company is a given, and it is the quality of the earnings and the brand and the management and the execution of a strategy that allows the company to continue to increase those dividends.
Here's a chart from that article.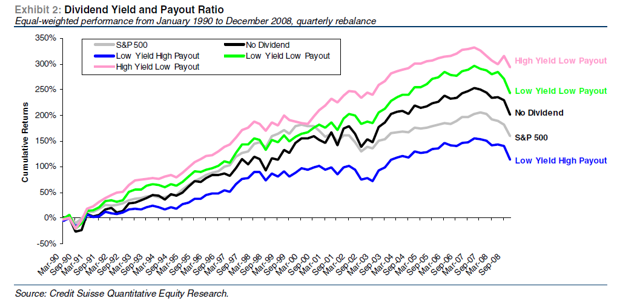 The low payout ratio is attached to the top two positions, perhaps when searching for total return, that low payout ratio is the one determinants that matters. That makes sense for sure. A high quality company that pays a dividend and has the ability to grow that dividend supported by revenue growth and a low payout ratio has an effective one two punch. The low payout ratio again gives the ability to raise the dividend without stretching the balance sheet, and perhaps more importantly there are significant funds available to reinvest in the company. And perhaps that ability and willingness to reinvest in its own business growth is one of the key factors.
Of course all that matters in the accumulation phase is total return. In the end it will all be about how much money do you have to go shopping for dividends and income - when it comes time to spend the portfolio income and holdings. Some investors will be able to live off of the higher income that is purchased, most investors will sell assets and spend the income that is generated. Count me in for door number two, there's no way I am leaving it all to the kids and the taxman. Not that my kids would ever read one of my articles, but if you are reading, don't worry there will be many more cash gifts along the way. How to leave money to the kids and grandkids is certainly a question for an accountant and estate planner.
If you read some of the more popular dividend growth writers on Seeking Alpha you'd think that the dividend growth history, the portfolio income growth or consistency of the portfolio income are the most important factors. Again, in the accumulation phase those parameters may be somewhat meaningless. When all that matters is total return (how much you got) paying special attention to the dividend growth past history or portfolio income growth might be a distraction that leads to underperformance. It's akin to paying special attention to the radio in your car while you're trying to maximize the speed of the car.
Chowder, a popular writer on Seeking Alpha, publishes a blog that centers around a public portfolio called Project $3 million. Within a few decades Chowder's son will hope to have $3 million in assets, so it is certainly a total return strategy. And it should be acknowledged that Chowder is ahead of schedule and that he has listed his objectives and is meeting those objectives to date. This article is not a criticism of Chowder or his methods. My writing on this subject is a challenge to new investors who have adopted or are considering adopting the company selection criteria made popular on Seeking Alpha. It's a great resource to have public portfolios to examine and full credit to Chowder and authors such as David Van Knapp.
Here is Chowder's outline and mission statement.
MISSION STATEMENT:
To earn an income stream that is reliable, predictable and increasing.
---------------------------------------------------------------------------
STRATEGY:
To focus on the safety of the dividend, then to focus on the growth of the dividend, and then to focus on the total return. The formula to be used to put this strategy into effect is what I call, "The Success Formula That Never Fails."
High Quality + High Current Yield + High Growth of Yield = High Total Return
TACTICS:
To contribute $500 per month to the portfolio, look to earn 8.25% annually, compounded over 40 years (to age 65). The beginning portfolio value at the time of establishing these goals was $42,204.42.
That pace of return will deliver on that $3 million with the initial investment and the reinvestments. Well Chowder certainly has some good news coming. In his portfolio value he includes his son's Thrift plan where his son contributes 5% of his income. There may be another $175 per month or so that is being reinvested on a regular schedule.
Chowder and his son won't need that 8.25% return as he has listed on his site overview. He has about $675 reinvested per month, not $500.
Chowder has also established a criteria for stock selection called the Chowder Rule.
When you take the current yield and add it to the 5 year compounded annual growth, I want to see a number of 12% or better when the yield is 3% or higher, or a number of 15% or better when the yield is under 3% but above 2%.
My concern when I read the Chowder rule was that it uses a number (dividend growth rate) that is typically in decline. In fact dividend growth rates can fall precipitously. Chowder does admit that trend of decline but builds in a buffer. My suspicion is that using a potentially declining rate will likely have no predictive power to create total return above the broader market or a passive dividend growth ETF. Again, this may be suitable for Chowder's client, his son, but any investors looking to maximize total return, may leave some opportunity (or money) on the table. The investment strategy certainly closes some doors as it pertains to dividend initiators, lower-yielding dividend payers, low or modest dividend growth rates, or those companies with a shorter dividend history.
Investors who understand that the accumulation phase is all about total return might be better served by finding the strategy that keeps all doors open, and searches for total return, and likely focuses more on the value and earnings growth side of the equation, compared to dividend history. And once again that low payout ratio may be key.
While in its early days, I decided to have a look at Chowder's performance vs. the passive broad market and the dividend growth ETFs that are available. I used Chowder's start date of January 1, 2010 as per his site calculations, tracking and projections. I started with the initial amount and reinvested that $500 monthly.
As might be expected Chowder has not delivered compared to the broad market SPY returns, heck neither did Warren Buffet over the last 5 years. Passive investors in the market were treated to some phenomenal returns in 2013 and over the last 5 years. SPY delivered 32.2% in 2013. That said a fair comparison to Chowder is Vanguard's (NYSEARCA:VYM). VYM seeks to track the performance of the FTSE® High Dividend Yield Index, which measures the investment return of common stocks of companies characterized by high dividend yields. The top ten holdings representing 34.1% of the total ETF are Exxon (NYSE:XOM), Microsoft (NASDAQ:MSFT), GE (NYSE:GE), Johnson and Johnson (NYSE:JNJ), Wells Fargo (NYSE:WFC), Chevron (NYSE:CVX), JP Morgan (NYSE:JPM), Procter and Gamble (NYSE:PG), Pfizer (NYSE:PFE) and AT&T (NYSE:T). Many dividend and dividend growth stalwarts in that group.
Chowder underperformed that passive ETF and the Vanguard ETF (NYSEARCA:VIG) that is more of a pure dividend growth ETF that also applies value metrics as per the index that it tracks.
Here are the returns for VYM, VIG and Chowder.
| | | | | | |
| --- | --- | --- | --- | --- | --- |
| Portfolio | Income Total | Units Increased | Price Increase | 2013 Div's | 2013 Y/E Value |
| VYM | $8745.24 | 60% | 63% | $2,884.51 | $112.572.35 |
| VIG | $6282.90 | 58% | 60% | $1,928.87 | $106,664.22 |
| Chowder | $10,955.66 | | | $3,365.47 | $103,105.05 |
As we can see, the Chowder model leads in income creation by a wide margin, but trails in total return. SPY would have had returns very close to the VYM numbers. VYM beat VIG in unit price increase (63 to 60%) and also in the additional units purchased (50 to 58%). Once again, VYM is likely the closest comparison to the Chowder model as both seek high yield. That said VYM certainly has many rules that are instigated by formulae, it does more than simply buy the high yielders. Here is a synopsis of the model - the index consists of stocks that are characterized by higher than average dividend yields. The U.S. High Dividend Yield is based on the large, mid and small cap constituents. Stocks that are not forecast to pay a dividend during the next 12 months are removed. The index methodology holds the potential of durable high yields from solid companies, with lower weightings to companies that have high yields because of low or falling share prices. That ETF is certainly paying some attention to the quality of companies that it holds along with the sustainability of the dividend.
Once again it should be noted that this is a short time frame for evaluation. VIG from inception (May 2006) is outperforming the broad market with a total return above 77% compared to the 71.7% return for SPY according to low-risk-investing.com.
Perhaps VIG is on to that successful mix of value and dividend growth while paying little attention to yield or the rate of dividend growth or income growth. And VIG certainly has a generous beat over VYM from VYM's inception date of November of 2006. Quality wins over higher yield over that 7 year period. For comparison's sake, VIG has a current yield of 1.84% while VYM has a yield of 2.8%. Most (all?) Seeking Alpha dividend growth writers and readers would not create a dividend growth portfolio with a current yield of 1.84%. Yet it just might be those lower yielders with great value and low payout ratios that offer the value of the day. Have a look at my articles on Tim Hortons, that is likely one of many opportunities. Those low yielders don't get the attention that they deserve from the dividend crowd. Is it possible that the traditional higher yielding dividend growth companies have had their share prices inflated, meaning that value is hard to find? So far, that's what has happened to the Chowder model, it has selected companies that have collectively seen less share price increases. He has not found value compared to VYM and VIG according to the market. That should not be a surprise as the important metric for the Chowder portfolio is yield and dividend history. And in the end that may become a market beater. Certainly if Chowder is hanging in there with VIG from 2009 that's a very good sign. He has some very good returns and his son is on track. He's doing a lot of things right. He has a plan. He's sticking to it. He's reinvesting on a regular schedule. That's more important that beating the market or an index benchmark.
Essentially here's why I think many dividend growth investors will (potentially) leave money on the table: they are trying to manage and grow that yield on cost and income consistently to a level that will provide the income they want in the harvesting or spending stage. Many are managing the income, not the total return.
I have been guilty of staring at (and giving in to) those shiny generous dividends or high yielding bond ETFs. It's hard not to resist the lure of "free" income.
But perhaps resist at times we must, if we want the most out of dividend growth.
As always, know your risk level, and be careful out there.
Disclosure: I am long SPY, VYM, DIA. I wrote this article myself, and it expresses my own opinions. I am not receiving compensation for it (other than from Seeking Alpha). I have no business relationship with any company whose stock is mentioned in this article. Dale Roberts aka cranky is a Streetwise Coach at ING Direct Mutual Funds. The Streetwise Portfolios offer index-based complete portfolios to Canadians. Dale's commentary does not constitute investment advice. The opinions and information should only be factored into an investor's overall opinion forming process