Iron ore prices fell -8.3% on March 10, 2014 to $104.70 per ton on news that Chinese exports for February 2014 had fallen -18.1% year-over-year. A gain of +6.8% had been expected. This huge miss also caused the Chinese February 2014 Balance of Trade to run a -$22.9B. The US equities markets seemed to shrug this news off. Some again attributed the huge miss to the cold winter weather. However, the experts had known about the cold winter weather when they made their forecast. That weather does not begin to explain the huge drop in exports.
Dr. Copper followed the iron ore prices downward. Its recent peak was $3.4475/oz. on December 24, 2013. On March 10, 2014, it fell to an intraday low of $2.9955/oz. That is close to the low of the June 27, 2013, of $2.9835/oz. That occurred when everyone thought the US Fed was about to start tapering its QE3 program. It may not be a coincidence that we are seeing the same lows now that the Fed has convinced everyone that they are serious about ending the QE3 program. They have already tapered twice, and all 70 economists in a recent survey unanimously believed the Fed would continue in -$10B increments until the program is gone. For copper prices, a roughly -$0.20/oz. fall immediately followed the news of the huge miss on Chinese exports for February. This was a lot for copper, and it came at a time when copper prices were already weak. Copper has bounced a bit to $3.0465 as of this writing on March 10, 2014; but it seems likely to keep falling near-term. The technical trend is downward; and the fundamentals support that downtrend.
The Chinese February 2014 export data (-18.1%) is not the only bad Emerging Market data. The final Chinese Markit/HSBC manufacturing PMI for February 2014 was down to 48.5 (contraction) from 49.5 (contraction) in January 2014. The Chinese PPI for February 2014 was down -2.0% year-over-year. The Euro Area PPI for January 2014 was also down -1.4% year-over-year and -0.3% month-over-month. A negative PPI is an indication of deflation. This, in turn, is an indication of a recession or a possible coming recession. Many were hoping the EU was pulling out of its recession; but that may not be the case. On top of this data, Ukraine is close to defaulting on its debt. It apparently will get a partial bailout by the EU and the IMF; but it is unclear that that will be enough. Plus, it is politically unstable; and it may get taken over by Russia. Its troubles may serve to weaken an already weak Eastern Europe even further. It could be a domino that causes many more to fall.
There are many other Emerging Market economies that are in trouble. A few that come quickly to mind are Argentina, Turkey, and Thailand. Many others are troubled too. In the US, a territory, Puerto Rico, is very close to defaulting on its debt; and the US itself is seeing slow growth. The US Q4 GDP growth, which had first been recorded as +3.2% (after a +4.1% Q3 2013), was revised down to +2.4% in the second estimate. However, that does not begin to tell the story. The US had a huge build-up in inventories in 2013. The inventory build segment of GDP growth usually amounts to about +0.4% of the GDP growth. In Q3 2013, this amounted to 1.7% of GDP growth; and in Q4, it amounted to 0.8% of GDP growth. What this says is that the US likely built up inventories in 2H 2013 that are far above normal levels. These will have to be drawn down over time. That means the US will have to produce less-than-normal goods in order to do that. If 2H 2013 GDP growth was aided by overproduction by +1.3% in Q3 2013 and +0.4% in Q4 2013, action to correct the surplus in 1H 2014 would amount to -0.85% per quarter of negative GDP growth due to an inventories correction.
When AutoNation's (NYSE:AN) CEO, Mike Jackson said in mid-January 2014 that inventory levels of autos on dealer lots were far too high, economists had to take that as a warning sign. When Retail sales fell -0.4% in January 2014 (after a revised -0.1% drop in December 2013), one might be inclined to be even more worried about inventory levels. The Commerce Department said inventories rose 0.3% in January 2014 after increasing 0.9% in December 2013. If businesses already had too much in inventories before those months, further gains in inventories can only be interpreted as extremely negative, especially when retail sales have indicated slow, flat, or even negative sales growth may be the norm for the near future. US GDP growth of 2.4% in Q4 2013 minus -0.85% due to inventory leveling (and it could be worse than this) leaves GDP growth of +1.55%. If you subtract a further -0.5% due to the much-colder-than-normal winter, you end up with GDP growth of only about +1% for Q1 2014. That is getting close to no growth or negative growth. Readers shouldn't get too caught up in the specific numbers, they are only meant to give an overall ballpark picture.
How bad is this situation for iron ore producers? Axiom Capital's Gordon Johnson and James Bardowski said the following about Cliffs Natural Resources (NYSE:CLF), "CLF will likely blow through its debt covenants in 2014, further cut its dividend, and likely need to do a large dilutive equity deal. If the company can't do these things, it will suffer acute liquidity problems. We see a turnaround possible, but $114 iron ore suggests bankruptcy is a growing reality". They said that before the price fell to $104.70/ton.
CLF is probably not the best stock to buy at the moment. Its price is currently depressed; but it may still be a stock prudent investors want to get out of. Consider that CLF's main other product is coking coal, which is used to make steel. If iron ore prices are falling partially because steel prices are falling, then coking coal prices can be expected to be troubled too.
On March 7, 2014, Chinese coking coal futures prices were down their limit after news that Shanghai Chaori Solar Energy Science & Technology Co. failed to pay full interest on its bonds. The market is worried this may signal the beginning of a huge stream of Chinese defaults. Debt-to-equity ratios exceeding 200% of publicly traded non-financial Chinese companies have jumped 57% since 2007. Many worry this effective default may signal the beginning of a Chinese financial crisis. On Monday, March 10, after the -18.1% Chinese exports contraction instead of the expected +6.8% rise, the coking coal price dropped another daily limit of -4% to close at $134/ton. This can't be good for CLF.
Other companies are probably not in as dire straits as CLF; but some of the biggest miners are big iron ore producers. Vale S.A, (NYSE:VALE) is the world's biggest iron ore producer. Other big producers are BHP Billiton Limited (NYSE:BHP) and Rio Tinto plc (NYSE:RIO). They all ship a lot to China. They all will be hurt by China slowing. Last October (2013), these three companies were forecast to see their EBITDA margins per ton drop as China slowed. RIO's was forecast to drop 43% to $43.99 in 2015 from $70.01 in 2013. BHP's was forecast to fall 42% to $40.68 in 2015. VALE's was forecast to drop by 61% to $23.11, according to Goldman Sachs (NYSE:GS). All of that was before the recent sharp drop in iron ore prices.
It is not just the prices that these companies have to worry about. 92% of VALE's EBITDA in 2012 was from iron ore sales. In RIO's case, that number was 78% of EBITDA, and in BHP's case, that number was 43% of EBITDA. I would think more than twice about buying any one of these stocks until conditions in the Chinese iron ore market improve. Even at their currently depressed prices, I would think about selling each.
Of course, a company such as RIO produces many materials. The same is true of BHP. RIO has a PE of 26.53 and an FPE of 7.66. It has a dividend of 4.18%. It has an average analysts' recommendation of 1.9 (a buy). BHP has a PE of 11.63 and an FPE of 12.41. It has a dividend of 3.63%. It has an average analysts' recommendation of 1.6 (a buy). Investors may be able to find good reasons to buy these, but the current iron ore situation is a huge red flag for these stocks. Investors should do their own due diligence. I have just tried to present the broad strokes.
Since CLF is probably the worst off of all of the above stocks, its two-year chart may provide more insight into what actions investors should take.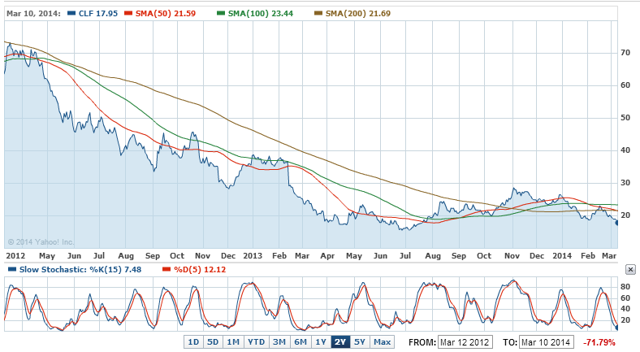 The slow stochastic sub-chart shows that CLF is oversold. The main chart shows that CLF has been in a downtrend for the last two years. It appeared to bottom last summer (2013). However, it appears to have resumed a weaker downtrend. I might sell it; but in its oversold state, I would not short it at this time. It has been a great company for a long time; and it seems likely to be able to survive this Chinese downturn. When a reasonable number of analysts are still blaming all of the current slowing on the colder-than-normal winter weather in the US, then it is premature to bet on CLF going bankrupt. It is even too early to forecast that earnings will be dramatically lower, although that is a nearer thing.
Still, a prudent investor invests in "strong" stocks, not ones that are showing signs of acute weakness. Overall, this area is not a good place to put your money until the fundamental situation improves demonstrably. It is not an area to try to buy the dips. You could end up with a bankrupt CLF. You could end up with large losses on any of the other companies.
NOTE: Some of the fundamental fiscal data is from Yahoo Finance.
Good Luck Trading.
Disclosure: I have no positions in any stocks mentioned, and no plans to initiate any positions within the next 72 hours. I wrote this article myself, and it expresses my own opinions. I am not receiving compensation for it (other than from Seeking Alpha). I have no business relationship with any company whose stock is mentioned in this article.